Most investors avoid airline stocks with a reason: The values of many major airline stocks become worthless eventually. Many buy-and-hold investors had the past painful experience of completely losing their money when the airline companies filed for bankruptcy. Several companies repeated the process more than once. If you still don't believe it, look at how the stocks of some recently reorganized airline companies performed after their reorganization:

cPrice stands for their last Friday's close price (07/22/2011). They all lost over 40% after reorganization.
On the other hand, airline stocks do provide from time to time short term investment opportunities. The time frame for such investment can vary from 1-2 years to just few months. The best recent opportunities must be from the early days of 2009 when the stock market crashed due to the U.S. economy recession and financial crisis.
For example, UAL gained over 800% in 15 months (from its 2009 low of $3.26 to 2010 high of $29.53); LCC gained over 500% in 18 months (from its 2009 low of $1.88 to 2010 high of $11.56). Most other airline stocks also made sizable gains during the same time period.
Now we believe that we may see another good time to own airline stocks for short term gains both technically and fundamentally. Technically, many airline stocks including major airline and regional airline stocks are in their important support levels:
Allegian Travel Company (NASDAQ:ALGT) – This is the best in this sector with uptrend but pulled back to the bottom of its uptrend channel.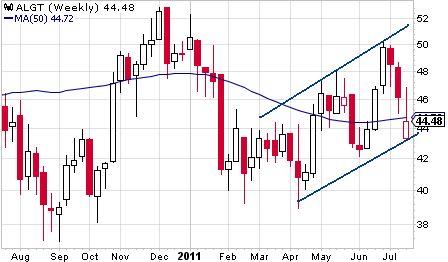 United Continental Holdings (NYSE:UAL) – Next best and stock is at its year low and at important support. The $19.50 support has been tested three times during the year and all bounced back.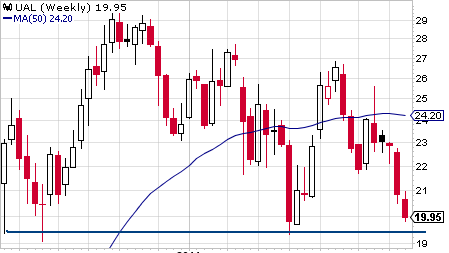 JetBlue (NASDAQ:JBLU) – The same can said for JBLU. $5.40 has been tested four times during the year and all bounced back. Now it is the fifth time within a year it is at $5.40 level.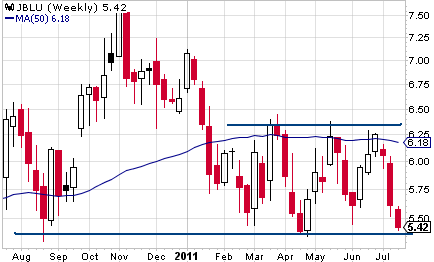 U.S. Airways (LCC) – Stock is in down trend with lower lows and lower highs but it is at the support level of its down trend channel.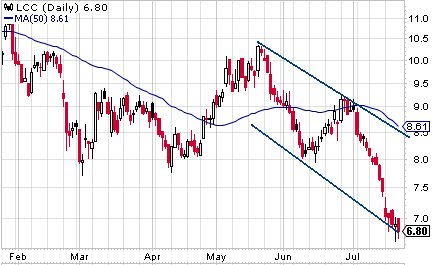 Delta (NYSE:DAL) – The same can be said for DAL as well: in down trend and is at its bottom of its down trend channel.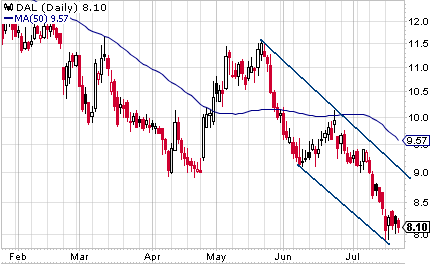 Southwest Airlines (NYSE:LUV)- Regional airline stock, which has the same chart pattern as of DAL and LCC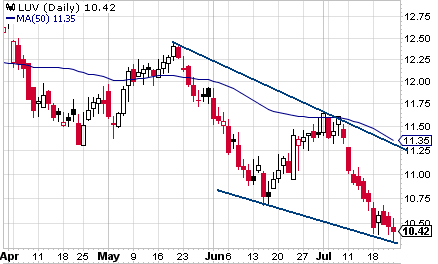 Republic Airways (RJET) – The worst performer in airline sector. But the stock find strong support at $4.00 level, its 2009 low.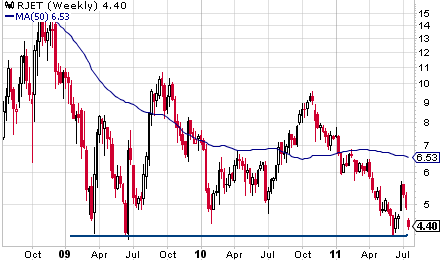 Fundamentally, some of the stocks are quite attractive at their current price levels.
UAL – The company just reported $1.49 per share net profit for its just finished quarter, 6 cents better than the $1.43 expected. The earnings have been revised down recently to reflect the impact of higher oil prices in this quarter. Revenue rose 10.3 percent to $9.81 billion. That was $100 million more than expected by analysts polled by FactSet. Fuel expenses rose more than $1 billion - 45 percent higher than a year ago. Hedging gains of $278 million took away some of the sting. Now analysts estimate that the company will earn $1.84 next quarter, $3.49 for 2011 and $5.19 for 2012. Using its Friday close price as reference, this gives the stock this year's PE of 5.71 and forward PE of 3.49. Not expensive.
Based on the above analysis, we give the sector short term Buy but long term AVOID ratings.
Are airline stock prices closely related to oil prices? Our study shows YES and NO.
The following chart shows the prices of daily light oil futures from January to July this year:
Click to enlarge
(Click to enlarge)
If compared it with UAL stock chart for the same time period (see chart below)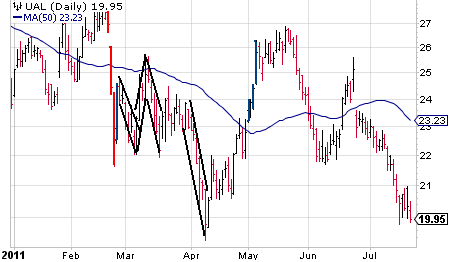 We can have the following findings:
Whenever oil prices have sharp changes, airline stock prices will react quickly but always in the opposite direction. This can be seen during in February 18, 22 and 23 when the oil price went up sharply, bounced back on February 24, then up the next five days, UAL stock prices made big changes down, up, down, up, having strong swings until it reached the bottom on April 8th, when the oil price hit the top.

There is a limit as to how oil price can have a negative effect on the airline stock prices. Check the UAL price trend from the middle of April to the middle of May. The oil price first dropped but gradually returned to its previous high but the UAL stock kept raising and gained almost 40% during the one month period. The same thing happened during the middle of June to the middle of July when oil prices dropped but UAL stock did not go up at all. This may be due to the fact that airline company's Q2 earnings have been adjusted downward during this period.

Right now, the oil price is far from this year's high but UAL's price is already at the year's low. What may happen if the oil price keeps raising to touch the year's high again? Our view is that as long as oil futures do not have sharp changes, airline stocks may bounce back gradually as all airline stocks have all reached their strong support levels.
Disclosure: I am long UAL, LCC.