The healthcare facilities and services sub-sector is in transition. In this sub-sector, we count acute care hospitals, psychiatric hospitals, nursing homes, hospices, clinical laboratories and outpatient service providers including dialysis, radiation and primary care physician centers and rehabilitative services. Implementation of universal health coverage and changes to Medicare and Medicaid reimbursement rates is a reality. Medicare rate changes will also drive reductions by fee-for-service insurers and managed care insurers. Recent trends towards industry consolidation will continue as well as efforts to reduce operating costs.
Consolidation will drive economies of scale and provide both geographic and product diversification. Long term, demographics favor the healthcare industry. The population is aging, with the Baby Boom generation creating a "bubble" for the foreseeable future. In addition, the Baby Boom generation has expectations for living long lives with healthcare readily available wherever they choose to live. We also see a continuing shift to lower cost outpatient facilities where services such as dialysis and radiation and oncology treatment centers. Pressure will remain on the service providers to contain costs and revenue growth may be constrained to the single digits. However, whatever the constraints, demand will continue to grow as the population grows. The efficient operators will prosper.
Our research has narrowed the list of companies in this space to four which we believe will do well in the coming years. These companies were not screened using pre-selected criteria such as low-PE or some other metric. We prefer to narrow down the universe of potential investments by looking for consistency over extended periods of time. We look at how companies fared in both good times and bad. We believe our analysis is more reliable when a company's operating history is predictable.
The companies we highlight below share certain characteristics. Each company has increased revenue for each of the past seven fiscal years and for the trailing 12 months; each has shown growth in gross income over the past seven years; and each has shown a large measure on consistency in growing net income. Finally, they all have strong balance sheets with either low or no long term debt.
Bio-Reference Laboratories, Inc. (NASDAQ:BRLI)
is engaged in providing laboratory testing services, to customers in the greater New York metropolitan area, as well as to customers in other states. It offers a range of chemical diagnostic tests, including blood and urine analysis, blood chemistry, hematology services, serology, radio-immuno analysis, toxicology (drug screening), pap smears, tissue pathology (biopsies) and other tissue analysis. As of October 31, 2010, it operated two clinical laboratories, one in Elmwood Park, New Jersey and one in Valley Cottage, New York, and an andrology laboratory in New York City; a cytogenetics testing laboratory located in Milford; a pathology laboratory in Poughkeepsie; a pathology laboratory in Clarksburg, and a genetics laboratory in Gaithersburg. The laboratory testing business consists of routine testing and esoteric testing. On March 2, 2010, the Company completed the acquisition of Lenetix Medical Screening Laboratory, Inc. (Lenetix).
In 2Q11, the company reported revenues of $137.7 million, an increase of 24.7% YOY revenues of $110.4 million. For the 12-month period ending in April, sales rose to $507.7 million from $409.4 million or 24% YOY. EPS for 2Q11 is $0.28 as compared to $0.21 in the year-ago period, representing a 33% increase. On a trailing 12-month basis ending in April, EPS increased to $1.16 from $0.84, or 38.1%. These reported EPS figures reflect a settlement with New York State related to a law suit brought by 35 laboratories. The company reports cash and short-term investments of $21.2 million and long term debt of $9.5 million.
The company's GenPath Oncology unit is reported to doing well. BRLI expects to introduce genotyping of solid tumors later this year. BRLI's CEO, Dr. Marc Grodman, claims "the result of these efforts is unprecedented, organic growth, increasing market share not only in revenues but also in number of new accounts and patients serviced." There are currently only four publicly-traded full service laboratories operating in the U.S.
Continucare Corporation
(NYSE:
CNU
) is a provider of primary care physician services. Through its network of 18 medical centers, the Company provides primary care medical services on an outpatient basis. It also provides medical management services to independent physician affiliates (IPAs). All of its medical centers and IPAs are located in Miami-Dade, Broward and Hillsborough Counties, Florida. All of its revenues are derived from managed care agreements with three health maintenance organizations (HMOs): Humana Medical Plans, Inc., Vista Healthplan of South Florida, Inc. and its affiliated companies including Summit Health Plan, Inc., and Wellcare Health Plans, Inc. and its affiliated companies. As of June 30, 2010, Continucare provided services to or for approximately 25,700 patients on a risk basis and approximately 9,000 patients on a limited or non-risk basis. Additionally, it provided services to over 6,000 patients on a non-risk fee-for-service basis.
In 1Q11, the company reported revenues of $85.7 million, a 6.7% increase YOY. For the 12-month period ending in March, the company reported revenues of $324.2 million as compared to $306.9 million YOY. In the quarter ending in March, EPS was $0.12 as compared to $0.09 in the year-ago quarter. For the trailing 12-month period, EPS is reported as $0.40 as compared to $0.35. Cash and short-term investments are $44.6 million and the company has no long term debt. On a trailing basis, the PEG is 5.3X whereas the PEG to estimated EPS and growth is 1.0X. Stockholder's equity was $156.8 million at March 31, compared to $136.0 million at June 30, 2010.
On June 27,
Metropolitan Health Networks Inc
. (MDF) and Continucare announced jointly that they have entered into a merger agreement whereby Metropolitan will acquire Continucare in a cash and stock transaction valued at approximately $416 million. Owners of Continucare stock will receive $6.25 per share in cash and 0.0414 of a share of MDF common stock. According to the release, the combination of MDF and CNU will create a company with approximately $660 million in annual revenue and over $90 million in EBITDA.
The merger is expected to create annual cost savings principally from the elimination of public company-related expenses and the elimination of executive level positions. The merger will expand the geographical reach of the merged companies and add Medicaid customers where MDF had none. In addition, MDF is expanding operations to include two Florida Panhandle counties. This expansion is in partnership with
Humana's
Medicare Advantage product.
MDF reported modest YOY sales growth in 1Q11. Sales increased to $94.7 million as compared to $93.0 million in the year ago quarter. Sales increased 3.6% for the 12 months ending in March, to $369.9 million from $357.0 million in the prior year. EPS also increased modestly, from $0.17 to $0.19 in 1Q11 from the year ago quarter. EPS for the TTM increased to $0.63 from $0.40, or 57.5%.
As of December 31, 2010, the Company, through its subsidiaries (collectively, Ensign), provided skilled nursing and rehabilitative care services through the operation of 82 facilities and one home health and hospice operation, located in California, Arizona, Texas, Washington, Utah, Colorado and Idaho. The Company's facilities provide a range of skilled nursing and assisted living services, physical, occupational and speech therapies, and other rehabilitative and healthcare services, for both long-term residents and short-stay rehabilitation patients. Ensign's facilities have a capacity of approximately 9,500 operational skilled nursing, assisted living and independent living beds. During the year ended December 31, 2010, Ensign purchased two skilled nursing facilities in Idaho; purchased two skilled nursing facilities in Texas, and purchased a home health and hospice operation in Idaho.
The company is expanding by acquisition. On July 20, it announced the acquisition of nine skilled nursing and assisted living facilities from Careage Management, LLC. The acquired facilities are located in Iowa and Nebraska and add 549 beds. Ensign uses a "roll-up" approach in its acquisition strategy by buying platform companies in new markets and then adding smaller acquisitions in that market.
Sales in 1Q11 rose to $182.9 million as compared to $154.2 million in the year-ago quarter or 18.6%. For the 12 months ending in March, sales rose to $678.3 million, a 19.9% increase YOY from $565.9 million. Similarly, EPS in 1Q11 rose to $0.59 from $0.44 for a 34.1% increase. For the trailing 12 months, EPS is $2.07 as compared to $1.61, a healthy 28.6% increase. Ensign carries a reported $138.7 million in long-term debt and has $51.0 million in cash and short term investments. The company pays a dividend of $0.21 per share providing a yield of 0.8%. The payout ratio is a low 10.0%.

For FY11, analysts estimate EPS for BRLI within the $1.13 to $1.15 range and $1.30 to $1.46 for next year. FY10 saw EPS at $1.15. CNU has FY11 analyst estimates of $0.41 to $0.42 and FY12 estimates in the $0.44 to $0.47 range. Estimates are from two analysts. Ensign has a broader range of estimates for FY11, $2.25 to $2.44 and $2.09 to $2.72 for FY12. Metropolitan has estimates in the range of $0.60 to $0.68 and $0.61 to $0.61 for FY11 and FY12, respectively.
We note that these companies have a very small number of analysts following them, in some cases a few as one or two. We think these low estimates reflect, to a large degree, uncertainty around Medicare reimbursement rates and whether lower rates will be off-set by cost reductions. The estimates for CNU and MDF do not reflect the merger.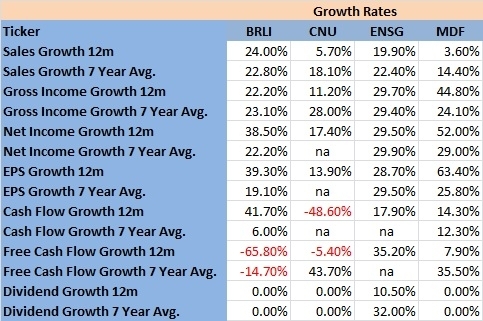 Here we present comparisons of short- and long-term growth rates. We note that despite the challenging environment, BRLI and ESNG have, more or less, maintained their historical revenue growth and gross income growth rates. We believe this is partly explained by the differential effects reimbursement rate changes have had on different component sectors. Both CNU and MDF, highly dependent on Medicare Advantage programs have seen a dramatic reduction in revenue and gross income growth rates. However, we feel these are temporary.
We have our own projections of long-term revenue growth for each company. They are: BRLI 20.6%; CNU 21.4%; ENSG 14.9%; and MDF – 14.1%.

The balance sheet is perhaps the most important financial statement that can be used for evaluating a company. Highly leveraged companies cannot survive recessions, finance future growth or meet current obligations. ENSG is the most highly leveraged of the four companies. However, its debt/total capital position is not excessive and long term debt represents only 5.4% of its free cash flow.

As we can see, each company has adequate working capital to meet its immediate needs and/or meet debt obligations.

Finally, we see that each company manages its assets well.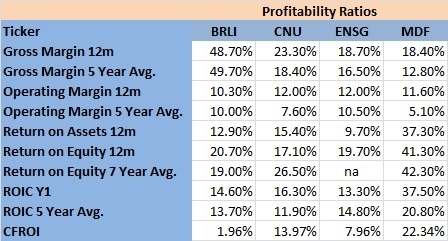 We now turn our attention to how profitable these companies are in this environment. We note that each company shows consistency or improvement in gross margins and operating margins. This indicates the companies are controlling their costs. The companies have strong ROA and are doing good jobs maintaining their long-term ROE averages. MDF shows particular strength in returning value to their investors as measured by ROIC and CFROI.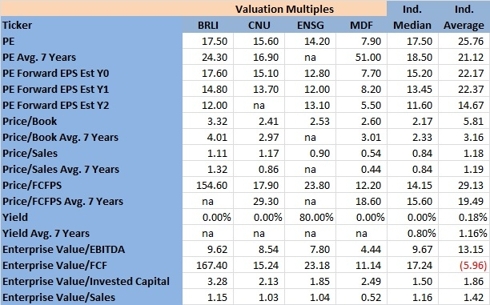 On a PE basis, these companies are selling at a discount to their industry average. The discount is not only for the TTM, but also for the current FY and each of the next two years. On a PSR basis, BRLI and CNU sell in line with the industry average whereas ENSG and MDF are at a discount. One popular valuation metric is EV/EBITDA. This metric takes into consideration the amount of net debt a company carries and compares it to one type of cash flow. These companies have low EV/EBIDTA multiples as compared to the industry average. In our own calculations of company value, we rely heavily on EV/Sales. We think sales provide a more predictable and reliable measure than EBITDA and allows us to consider companies without positive EBITDA. By this measure, our target companies are undervalued. EV/Sales needs to be evaluated in the context of sales growth rate, operating margins, debt to capital and tax rates in order to provide a comparison to the simple calculation.
Conclusion
On a stand-alone basis, we would be happy to own CNU and MDF. With a pending merger, I would wait until the dust settles and look at how the combined entity performs. I expect this merger will work out well. Both are well managed companies that will benefit from this merger. BRLI is also a good investment. It may not be the largest of the clinical laboratories but it is doing well and will continue to do so. It may even become an acquisition target. ESNG is attractive because of its earnings stability and persistence, its sales growth and earnings momentum.
Disclosure: I have no positions in any stocks mentioned, and no plans to initiate any positions within the next 72 hours.