American Capital Agency Corp. (NASDAQ:AGNC) is a real estate investment trust (REIT) that invests in agency mortgage-backed securities. Agency securities are guaranteed by the U.S. Government through Government-sponsored entities such as Fannie Mae (OTCQB:FNMA) and Freddie Mac (OTCQB:FMCC).
Note: REITs earn net interest income, which is the spread between the interest income earned on its interest earning assets and the interest costs of its borrowings. AGNC funds its investments primarily through short-term borrowings structured as repurchase agreements
.
Strong Dividend-Adjusted Returns
Despite a limited track record, AGNC has delivered very strong returns to shareholders in the current rate environment.
(Click charts to expand)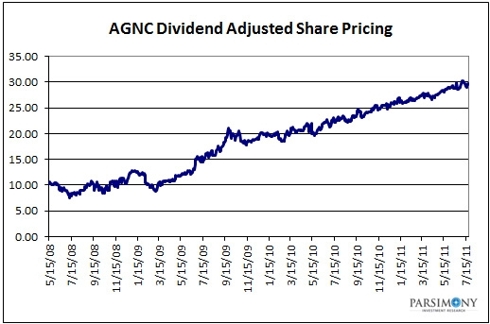 Click to enlarge
Current and Historical Valuation
REITs tend to trade as a multiple of book-value as opposed to a multiple of current earnings like most stocks. AGNC currently trades at 1.14x book value, which is inline with historical valuations.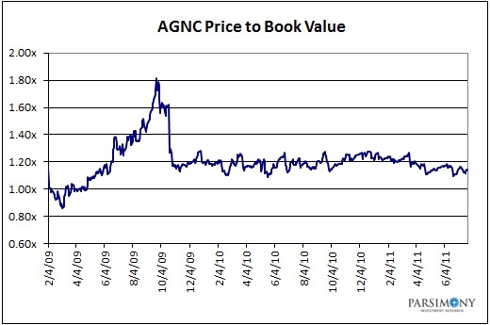 Click to enlarge
Comparable Peer Valuation
Compared with its mortgage REIT peers, we believe that AGNC currently offers investors a phenomenal risk-adjusted return of 19.0%. In general, REITs that invest in agency securities (as opposed to non-agency securities) tend to trade at a higher premium to book-value as their portfolios are viewed as less risky due to the inherent government guarantee. However, investors should be aware that most agency REITs tend to utilize more leverage than their non-agency peers.
The chart below plots dividend yield and price-to-book value for each REIT.
Note: Marker sizes are based on market capitalization
.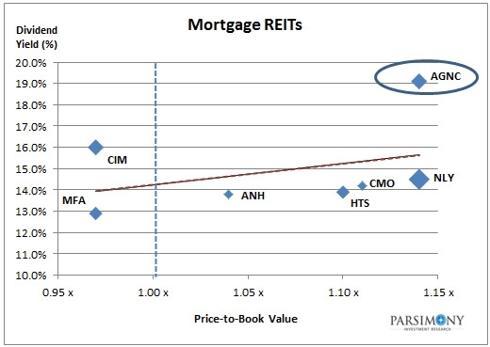 Click to enlarge
Parsimony's Position
We recently published an article discussing
which mortgage REITs are most suitable for investors
based on their view on interest rates. We believe that AGNC is well positioned for the current interest rate environment – one characterized by a stable and steep yield curve. When the economy truly starts to recover and the Federal Reserve starts to unwind its ultra easy interest rate policy we will likely sell rate sensitive mortgage REITs and opt for those REITs that might be better suited for rising rates. It is our view that Anworth Mortgage Asset Corp (NYSE:
ANH
), Capstead Mortgage Corp. (NYSE:
CMO
), and Hatteras Financial Corp. (NYSE:
HTS
) will perform better in a rising interest rate environment.
But until the economy improves in a sustained and material way we will likely continue to hold Annaly Capital Management (NYSE:NLY) and AGNC.