Last week, Adam Muller wrote an article, Caribou Coffee and Jamba Juice: 2 Turnaround Plays at Different Stages, that covered the main reasons why Jamba Juice (JMBA) may represent an interesting turnaround story and a good investment opportunity. Envoy Global also wrote, a few months ago, a good piece on the company's potential, from which we'll quote his risk/reward section:
At 80 million shares (including Series B Redeemable Preferred Stock) the current market cap is $265 million, or around a $230 million enterprise value. That's set against around $270 million in LTM sales. Cheap? Not necessarily based on the numbers alone. But, it really depends on what one thinks of the intangible value here, i.e. the brand, and the prospects for growth both in terms of franchising, licensing etc. I happen to be a big believer in the potential here, so I think the valuation is quite low relative to the future prospects, even if I can't, or don't have the patience, to fully quantify it.
This article is a sort of unrequested follow up to both analyses, adding a few data to the discussion, mainly related to the company's recent performance.
Since 2009, Jamba Juice's strategy has been to focus on franchise-owned stores (the company sold more than 150 facilities), pursue the commercialization and sale of licensed Jamba consumer products through partnerships like Nestlè (NSRGY.PK), Zola and O.N.E., expand food offerings (attaching snacks to beverages) in an effort to increase same-store sales, grow the brand abroad and reduce expenses. This transition to franchising operations mainly obviously meant a strong decrease in revenues in the last few quarters.
Here is an updated view of Jamba Juice's stores, divided by ownership:
[Click all to enlarge]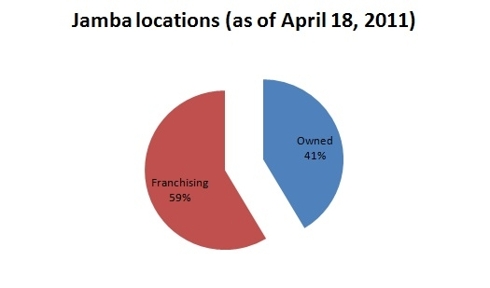 Today, about 60% of US Jamba Juice locations are owned by franchisees.
Jamba's revenues are somehow seasonal, with the last quarter being traditionally the weakest of the year. Here is a chart showing the Y/Y decline in revenues recorded in the last few quarters: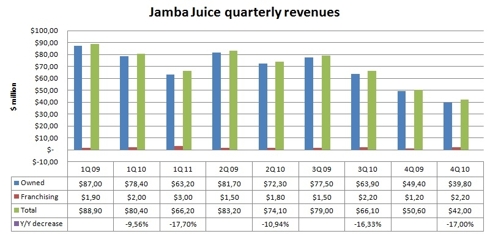 As you may notice, revenues declined between 10% and 18% Y/Y, as the re-franchising program was in place. The restructuring delivered an improvement to the bottom line, but these negative numbers are hardly exciting for Wall Street.
As the transition is now mostly over, Jamba Juice should be able to find its floor in 2011 in terms of revenues and start delivering positive top line growth going forward, and, even more important, much better margins due to the licensing and franchisee business model.
Here is a quick look at the stock recent performance: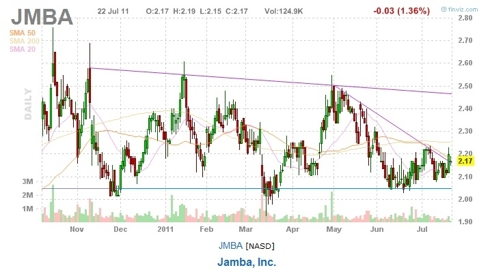 As the company is still in the middle of its restructuring efforts, it is no surprise that it is trading in a range. Some additional pressure probably comes from the fact that two large shareholders, Mistral Equity Partners and CanBa Investments, have both been recently selling shares of the company – not unsurprisingly, as they have already achieved a good profit on their 2009 investment, made through preferred stock convertible at a price of $1.15 per share.
The next two quarters will probably be key to understanding how the turnaround is progressing. The company has a decent cash position but still needs to improve its margins and costs to be on the safe side – and assuming it executes well in 2011, it might have succeeded in its target, as the CEO said during the Q4 2010 conference call, to establish "a business model, an organization and a roadmap that will drive accelerated growth well into the future."