CEF Weekly Review: On average the 13 closed-end fund (CEF) types registered a share price increase of 0.5% for the week ending 7/22/11. The high-low spread registered this week was +1.4% versus +2.7% on an average price change of +0.5% versus -1.1%, respectively. On an aggregate unweighted basis, the weekly average price change for the 500 plus CEFs in the GrowthIncome database was up 0.6%.
The PowerShares CEF Income Composite (NYSEARCA:PCEF), an ETF that invests in taxable income CEFs, increased 0.7% for the week. The S&P 500 ended the week up 2.2% on optimism over resolution of the twin debt negotiations both here and in Europe which by Friday evening seemed misplaced. The S&P 500 is now up 6.9% YTD.
Trading Volume: The average daily volume for the S&P 500 (Pending:GSPC) ticked down 1.1% from its recently elevated volume level to 4.11 billion shares. (See, "Uptick, Downtick" below.)
The Eqcome CEF Fear Index eased significantly for the week. The average CEF unweighted price increased 0.6% and the related NAV decreased 0.1%. After surging 22.2% last week the VIX retreated 10.3% to 17.52.
CEF Weekly Fund Type Performance: Fund type performance reflected the strengths of the equity advances. GenEqFnds and WrldEqFnds both posted share price gains over 1.0% with the respective NAVs advancing at an even greater pace. Two debt fund types posting better than average performance were NatlMuniBndFnds and HiYldBndFnds which both saw their average price advancing greater than their NAVs.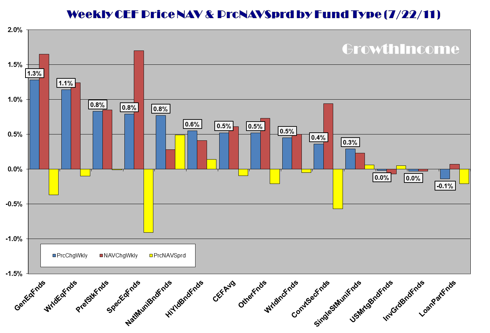 Click to enlarge
(Click to enlarge)
SpecEqFnds is a fund type that typically does well in strong equity market advances. That did not occur this week. SpecEqFnds average share price increased 0.8% while the average NAVs increased at a rate of 1.7% leaving some price advances "on the table".

The only funds [(NYSE:SRV), (NYSE:KYN), (NYSEMKT:FEN) and (NYSE:IRR)] to experience price declines in the SpecEqFnds were in the Energy sector. This was in contrast to the Oil ETF (NYSEARCA:USO) which advanced 2.1%.
Economic & Earnings Outlook: (Click here[i] for next week's economic calendar; click here[ii] for earnings' announcements and estimates.)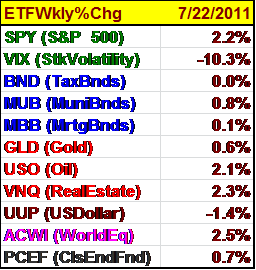 ETFs: For a more detailed EFT performance by sectors, click here.
Insider Trading: There were only two additional transactions this week. The biggest being Cascade Investment, LLC, one of the investment vehicles for William H. Gates, II, (formerly Microsoft), purchasing additional shares of Western Asset/Claymore Inflation-Linked Opportunity Fund (NYSE:WIW).
Cascade purchased an additional 6,194 shares at $12.50 adding to its previous purchase this month of 21,815 shares of WIW. Mr. Gates' interest now totals 6,684,440 for a capital expenditure of $83.5 million and is a 10.9% owner of WIW.
(Click here for a hyperlink to the Joe Eqcome's CEF Weekly Insider Report—see, "Research" Menu; "CEF Weekly Information" tab.)
CEF Distribution Announcements This Week: Several of Flaherty & Crumrine advised CEFs increased their distributions. (Please note that these CEFs have yet to announce ex-date. Our ex-dates are estimated based on historical data.) The following is a link to a table of CEF distribution announcements this week as well as the previous week's with yet expired ex-dividend dates. The list is not intended to be inclusive. (Click Here for Joe Eqcome's Weekly CEF Distribution Announcements—see, "Research" Menu; "CEF Weekly Information" tab.)
Joe Eqcome (Owns a diversified portfolio of CEFs and ETFs and is long stocks in the CEFBig10™, CEFMuni10™ and CEFDisc10™.)
The first is a balanced equity-income portfolio (CEFBig10™), the second a tax-exempt income portfolio (CEFMuni10™) and the third a portfolio whose objective is capital gains with a secondary objective of current income (CEFDisc10™).
[*] All things being equal, price and NAV should move in tandem. A price movement greater than the NAV generates a positive PrcNAVSprd and may be interpreted as negative on a near-term basis and indicate that the stock is overvalued relative to its NAV which in theory is the stock's intrinsic value. The opposite would be true for a negative PrcNAVSprd.
Disclosure: I am long PCEF. I am also long stocks in proprietary CEFBig10, CEFMuni10 and CEFDisc10