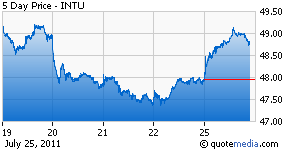 By most measures Intuit (NASDAQ:INTU) is a winner.
It has a dominant position in its niche of financial software. Institutions own 87% of the stock, which has a P/E of over 23.
The company has gotten through the open source era unscathed – millions of people still download regular updates to its proprietary Quicken program despite having lots of open source alternatives.
The cloud may only accelerate this growth, although unless you listen very closely you may not hear it.
Anything with a substantial online presence is now happy to assert they're a cloud play. Thus if you believe the hype Intuit is a cloud play. Much of what it does is not provided as a service, not as software you buy in a store or download.
These include its Financial Services unit, which offers services to customers through banks, and its Intuit Health unit, which already has 4 million people in its patient portal.
These are fast-growing niches, and Intuit is in a sweet spot, albeit hidden behind others' brand names. But when your bank suddenly offers you more online services, chances are they're coming from Intuit. And when your hospital suddenly starts offering you new services, that may well be coming from Intuit, too.
More specifically, those services are probably coming out of Microsoft's (NASDAQ:MSFT) Azure cloud, because the two companies have been collaborating closely since early last year. By integrating its online offerings through Azure, Intuit has been able to quickly adapt its product line to tablets and smart phones.
Microsoft is not the only cloud Intuit is playing on. It's following its customers. With millions of smaller businesses doing their customer relationship management on Salesforce.com (NYSE:CRM), Intuit has made an alliance with them.
What a lot of these deals have in common is Intuit going to market under others' brand names. That reduces its marketing costs while still increasing its business. So if you only evaluate the company's earnings and prospects based on things like Quicken or QuickBooks, you may be missing most of the earnings iceberg, and its momentum.
Which may be why so many analysts give Intuit a buy or overweight rating, with the average price target of $60 for a company currently trading at under $48.
Disclosure: I have no positions in any stocks mentioned, and no plans to initiate any positions within the next 72 hours.