Global land drilling contractor Nabors Industries Ltd. (NYSE:NBR) is expected to report its second quarter 2011 earnings on Tuesday, July 26, after the market closes.
The Zacks Consensus Estimate for the second quarter is a profit of 25 cents per share, on revenue of $1,327 million.
Preceding Quarter Recap
Nabors reported marginally better-than-expected first quarter results on the back of strong North American onshore activity levels.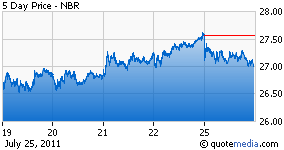 Earnings per share from continuing operations (excluding 6 cents in unusual costs and lost income) came in at 35 cents, a penny ahead of the Zacks Consensus Estimate and were comfortably ahead of the year-ago adjusted profit of 23 cents.
Revenue of $1.4 billion surpassed the Zacks Consensus Estimate of $1.3 billion and the first quarter 2010 sales of $896.4 million.
As of March 31, 2011, the company had $730.3 million in cash and short-term investments and $4.5 billion in long-term debt (inclusive of current portion), with a debt-to-capitalization ratio of approximately 44.9%.
Agreement of Analysts
The analysts exhibit a pessimistic sentiment on Nabors' to-be-reported quarter based on the weak natural gas fundamentals and international operational disturbances, which will likely limit its ability to generate positive earnings surprises.
In the last 30 days, out of the 25 analysts covering the stock, 13 have lowered their estimates, while none has raised the same. The last seven days saw a complete dearth of estimate revision.
Magnitude of Estimate Revisions
With effect from the earnings revisions by the analysts in the last 30 days, the Zacks Consensus Estimate for the quarter dropped to 25 cents from 29 cents. For the past seven days, the estimate for the second quarter remained static.
Surprise History
Nabors exhibited a mixed earnings surprise trend over the last four quarters. The company recorded a minimum surprise of negative 14.71% in first quarter 2011, while a maximum of 26.09% in third quarter 2010. On average, the earnings surprise was 8.97%.
Our Recommendation
Barbados-based Nabors conducts oil, gas and geothermal land drilling operations and is a leading land-drilling contractor worldwide. It is also one of the largest land well servicing companies and workover contractors in the U.S.
We believe that Nabors exhibits a large, high-quality drilling fleet and remains well positioned with a sound mix of high performance rigs and new rigs working in the key shale plays. The company also enjoys good exposure to oil plays with its presence in the Bakken, Permian and International plays.
However, the company remains vulnerable to volatile natural gas prices, imbalance in the demand-supply of rigs in the U.S. land drilling market and international business risks. Nabors faces competition from peers such as Ensco plc (NYSE:ESV) and Patterson-UTI Energy Inc. (NASDAQ:PTEN). We maintain our long-term Neutral recommendation on Nabors shares.