We are in the midst of a secular bull market in gold that has been going strong since 2001 and delivered a six-fold price increase. The main driver behind rising gold prices over the past decade has come from investment demand.
Uncertain economic conditions, sovereign debt worries, and currency debasement are all factors that have driven investors to own gold. You may already know the basic reasons for owning gold, which are: Currency protection, inflation hedge, store of value, and insurance against a financial meltdown. Add supply and demand imbalances and you have a strong argument for holding gold in the foreseeable future.
All these factors are extremely bullish for gold and despite a six-fold price increase over a decade it is still not too late to buy the yellow metal, especially if your portfolio is underweight in gold. Many highly respected individuals in the industry including, James Dines, Peter Schiff, and James Turk are calling for a top in gold anywhere between $5,000 and $12,000 before the bull market is over.
Bullish Fundamentals
The approximate value of total investment holdings in gold is around $1.5 trillion, which represents about 0.7% of all global financial assets. Despite the price of gold being up nine years in a row, it still only represents a tiny portion of global investment holdings. During the bull market in 1980's gold represented 2.8% of global assets; four times as much as today. The chart shows the percentage of gold versus all others financial assets globally.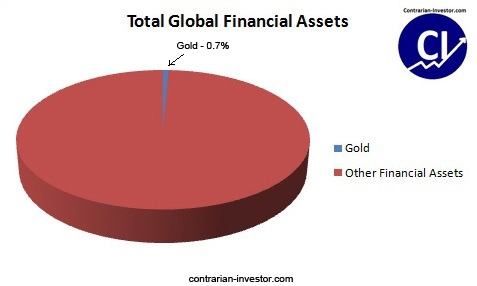 Not only are the vast majority of funds underweight in gold but, there is a vast pool of institutional money searching for a safe home. For example, global pension fund assets alone account for a staggering $31.1 trillion dollars in assets; twice the amount of the US GDP. According to Shayne McGuire in his book Hard Money, the typical pension fund only holds 0.3% of assets in gold or gold mining stocks.
A mere increase of 1% in allocation of gold among pension funds is enough to substantially increase investment demand in gold and make the price soar. The pension funds present the 800 pound gorilla in the room that could ignite the next phase of the bull market and give investors a run for their money.
Central Banks are Buying Gold
Up until very recently, central banks had been net sellers of gold, but that all changed in 2009 when they for the first time in over two decades became net buyers. Last year alone a total of 19 central banks added gold to their reserves. With declining fiat currencies and uncertain economic conditions, central banks as a group are expected to continue to be net buyers of the metal for the foreseeable future.
Many central banks in the developing world, including China, Brazil and Russia are substantially underweight gold in their reserves, compared to most western nations. For example, 73% of the United States reserves are held in gold and 60% of the reserves in the European Union are held in gold. China holds less than 2% of its reserves in gold, Russia holds 6.7%, and Brazil holds about 0.5% of its reserves in gold. These nations have already stated that they plan to diversify out of paper assets and into gold and other hard assets, which is undoubtedly very bullish for gold prices.
Supply and Demand
Gold is quite different from most other commodities, including agriculture, energy, livestock, metals, and other precious metals. Unlike other assets, demand is dominated by jewelry and investments. Only a small portion of gold demand is used in industry, which makes it much less exposed to business cycle fluctuations than other commodities.
click on image to enlarge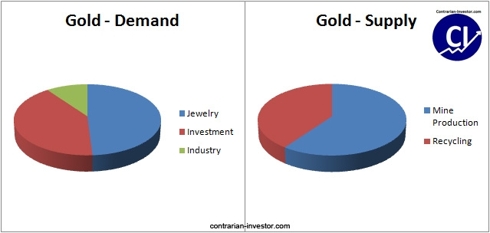 Almost all gold that has ever been mined still remains on the face of this planet and very little additional supply is added each year. Lead times for getting new mines in production are very long. It takes on average 5-10 years for a new mine to come online, and only about 1% of additional supply is added each year. As a result the gold supply is very stable and demand depends to a large degree on investment sentiment.
Investment Implications
With a high probability of rising gold prices in the foreseeable future, investments in gold bullion or gold ETFs should be profitable strategy. I recommend the following ETFs: