Debt Ceiling Impasses Are Nothing New
The decision to free this bill averted what might have been a serious government "financing crisis"
So wrote the Pittsburgh-Post Gazette on December 4 1973, after president Richard Nixon signed a bill increasing the debt ceiling "temporarily" to $475.7 billion. The temporary nature of the increase of course referred only to the fact that everybody knew that the new ceiling would likely be reached again by June of 1974. The reason why the increase had been held up was that several senators wished to attach an amendment that would have introduced and regulated public financing of election campaigns.
The debt ceiling ritual often invites political brinkmanship. Usually this happens when there is cohabitation, i.e. when the party in control of Congress is different from the one controlling the administration.
A recent article at the Big Picture enumerates all the debt ceiling wrangles since 1939. What immediately becomes clear when reading through these examples of past debates is that the party that is out of power always accuses the party in power of fiscal recklessness. Every single time the accusation was well founded: no matter who was in power, he usually was indeed fiscally reckless.
Many people fondly recall the most recent exception to this trend under the Clinton administration. However, the Clinton administration was forced into a certain degree of fiscal rectitude by a Republican Congress, which at the time also used the debt ceiling debate to press for a spending slowdown and was prepared to induce two temporary partial "government shutdowns" of 6 and 21 days respectively in 1995 and 1996 (apart from government workers, it seems likely that nobody missed the government much when it was 'shut down").
Moreover, Clinton simply was lucky – his presidency coincided with the collapse of Soviet communism, which meant that it was politically feasible to lower the rate of growth of defense spending. In addition, during Clinton's second term the secular bull market in stocks entered its mania phase and went parabolic. The economy boomed concurrently, as the Fed accommodated one of the biggest private sector credit expansions in history. Due to hewing to a "price stabilization" policy in a time period when the economy underwent strong productivity growth as the application of computer technology percolated through every sector of the economy, it tolerated a massive increase in the credit and money supply – a situation that was very reminiscent of the "Roaring 20's". We have previously discussed the introduction of 'sweeps" in the mid 1990's, which enabled the banking system to engage in near unlimited inflationary lending, as the Fed essentially did away with reserve requirements. The government enjoyed massive revenue increases as a result of all this.
Looking back at the 1995-1996 debt ceiling impasse under the Newt Gingrich-led Congress, what stands out is that the Republicans at the time didn"t even want tocut spending – they only wanted to slow its growth. As the NYT reported at the time:
The Speaker also turned up the heat on Mr. Clinton for saying that Republicans had proposed cuts in Medicare, Medicaid and the earned-income tax credit at his Thursday news conference. Mr. Gingrich said that Republican plans for those programs included increased spending, but they proposed spending that would increase more slowly than the President's budget.

Mr. Gingrich said that the President was unfairly characterizing a proposed cut in the rate of growth of spending as a cut in spending. He said that under the Republican party's seven-year plan, Medicare spending, for example, would go to $7,100 a person from $4,800.

Earlier, addressing an audience of 650 gathered to raise money for Representative Bill Baker, a local Republican, he poked fun at the President over the issue. "Maybe it's not his fault," Mr. Gingrich said. In "an age when many people have unusual problems, he said, "maybe the President is factually challenged.
(emphasis added)
It should be noted here that budget surplus of the late Clinton years was really a deficit in disguise. It included the social security surplus, which the government has traditionally never saved, in spite of the actuarial certainty that the financing of social security is unsustainable in the long term. If "unfunded liabilities" had been properly accounted for, there would not have been a surplus.
U.S. "debt limits" from 1961 to 2011, via CBC News. Note how public debt growth really took off in the 1970's, shortly after Nixon dropped the "gold anchor." This unfettered debt growth is clearly a function of the irredeemable fiat currency system.
Big Spenders, the Role of the Fiat Money System and "Public Intellectuals"
One fact that is beyond dispute is that with regards to deficit spending, it does not matter whether the administration is Democratic or Republican – in fact, Republican administrations have up until Mr. Obama's arrival on the scene always been record deficit spenders, whether it was Nixon/Ford, Reagan or the Bushes. Obama is the first democratic president since FDR who actually beats the pants off his Republican predecessor in terms of the growth of deficit spending (it is important to remember here that Hoover's deficit was almost as big as FDR's relative to GDP and represented what was then a record deficit for the U.S. in peacetime).
The main difference between the two parties is in their spending priorities, not in their willingness to run fiscal deficits as such. Both are fundamentally d'accord with statism, with the Republican party favoring warfare over welfare statism and the Democratic party the opposite (it should however be noted that Democratic presidents are not fundamentally less likely than Republican ones to go to war and Republican presidents are no less likely to increase entitlements if they deem it politically useful to do so).
What has enabled the enormous growth in both private and public debt is the fiat money system. Not surprisingly, apart from Ron Paul in the U.S., no politician is willing to even discuss it. The apparatus of the State is the greatest beneficiary of the fiat money system and therefore all who are involved with the State and making a living from it or are benefiting from the privileges it bestows will never admit to to the monetary system's faults. Ron Paul is a rare exception, as he is one of the few elected politicians who really want to shrink the State. The reason why he is such a rare bird is not necessarily that there is no constituency for his ideas, but rather that the "job" of politician is a priori all about gaining and retaining power, and if possible, increasing it. In short, a politician who stands by the principle of wanting to decrease the size and power of the State is really working against the main interests of the political and bureaucratic classes. Obviously, one will not often find such a man in the halls of power. As far as we are concerned, we believe the "job" of politician should not even exist. Political office should be a public service engaged in on the side by civic-minded people who have a real, productive job otherwise.
Meanwhile, the private sector – whether wage earners or businessmen – should rail against the current inflationary monetary system, as its existence has dramatically lowered long term real economic growth and has largely destroyed real income growth, while stealthily redistributing wealth from the poorest to the richest members of society (see also our previous article on wealth and income inequality). One reason why this is not happening is that the workings of the monetary system are so complex and obscure that most people do not have the time to actually look into them in any great detail. Even if they do make an effort to inquire into how the modern fiat money system works, they are faced with the challenge of having to wade through volumes of propaganda and misinformation until they get at the truth. Obviously the purveyors of the system have a very strong interest in suppressing debate and until the arrival of the internet debate was in fact successfully suppressed.
We have occasionally discussed the role public intellectuals play in shaping such debates; as it were, the supply of professional intellectuals nowadays far exceeds the market demand for them. In the past, intellectuals were dependent on support by elites – one had to find a well-to-do financier willing to financially support intellectual endeavors that he deemed worthy. As a result only the most outstanding thinkers could hope to be able to live from their work, and even then had to often supplement it with more mundane work on the side.
However, the modern State has found a use for intellectuals that would likely find it difficult to get what they consider adequate remuneration for their services in a free market. Obviously the vast bulk of intellectuals at any given time can not truly aspire to greatness. Someone of the stature of Ludwig von Mises doesn"t come around very often (as an aside here, when von Mises came to the U.S., the salary for his work as a visiting professor at the New York University was funded by the industrialist Lawrence Fertig). Alas, mediocre intellectuals are still quite useful for the dissemination of statist propaganda – and the State funds them generously. Economists are in fact an excellent example for this. The former governor of Hong Kong, Sir John James Cowperthwaite, held that the government should not even collect economic statistics, as that would inevitable lead to government meddling in the economy. As it turned out, Hong Kong was served extremely well by this attitude – it grew from a poor backwater to one of the richest places on earth in record time. Without the interventionist State, a great many "macro-economists" would likely be out of a well-paid job. The Federal Reserve alone employs thousands of them – not one of them is likely to speak out in favor of the discipline of a gold standard or likely to advocate the abolition of the Fed in favor of a free market based money system. Whether they are employed in government-funded education or directly in government departments, or indirectly at firms that get their funding from the government, it follows that a great many economists will support economic theories that are advocating interventionist policy – hence the enduring popularity of Keynesianism and varieties thereof among them. Few people are eager to bite the hand that feeds them after all. We want to point readers in this context to Hans-Hermann Hoppe's excellent essay "Natural Elites, Intellectuals, and the State", where this problem is extensively discussed. A brief quote from Mr. Hoppe's essay underscores what we have said above:
There are almost no economists, philosophers, historians, or social theorists of rank employed privately by members of the natural elite. And those few of the old elite who remain and who might have purchased their services can no longer afford intellectuals financially. Instead, intellectuals are now typically public employees, even if they work for nominally private institutions or foundations. Almost completely protected from the vagaries of consumer demand ("tenured"), their number has dramatically increased and their compensation is on average far above their genuine market value. At the same time the quality of their intellectual output has constantly fallen.

What you will discover is mostly irrelevance and incomprehensibility. Worse, insofar as today's intellectual output is at all relevant and comprehensible, it is viciously statist. There are exceptions, but if practically all intellectuals are employed in the multiple branches of the state, then it should hardly come as a surprise that most of their ever-more voluminous output will, either by commission or omission, be statist propaganda.
(emphasis added)
Hans-Hermann Hoppe by the way notes that in order for public opinion to be swayed, the help of intellectuals will be needed, a sentiment with which we agree. As Hoppe writes on this point:
Even if most intellectuals have been corrupted and are largely responsible for the present perversities, it is impossible to achieve an ideological revolution without their help. The rule of the public intellectuals can only be broken by anti-intellectual intellectuals. Fortunately, the ideas of individual liberty, private property, freedom of contract and association, personal responsibility and liability, and government power as the primary enemy of liberty and property, will not die out as long as there is a human race, simply because they are true and the truth supports itself. Moreover, the books of past thinkers who expressed these ideas will not disappear. However, it is also necessary that there be living thinkers who read such books and who can remember, restate, reapply, sharpen, and advance these ideas, and who are capable and willing to give them personal expression and openly oppose, attack, and refute their fellow intellectuals.
Public opinion tends to follow the guidelines established by the intellectuals of the day and it is therefore not too surprising that there is today very little public resistance to the fiat money system and the increase in public debt it has enabled. Every time Ron Paul challenges Ben Bernanke in congressional hearings, he is overwhelmed by the enormity of the task – there simply is too little time to properly interrogate the Grand Poobah of the Fed on these occasions, and as far as we can tell, not one of Paul's colleagues is prepared to question the system as such to the extend he does.
The Debt Ceiling Impasse and the Markets
Up until recently, the markets have largely ignored the threat of a U.S. government debt default in case the debt ceiling fails to get raised in time. This is not surprising, as people – not unreasonably – expect that the Treasury will find more "workarounds" to keep an outright default at bay. Also, up until recently it was widely held that the wrangling in Congress would end just in the nick of time. Again, not an unreasonable expectation, given past experience and the fact that it is Congress that "holds the purse strings", i.e. the amount of public spending is a Congressional prerogative, bearing its seal of approval. As such, it is now holding up spending it has already approved.
The only markets that seem to have taken the problem to heart thus far have been gold and the U.S. dollar, although in gold's case it could well be argued that its recent rally was mostly driven by the sovereign debt crisis in euro-land. The reason why gold rises when sovereign debt problems rear their head is that the market expects them to be resolved by more money printing at some point down the road and attempts to discount this eventuality, even if it is still temporally distant. Gold has therefore been strong both in euro and dollar terms, in spite of the fact that money supply growth in the euro area has been stagnant over the past six months.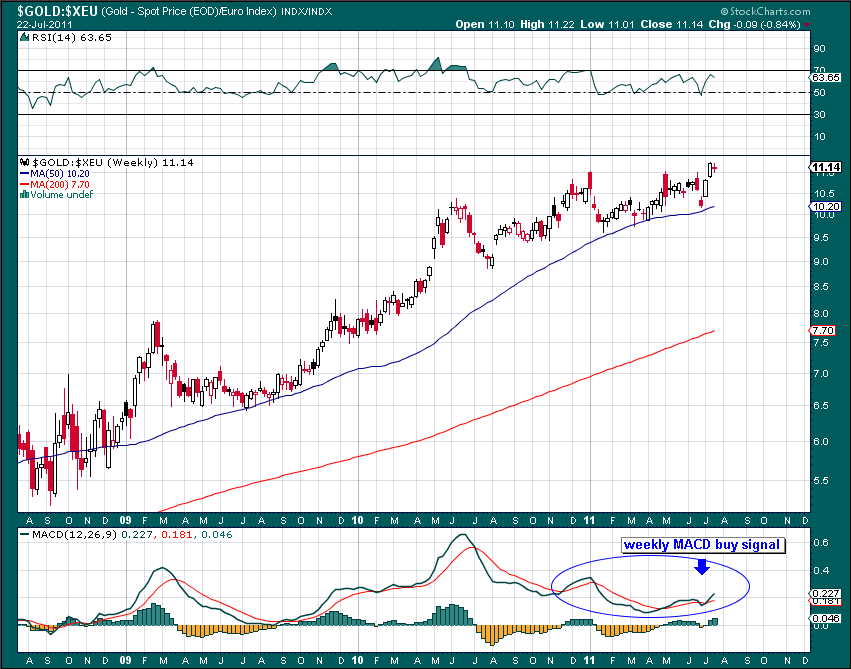 (Click to enlarge)
Gold in terms of the euro has been well supported, rising slowly but steadily to new highs.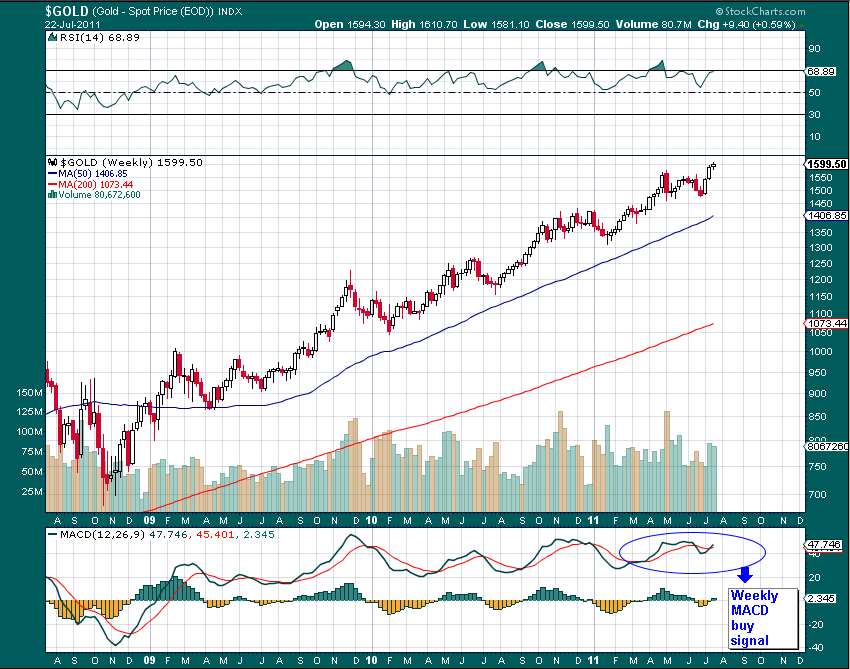 (Click to enlarge)
In dollar terms, the increase in the gold price since the beginning of 2009 has even been stronger (a gain of approx. 73% vs. 71% in euro terms).
In a previous article, we discussed the U.S. dollar and the growing likelihood that it would reach a low of intermediate term importance over the next several weeks. At the time, we showed this chart, indicating the medium term bullish and short term bearish divergences and a possible path the dollar might take. So far, nothing has happened that would lead U.S. to abandon this view. The final thrust down that we indicated as likely to happen appears to be underway. An updated version of the speculative path is depicted below: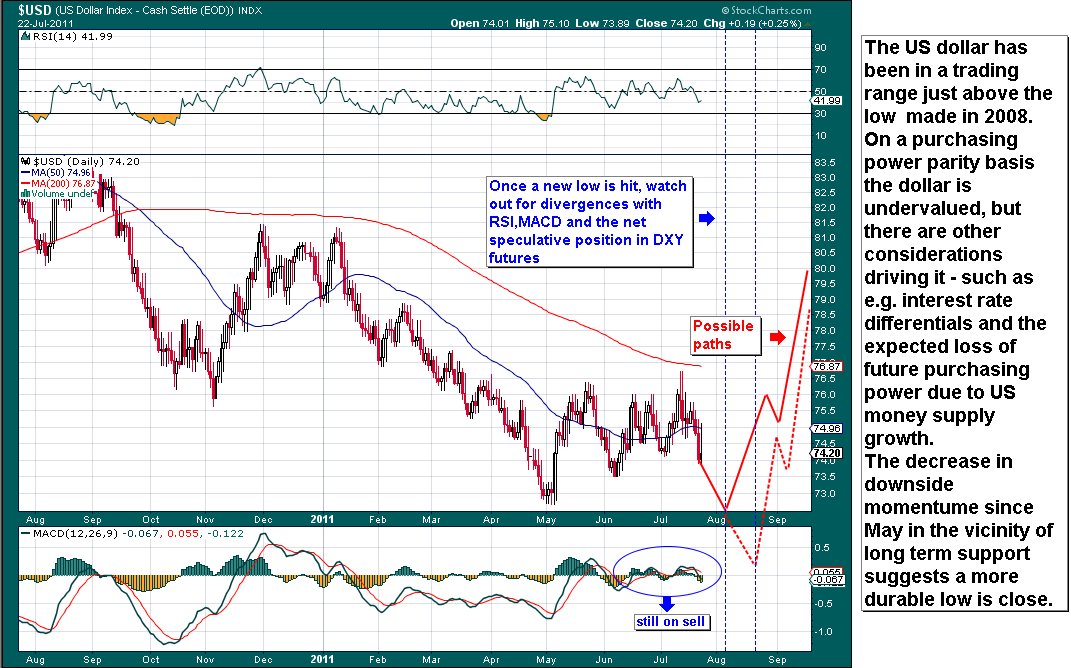 (Click to enlarge)
The U.S. dollar – still on a short term sell signal, after it looked briefly as though we might have to abandon the "one more leg down" theory. So for now, it still looks as though the usual sequence will play out – i.e., a new low will be put in that is accompanied by clear divergences in RSI and MACD before a bigger rally begins.
We should perhaps briefly recap why we think the dollar may rally against other fiat currencies later this year. For one thing, the dollar seems quite undervalued in purchasing power parity terms against most other currencies at the moment. More importantly though, money supply growth has begun to slow down or stagnate in many countries, which means that global free liquidity is getting tighter. This in turn has gone hand in hand with a marked slowdown in economic activity. We already mentioned the sharp decline in the euro area's manufacturing PMI last week and have previously remarked on the signs of a slowdown in Australia, occasioned by a softening of its housing bubble. In the meantime, China's "flash PMI" (a PMI estimate published by HSBC in advance of the official data release) showed China's manufacturing sector to be in outright contraction. In a worrisome sign, the prices paid component was the only one still rising strongly, which indicates that the PBoC's tightening cycle has further to go. According to premier Wen Jiabao, "fighting inflation" remains China's top priority.
The euro area's debt crisis is currently "on hold", due to the altogether misplaced relief over yet another attempt to bail out the Greek government. Nevertheless, we suspect that dollar funding will return as a major headache for euro area banks in the not-too-distant future, as U.S. money market funds have begun to pull back from providing wholesale financing to them.
Many of the speculative positions in non-dollar currencies meanwhile are dollar-funded, i.e. they represent "carry trades." These positions are predicated on the "global economic recovery" story and as noted above, the air is slowly but surely coming out of that particular balloon. Usually, tighter liquidity conditions and weaker economic activity tend to be dollar friendly – a prospect that is currently interrupted by the wrangling over the debt ceiling increase.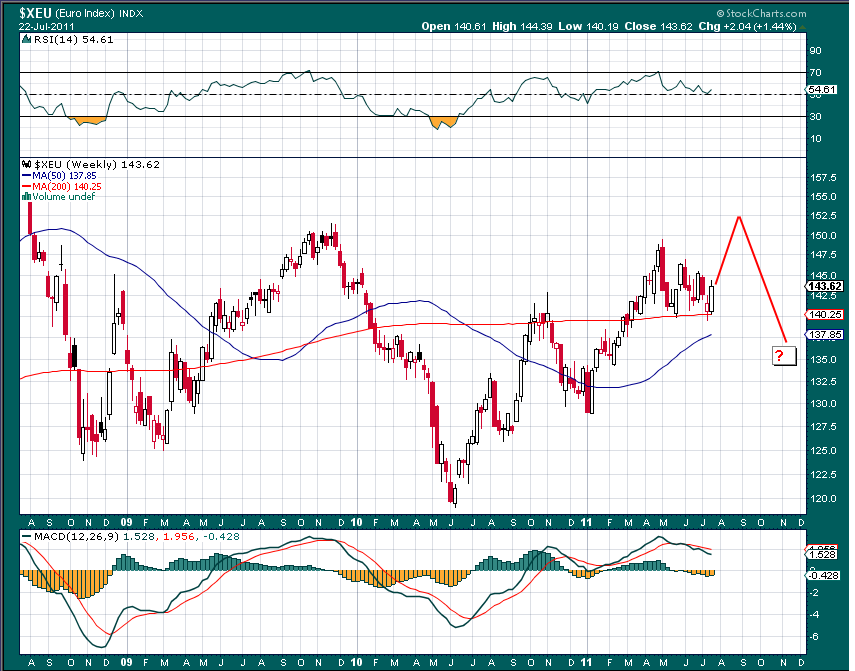 (Click to enlarge)
A weekly chart of the euro shows that our idea that the triangle should resolve in one more push higher remains viable. On July 4, we posted this chart , which shows the medium and short term divergences we focus on.
It is also noteworthy that speculators have so far shown very little inclination to lower their net long exposure in DXY futures – as we mentioned in our previous article on the dollar, this is also something we would expect to see if an intermediate term low in the dollar were fairly close (in this particular case, achievable in a matter of a few weeks).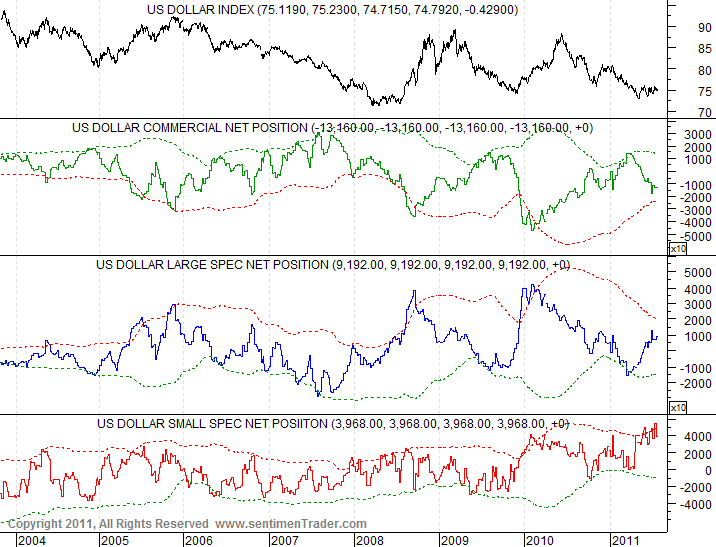 (Click to enlarge)
Commitments of traders in DXY futures. Speculators are reluctant to relinquish their net long positions, which is often a leading indicator for an intermediate term low.
One market that has so far remained unimpressed by the debt ceiling troubles are U.S. Treasury bonds and notes. As the chart below shows, yields are still very close to their recent lows. This may well change in the short term if the threat of an actual default – even a temporary one – materializes. The credit rating agencies have already announced that even a "technical default" that is expected to be resolved in short order will lead to a credit rating downgrade for U.S. Treasury debt. We would not necessarily expect that to have a long term impact (see e.g. what happened after Japan lost its AAA rating), but it would probably lead to a short term sell-off in treasuries.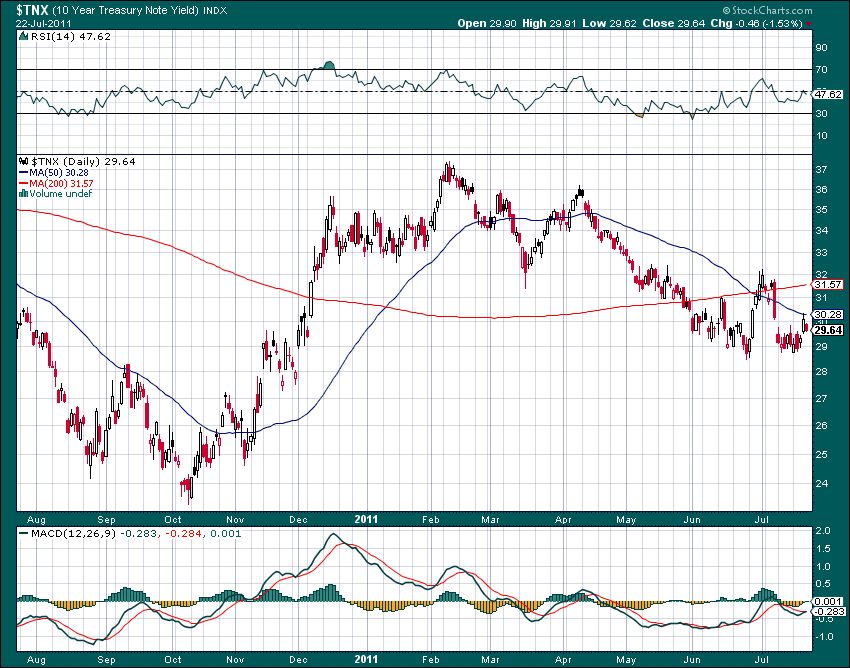 (Click to enlarge)
The yield on the 10- year Treasury note remains close to its recent lows. The Treasury bond market has been remarkably serene. It still seems to focus mostly on falling "inflation expectations" (i.e., expectations regarding the future course of CPI) and signs of a weakening economy.
Among the biggest victims of the succession of sovereign debt crises, first the euro-land crisis and lately the debt ceiling woes in the U.S., we find the Swiss export industries. The Swiss National Bank (SNB) has been unable to slow the inexorable rise of the Swiss Franc, in spite of a period of heavy market intervention. All it has achieved is bloating the size of its balance sheet. In the meantime the SNB has given up on this hopeless task and the CHF has continued its ascent.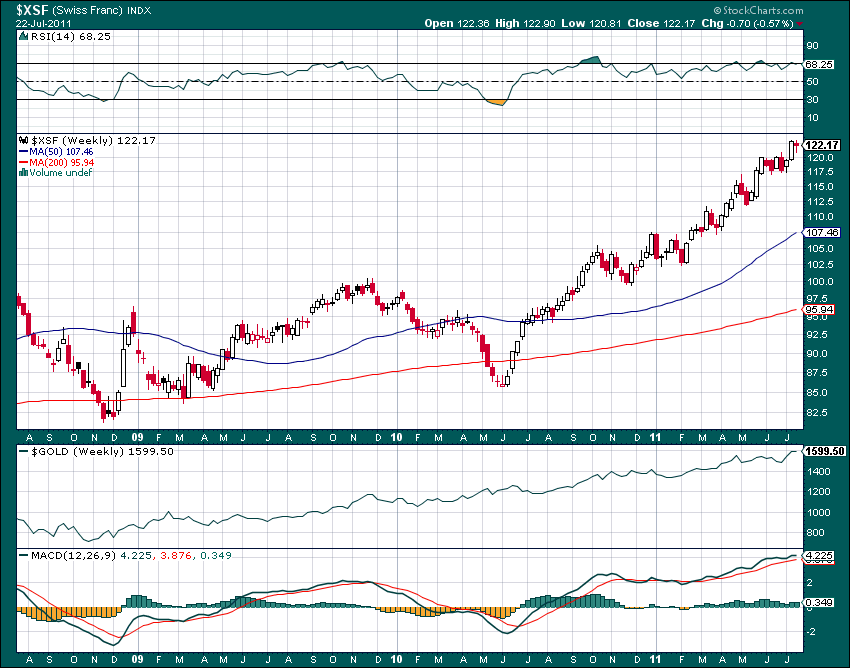 (Click to enlarge)
It was deemed sensational when the CHF reached parity with the U.S. dollar back in September of 2010. By now parity is but a distant dream for Switzerland's exporters.
One of the reasons for showing the CHF is that we are beginning to think it has gone too far too fast. A correction of the uptrend seems well overdue.
Lastly, although the various crises or threats of crisis in the sovereign debt realm are generally good for gold, there is still a fly in the gold ointment, so to speak – and that is the continued inability of the gold stocks to confirm the new highs in gold. We hasten to add that it would not take much to achieve confirmation, but in the past an inability of the gold stock indexes to reach new highs ahead of or concurrently with gold has been a warning sign and it should be treated as such until proven otherwise. However, the fact that the HUI-Gold ratio is in a short term uptrend counts as a mitigating factor relative to the non-confirmation. This is to say, a period of non-confirmation that is accompanied by gold stocks displaying a higher beta than gold itself can be taken in stride by gold bulls – whereas a non-confirmation that is accompanied by a falling HUI-gold ratio is really a big red flag. For instance, the non-confirmation of late April was marked by a downtrend in the ratio and this promptly turned out to be dangerous for the bulls.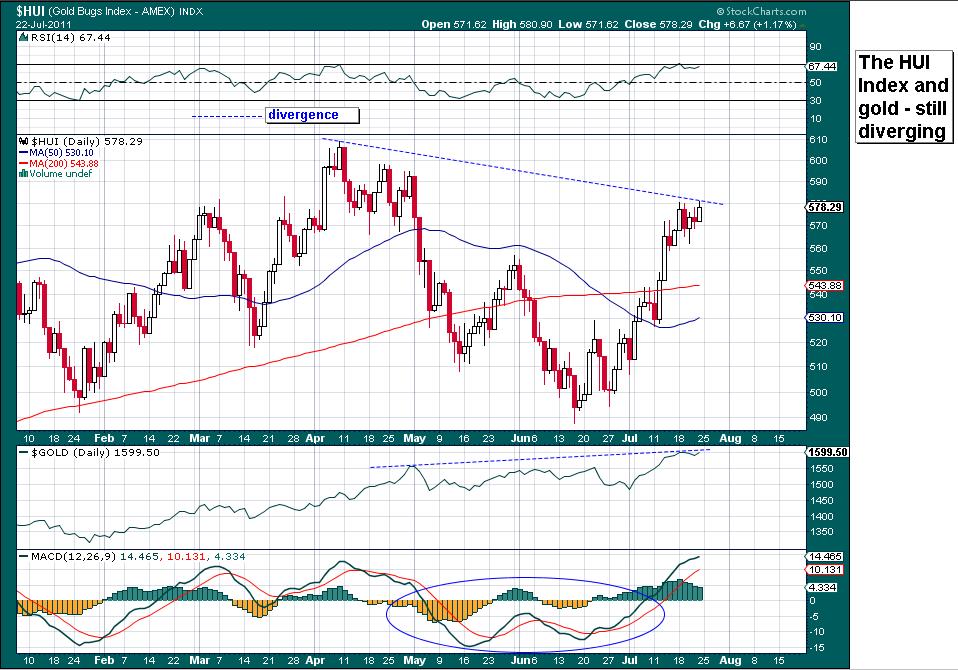 (Click to enlarge)
The HUI index of unhedged gold stocks has not yet confirmed the new highs in gold, but the previously flagged MACD buy signal remains in force.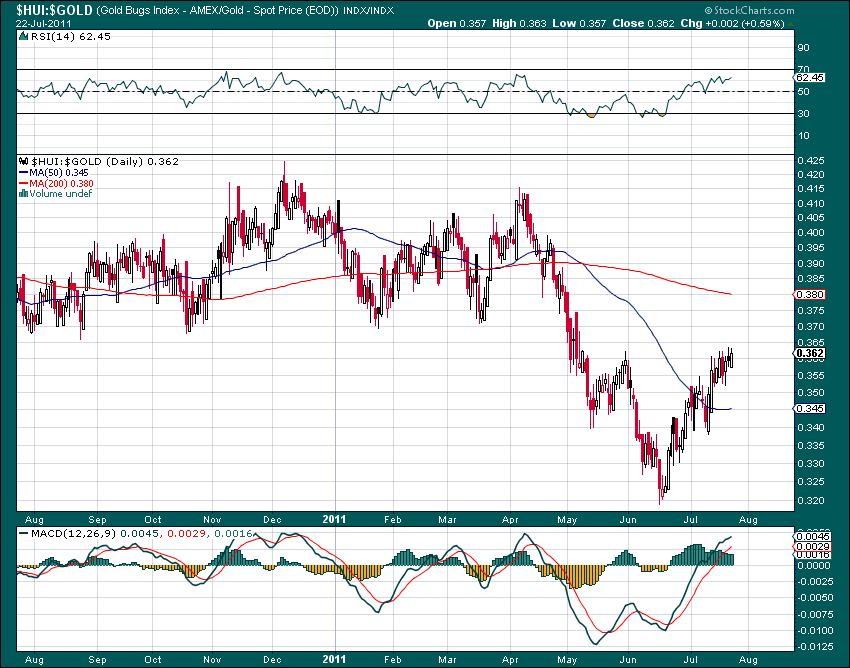 (Click to enlarge)
The big difference between the late April non-confirmation and the current one is evident in this chart. In late April when gold made a new high not confirmed by the HUI, the HUI-gold ratio was already in a four week long downtrend, whereas it is currently in a short term uptrend.
The stock market is probably going to show some concern over the failure to resolve the debt ceiling debate – in spite of the fact that the dollar is likely to weaken as well, which is normally a supportive factor for the stock market. When we wrote about the lack of fear in the market last week, we neglected to mention that among the short term indicators we watch, one in particular is indicating a worrisome increase in complacency – the put buying of the smallest traders (those opening 10 contracts or fewer) has declined markedly, to just 16% of their total activity. This is close to low end of the historical range, which is around 15%. There is a good chance that short term volatility in stocks is about to increase, and the debt ceiling impasse will serve as a good excuse.
Reuters has put together a time line of the current debt ceiling debate, which can be seen here: "How U.S. debt talks spiraled into crisis."
Meanwhile, some observers have noticed that the markets may actually become worried over the ongoing impasse, while others have begun to liken the debate to a difficult birth:
The fact that they seem to be jumping from one type of proposal to another and not converging on anything is beginning to worry markets," said Steven Englander, head of G10 FX strategy at Citigroup.

"I also think damage is being done by setting deadlines that aren"t going to be met," he said.

"This is a like a long labor, with the dad in the waiting room, waiting to see if it's a boy or a girl and the doctor's coming out and saying "I can"t tell you yet,"" Republican Representative Jack Kingston told Reuters.