In an article earlier this year I highlighted the American Funds top dividend stock holdings across six of its largest funds. At the time the 10 stocks provided an average yield of 4.8%. Since the portfolio was created (1/31/2011) the picks have handily beaten the market. I will review the performance and note changes to the top 10 as of June 30, 2011. Also, while it doesn't meet the 3% minimum yield threshold, there is a significant increase in Microsoft (NASDAQ:MSFT) holdings across the funds.
Why American Funds?
The American Funds mutual fund family continues to be one of the dominant fund managers despite some recent performance issues. It claims seven of the world's largest 15 mutual funds with those funds holding over $600 billion in assets. Because American Funds now updates holdings every month, it is now possible for investors to follow and consider the funds' top investments for their own portfolio. In addition we can filter and focus on the highest yielding positions, in this case those yielding over 3%.

Top 10 Dividends Stocks - Performance YTD
Below is a summary of performance of the top 10. The return calculations for the stocks and the appropriate benchmarks for each stock all include dividends.
Click to enlarge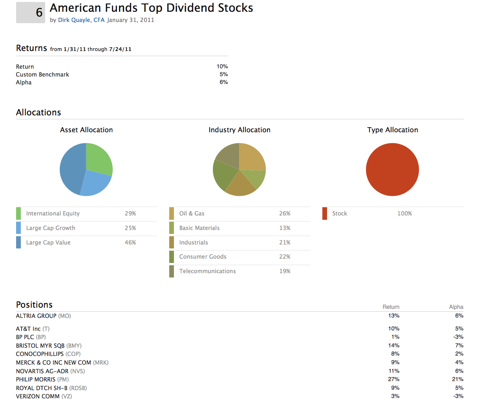 The total return of the 10 stocks has been 10%, 6% above the blended benchmarks consisting of large-cap growth, large-cap value, and international equity. None of the 10 shows a loss, and only 2, BP (NYSE:BP) and Verizon (NYSE:VZ), underperformed their benchmarks. Philip Morris (NYSE:PM) and Bristol Myers Squib (NYSE:BMY) were the top performers.
Changes in the Top 10 as of June 30th, 2011
It's a short list. BMY is now out and Kraft (KFT) was added. BMY is still widely held by American Funds' funds, but this article/portfolio draws the line at 10, and right now Kraft appears to have made the cut with over $2.1 billion held by 2 funds, CAIBX and CWGIX.
Here is the updated list, now yielding 4.3%, down from 4.8% due to price appreciation and the substitution of lower yielding KFT (3.3%) for BMY (4.5%). You can continue to follow the performance of the top 10 holdings here.
Click to enlarge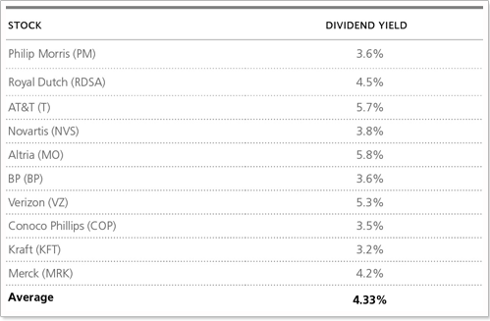 As noted previously many of the top 10 holdings in each fund are shared across the top six funds. Of the 60 top holdings as of 6/30/2011, 14 generate a yield of 3% or higher. Of the 14 holdings Philip Morris (PM), Royal Dutch (NYSE:RDS.A) and AT&T (NYSE:T) are the three most widely held. This has not changed since 1/31/2011. Below are the six funds in the American Funds family that were analyzed.
Click to enlarge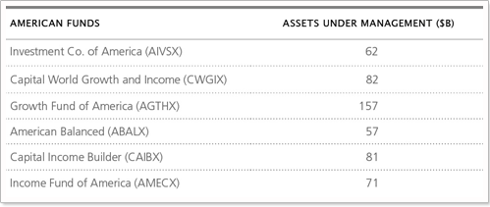 Other Stocks With Significant Increase in Holdings
Three other stocks showed an increase in holdings levels and still provided healthy yields but didn't make the 3% threshold. They are Microsoft (2.3% yield), Home Depot (NYSE:HD) (2.7% yield), and Chevron (NYSE:CVX) (2.9% yield). MSFT made its first top 10 appearances in three of the six funds with aggregate holdings over $6 billion.
Please note that the stocks mentioned in this article are not suitable for all investors and each investor should consider his or her own financial situation or consult a financial advisor before making their own allocation decisions. Any securities discussed are used as a reference and should not be considered advice. There are risks in any investment strategy and prior performance does not guarantee future success.
Disclosure: I have no positions in any stocks mentioned, and no plans to initiate any positions within the next 72 hours.