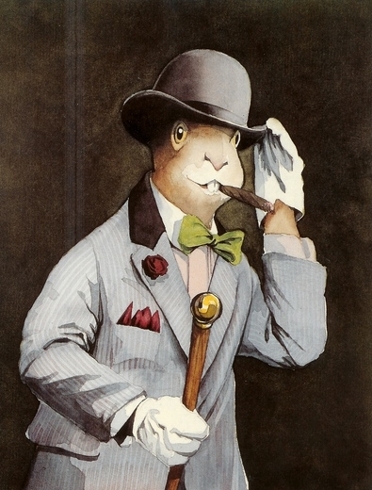 Most Atlantans know well the story of Brer Rabbit, who moaned to the fox not to throw him into the briar patch through which he'd make his escape. Joel Chandler Harris, the reporter who transcribed many African folk tales as Uncle Remus in the 19th century, made his home just a few miles from my own (picture from Wren's Nest, the museum built from Harris' home.)
Many of America's largest electric utilities are playing that game on the government right now, and quite successfully. A new rule dubbed Order No. 1000, from the Federal Energy Regulatory Commission, is going to make it much easier for them to override environmental objections to new transmission lines, in the name of renewable energy.
Supporters of fossil fuels have been bemoaning the new rules for months, but the cries have been muted by this reality. If you make it easier to connect renewable resources, and override local laws, it should also be easier to connect new natural gas and nuclear plants.
The rule will be useful against two kinds of opponents:
Republican opponents of renewable energy, who are losing the cost cover they have been using against connecting big solar and wind projects.. The beneficiaries here are utility companies like Nevada Energy (NYSE:NVE) and Wisconsin Energy (NYSE:WEC), both of which are facing this local pressure.
Environmentalists, which will now lose arguments against connecting big wind farms to the grid on cost grounds. Among the beneficiaries here are Ameren (NYSE:AEE), which serves the Midwest, a big wind corridor, and Duke Energy (NYSE:DUK), which has been increasing its environmental investments.
As opponents are quick to note, the average return on equity to utilities for new transmission facilities is 13%. The biggest costs, and risks, in this can come at the front end of the process, from state and local government approvals. FERC just gave utilities a big stick with which to pound these opponents, all wrapped in the mantle of environmentalism.
Wind farms, solar farms and geothermal plants all need connections to the grid in order to sell bulk power. Without a way to get their product to market, these facilities can't get construction permits. By fighting the connections, renewable energy opponents have been able to slow the industry's growth. No more.
This doesn't just help individual utility stocks. For ETFs that invest in electric utilities, like Utilities Select Sector SPDR ETF (NYSEARCA:XLU) and iShares Dow Jones US Utilities ETF (NYSEARCA:IDU).
This won't entirely close the gap between the returns available on domestic and international utililty stocks, or ETFs. But it will help the bottom lines of U.S. utilities, and those of astute investors as well.
Electric utilities are often thought of as boring, as simple dividend plays. But big changes are coming to the field over the next few years, and those which capitalize on those changes could profit handsomely. Maybe even become growth stocks.
Disclosure: I have no positions in any stocks mentioned, and no plans to initiate any positions within the next 72 hours.