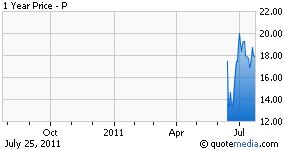 It has been a little over a month since Internet radio provider Pandora (NYSE:P) went public. Thus far the only insight investors have are the SEC filings from the company and analyst opinions. This has created a bit of a traders' paradise. The company has potential, but uncertainty and conflicting opinions give the equity a see-saw effect that provides a trading range between $16 and $19.
For many investors it is not an issue of whether the company will make money sooner or later, but rather whether or not the investor can capitalize on the trading range created by analysts that see potential versus those who are more bearish.
JP Morgan analyst Doug Anmuth carries an overweight rating and $22 price target on the company. It is his belief that Pandora will ultimately be successful in monetizing the impressive growth in the user base. Another bullish analyst is Citigroup's Mark Mahaney, who is also bullish with a loftier $25 price target.
On the bearish side of the equation we have analysts like Richard Greenfield of BTIG with a price target of $5.50 and Capstone Investments Paul Meeks looking for $12. These bearish analysts point to strong indications in the business model that demonstrate Pandora's escalating expenses that seem to happen with the more listeners the company gains.
It is a classic bet of business in the here-and-now vs. the potential that Pandora may have. What has been created are battle lines that have a vast vacuum in the middle. Some analysts are seeing numbers substantially higher, while others are substantially lower. This vacuum in the middle has created a traders dream.
Until Pandora gets some quarterly results under its belt, and investors can see the business model in the microscope of quarterly reporting, all we have to rely on is opinion. While some of that opinion may seem more sound to someone bullish on the company, there are many investors who place a higher premium on the bearish side. This has created a supply and demand situation that has allowed the equity to trade in a range between $16 and $19. This provides plenty of room for traders to make a buck or so on a regular basis.
What is an investor to do when considering Pandora? I believe that the uncertainty provides a lot of "quick in and out" opportunities. Longer term, I would still like to see how the company outlines its business plans for the balance of the year and into next.
Disclosure: I have no positions in any stocks mentioned, and no plans to initiate any positions within the next 72 hours.