Jacobs Engineering Group Inc. (NYSE:JEC) will be reporting its third-quarter 2011 earnings on Tuesday, July 26, 2011.
The current Zacks Consensus Estimate for earnings per share (EPS) is 70 cents, representing an annualized growth of 11.67%.
With respect to earnings surprises over the trailing four quarters, JEC outperformed the Zacks Consensus Estimate in one quarter, was in line in another and lagged behind in two other quarters. Average earnings surprise was a negative 0.56%. The average earnings surprise implies that the company underperformed the Zacks Consensus Estimate by the same magnitude over the last four quarters.
Second Quarter Highlights
Jacobs Engineering Group reported its financial results for the second quarter of 2011 with net earnings per share of 63 cents in the quarter, up from 62 cents reported in the year-ago quarter. Results were in line with the Zacks Consensus Estimate of 63 cents.
Top-line results were weak in the quarter; total revenue plummeted 1.1% year over year to $2,558.0 million but increased 8.6% sequentially and was above the Zacks Consensus Estimate of $2,523.0 million. The year-over-year decline can be attributed to lower backlog and Field Services revenue.
Agreement of Estimate Revisions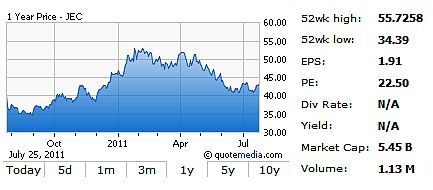 In the last 30 days, no analyst providing estimate increased the company's earnings per share estimates for the third quarter, while one analyst decreased the EPS estimate for the current quarter. However, for fiscal 2011, one analyst increased the estimate while the other decreased the same.
Magnitude of Estimate Revisions
Estimates over the last 30 days remained intact at 70 cents per share for the third quarter of 2011, representing a year-over-year growth of 11.67%.
Estimate for fiscal 2011 inched up from $2.59 to $2.60 over the last 30 days while that for fiscal 2012 remained static at $3.03. These estimates represented a year-over-year growth of 4.64% for 2011 and 16.75% for 2012.
Our Take
Jacobs is likely to post impressive results in the third quarter based on the net contribution from the company's acquired businesses of Aker Solutions. Moreover, improved market trends, strategic contract wins from the federal governments of U.K., U.S. as well as its diversification across geographies, indicate improved performance going forward.
Jacobs Engineering Group Inc. is one of the world's largest engineering and construction companies providing services to a variety of industrial, commercial and government clients across a global network. The company directly competes with its peers, such as Fluor Corporation (NYSE:FLR) and Foster Wheeler AG (FWLT).

We currently maintain a long-term Neutral recommendation on the stock. Jacobs has a Zacks #3 Rank, which translates into a short-term Hold rating (1-3 months).