Equity Residential (NYSE:EQR), a multi-family real estate investment trust, is scheduled to report its second quarter 2011 results on July 27, 2011, after the closing bell. The current Zacks Consensus Estimate for the second quarter is pegged at 60 cents per share, representing a year-over-year growth of approximately 4.2%.
First Quarter Recap
Equity Residential reported first quarter 2011 funds from operations (FFO) of $176.9 million or 56 cents per share, compared with $149.0 million or 49 cents per share in the year-ago quarter. Funds from operations, a widely used metric to gauge the performance of REITs, is obtained after adding depreciation and amortization and other non-cash expenses to net income.
Reported FFO was in line with the Zacks Consensus Estimate. Total revenue during the quarter was $520.6 million versus $465.0 million in the year-earlier period. Total revenue surpassed the Zacks Consensus Estimate of $520 million.
Guidance
For full-year 2011, Equity Residential expects recurring FFO in the range of $2.40 to $2.50 per share. For second quarter 2011, recurring FFO is expected in the range of $0.53 to $0.57 per share.
Agreement of Analysts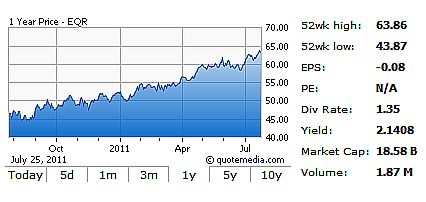 In the last seven days, none of the analysts revised their earnings estimates upward for the second quarter or for fiscal 2011. While one analyst decreased the fiscal 2011 estimate. In the last 30 days, two out of the 22 analysts covering the stock increased their earnings estimates for the second quarter while two out of the 24 analysts raised their estimates for fiscal 2011. Meanwhile, in the last 30 days, one analyst slashed the second quarter 2011 estimate while two analysts decreased the same for fiscal 2011.
Magnitude of Estimate Revisions
Taking into account the analysts' earnings revision, the Zacks Consensus Estimates over the last seven days and over the last 30 days remained unchanged at 60 cents and $2.46 per share, respectively, meaning that analysts are cautious about the performance of the company.
Our Recommendation
Equity Residential isthe largest fully integrated publicly traded multi-family real estate company in the U.S., with assets in some of the best long-term apartment markets in the country. Furthermore, the company has a fully implemented state-of-the-art operating platform that enables it to manage the operations on a real-time basis and deliver a market-leading performance. The company has a strong balance sheet with plenty of cash and full availability on its line of credit.
However, the continuous acquisition spree of Equity Residential involves significant upfront operating expenses with limited near-term profitability. New properties usually take time to generate revenues, and will continue to drag down margins until they get established.
We currently have a 'Neutral' recommendation on Equity Residential over the long term. The company holds a Zacks #2 Rank, which translates into a short-term Buy rating. One of its competitors, Apartment Investment & Management Co. (NYSE:AIV) currently retains a Zacks #3 Rank, which translates into a short-term Hold rating