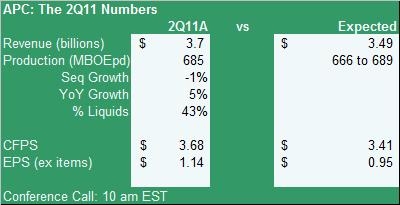 Guidance Unchanged.

Anadarko Petroleum (NYSE:APC) laid out 3Q11 production guidance of 630 to 663 MBOEpd (down 6% on the mid) sequentially but kept FY2011 unchanged at 668.5 to 679.5 MBOEpd (up 4.7% on the mid) with 43% of volumes coming from liquids. They kept spending guidance unchanged as well at $6.06 to 6.45 B and noted that second quarter guidance came in light to prior guidance due in part to increased drilling efficiciencies in the States.
Busy, Busy, Busy.
US onshore -

Spud to rig release times continue to consistently fall in the Eagle Ford shale, the Marcellus Shale, and the Bone Springs play, with APC seeing its best ever (lowest) quarterly average in 2Q and setting record quick wells in each play during the quarter. This helped Capex for the quarter come in below the low end of guidance.
Their Niobrara position now totals 1,260,000 net acres (combined between the DJ and Powder River Basisn). APC drilled 10 wells during the quarter in the DJ horizontal Niobrara with a 3 rig program and is now producing from a total of 15 wells. Like many others to date in the play you'll note the absence of intial production rates and of total production. This should change soon as they probably done or close to done on the acreage acquisition front. APC plans to add a 4th rig this quarter (this one in the PRB) and will drill > 40 wells testing the horizontal Niobrara by the end of this year. At some point, Hackett has got to talk more about this program.
In the Eagle Ford production was up a whopping 25% from the 1Q exit rate to 45,000 BOEpd. Their 10 rig program with 60 wells spud during the quarter - like I said when I was down that way a couple of weeks back ... busy, busy, busy with rigs dotting the horizon and new pipelines being rapidly entrenched. I would like to hear what these wells are costing them on the call (as mentioned above drilling some fast wells here and they now have drilled 22 wells in under 10 days, of course, it's the completions that are the costly part). Note to APC, Newfield Exploration (NYSE:NFX) properties are close to yours but in the light oil window. And they're undervalued so buying them and their 335,000 acres would put you in the driver in the play ....just thinking out loud.
Haynesville - still pretty small for them but noting that they kept well costs flat while nearly doubling EUR's from 3.5 to 6.0 Bcfe by going to higher stage count laterals which is a neat trick. We should see costs in the area fall later this year as a marked decline in the Louisiana rig count should occur by 4Q11.
Permian - 14% sequential increase to 14,700 BOEpd (liquids were up 32% sequentially), most of this is growth from the horizontal Bone Spring play however they did mention tests in the Avalon Shale (EOG's Leonard) with nice IPs of 800 to 1,000 BOEpd. Note #2 to APC ... EOG (NYSE:EOG) would make a nice snack as well and they have about 600,000 Eagle Ford acres as well.

Gulf of Mexico- Nothing new in the press release

Lucious - will be on by 2014 (first well tested > 15,000 constrained by test equipment)
Ceasar / Tonga will be on stream 2012 (3 wells tested 15,000 Bopd)
Meanwhile production continues to slowly slip

International: Division produced 106 Bopd in the quarter, 15% of total company

West Africa Offshore

Ghana development production continues to ramp. Ghana exploration moving forward.
Mozambique - geological work on going, prepping for a 4Q drillstem test
Liberia and Sierra Leone will see deepwater tests in 3Q and 4Q respectively
The area is increasingly active for them.

Algeria - El Merk expansion on track for first production next year
Brazil - appraisal drill set for 3Q.
Nutshell: As always, they have a lot going on. I find them increasingly interesting as they continue to rack up West African offshore successes and start to grow U.S. liquids volumes in the Eagle Ford and Rockies. After a slow start with regard to focus on unconventional domestic plays it is nice to see them quickly ramping production from a number of oilier than not plays in the U.S. I do see them as a potential buyer of undervalued mid caps going forward (NFX would make a lot of sense).
I would like to get more clarity on the state of affairs between them and BP (NYSE:BP) over Macondo but the name is probably one I should consider adding in the big caps as they seem to be hitting on most - if not all - cylinders at this time.