There is a saying in the stock market to which I subscribe greatly; it is that "one should never add to a losing position." Research In Motion (RIMM) continues to have that intriguing quality where it has become hard to distinguish between a "value play" or a "value trap." My analysis continues to affirm that it is the latter; thus suggesting that it would be akin to adding to a losing position. In the market it is called the proverbial "falling knife" from which many investors have gotten cut since the stock was falling from the $80s, $60s, $40s and now to where we are today under $30 per share. Investors with stitched bleeding hands want to know, has the knife landed? Let's take a glance at the chart below and see if we can come up with an answer.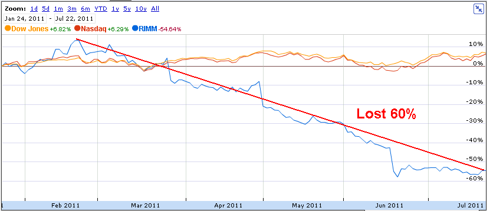 Click to enlarge
(Click to enlarge)
If investors look at RIM's chart over the last six months, you can clearly see that it has been losing quite a bit. In plain point and fact, the stock has been a complete and utter disaster. I have written previously why I felt RIM was the prime short of the market and even after the earnings disaster, I suggested that the stock will be below $20 by year's end. So far I have not seen any evidence to sway me from this opinion.
The stock and the company have lost the confidence of investors; to the tune of a remarkable 60% in value over the past six months. That is 10% per month! Imagine what that type of performance would do to anyone's portfolio. By contrast, you can see above how both the Nasdaq and the DOW have fared during the same span. I used the explanation that "it's the economy, stupid" to describe the decline in Sirius XM (NASDAQ:SIRI). But for RIM, the only logical explanation is, it's the company, stupid! Or it can be phrased more aptly, has the company become stupid?
The direction of the company should be a major concern to every RIM shareholder; even those with "glass half-full" outlooks. It is clear at this point that RIM should now only be touched with surgical gloves. Upon reporting a drop in earnings for the first fiscal quarter, the company then slashed its full-year earnings forecast, signaling continued weakness in their BlackBerry phones.
"The challenges of the first quarter are continuing into the August quarter," RIM co-CEO Jim Balsillie said during the most recent conference call."The existing portfolio of BlackBerry products has been in the market for close to a year, and delivering new products has proven more challenging than anticipated."
Guidance came in below Wall Street's estimates for both the current quarter, ending in August, as well as the fiscal year ending next February. The outlook implied that RIM will miss most of the key back-to-school season with the launch of its smartphones built on the new BlackBerry 7 operating system.
It continues to be very evident that RIM's management are unable to address any question in a straight-forward manner; even the most simple ones regarding deteriorating gross margins as well as specific technical questions related to Android. It seems as if they continue to be unprepared to address concerns that they had already outlined to investors; during which management confirmed that the entire future of the company hinges on QNX, a new operating system that currently powers the PlayBook tablet, but handsets for that platform are not expected until 2012.
For the quarter ending on May 28, the company reported net income of $695 million, or $1.33 per share, compared to net income of $769 million, or $1.38 per share, for the same period the previous year. Revenue grew by 16% to $4.9 billion. Analysts had been expecting earnings of $1.32 per share on revenue of $5.15 billion for the period, according to consensus estimates from Thomson Reuters. RIM said it shipped 13.2 million smartphone units and 500,000 units of its new Playbook tablet. Analysts had been expecting smartphone shipments of 13.3 million and Playbook shipments of 436,000.
Summary
As much as I have proclaimed the demise of RIM, I can say with some degree of certainty that the company is not going away anytime soon. I mean seriously, with $2 billion in cash, that can buy any company a significant amount of time. Just think about it, a little over three years ago nobody expected Apple (NASDAQ:AAPL) to enter the smartphone market nor did any believe that Google's (NASDAQ:GOOG) Android platform would have been as viable as it has become.
The unfortunate reality for RIM is that both companies continue to steal market share and RIM's management has inspired very little confidence that they are able to do anything about it. As rumors continue to swirl surrounding a possible takeover target from the likes of Microsoft (NASDAQ:MSFT) and even Dell (NASDAQ:DELL), investors continue to wonder what the future will bring. But for now, the future remains grim and RIM remains a short.
Disclosure: I am long SIRI, AAPL, MSFT.