An exchange traded fund that invests in Turkish stocks has fallen to a new 52-week low as investors fret over rising inflation and the current account deficit.
The $529 million iShares MSCI Turkey Investable Market Index Fund (NYSEArca: TUR) is down 20% the past three months.
Turkish stocks are on their longest losing streak since Lehman Brothers imploded in 2008 on worries over the central bank's refusal to take steps to halt growth of the current account deficit and inflation, Bloomberg reported Tuesday.
"Bids and offers on stocks have just disappeared," Isik Okte, a trader at Istanbul-based broker Finans Invest, told Bloomberg. "People are afraid the currency is getting out of hand as the central bank lost control of the situation."
Turkey's currency, the lira, weakened to a record low against its euro/dollar basket this week, Reuters reported. U.S. default fears have hurt emerging markets, according to the report.
Turkey is an essential trading hub that links the Middle East to Europe, writes Eric Dutram from ETF Database at Seeking Alpha. The country's demographics show a large pool of young workers. The country's debt is below 50% of its GDP. Furthermore, the economy expanded 11% in the second quarter.
However, analysts perceive the quick growth spurt as a cause for concern since it may signal an overheating economy, which might lead to a hard landing.
Inflation was hovering around 6.2% in June. Unemployment is also quickly falling, but this could push up inflation since wages, along with total labor costs, are rising.
Additionally, the current account deficit has grown to $37.3 billion during the first five months of the year, or more than double year-over-year.
iShares MSCI Turkey
click to enlarge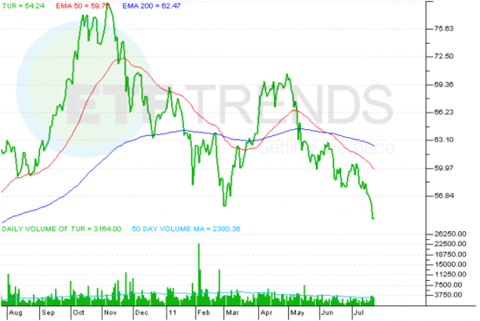 Max Chen contributed to this article.
Disclosure: None