Earnings announcements are some of the best catalysts for stock price movement. We believe that the seven stocks listed here are primed for upside moves and the upcoming earnings announcements could ignite rallies. Investors would be wise to take a closer look and decide if they agree with our conclusions.
Alcatel-Lucent (ALU)
The telecommunications giant is the product of a 2006 merger between Alcatel and Lucent Technologies. The stock has not lived up to much of the expectations at the time of the merger and this is clearly reflected in the stock, which traded around $15 during 2006 and has since fallen to around $5. Still, the company could finally be in the midst of a rebound. The stock trades at a trailing P/E of 55.27, but analysts expect forward P/E to drop to 10.08. Along with a price/sales of 0.49, the company stands to benefit from any increase in their pricing power.
Investors should take a close look at the company results from the networks division, which grew 6% in 2010 (without controlling for currency exposure). If the growth in this segment continues, it could be a bullish signal for investors as ALU improves its foothold despite competition from major players. Based on current valuations, shareholders do not need to see significant top line improvement or growth to drive the stock higher.
Chesapeake Energy Corp (NYSE:CHK)
The natural gas giant already went through two rallies, once following the activist involvement of Carl Icahn and the other following Petrohawk's astounding buyout. Still, the company is not expensive for investors who are bullish of long-term natural gas demand and just as importantly, CHK is one of the most convenient and desirable collections of natural gas properties on the market. It could be an attractive acquisition candidate for a foreign entity or a petroleum company looking to expand its asset portfolio. Or if acquirers are accurate, CHK could benefit from the positive price trends even as a standalone entity.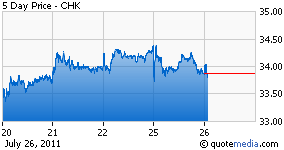 The trailing P/E for the company is 28.56, the forward P/E is 10.89, the price/sales is 2.67 and the price/book is 1.83. This compares favorably with Petrohawk Energy (NYSE:HK), which trades at a forward P/E of 23.08, a price/sales of 7.03 and a price/book of 3.27. Among other things, the company has a leading position in 5 of the top 6 low cost US natural gas shale plays.
Coinstar Inc (NASDAQ:CSTR)
The distributor of the popular Redbox video rental kiosks may have received a huge gift from Netflix Inc (NASDAQ:NFLX) when the rental giant decided to separate its rental services to improve profitability. Not that CSTR needed NFLX's help, in 2010, the company grew DVD rental revenue by 50%. Surprisingly, between 2006 and 2010, the company has grown revenue 611% compared with Netflix's still impressive 217%.
CSTR currently trades at a trailing P/E of 33.75, a forward P/E of 14.63 and PEG ratio of 0.88. But considering that NFLX's recent pricing moves were aimed at improving margins by reducing high usage DVD rental customers, these valuations may not reflect the full potential of NFLX consumer defections.
Investors should pay close attention to continued kiosk growth and average rental revenue growth. The current valuations do not require gains from Netflix, the potential market share gains are upside.
Motorola Mobility Holdings (NYSE:MMI)
The company has had an eventful period as a standalone company following the spin-off from Motorola. It started with a bang, introducing the market's most powerful tablet and the innovative Atrix. Both injected something interesting into the market but neither were able to really compete with Apple's (NASDAQ:AAPL) popular iPad and iPhone. The stock market lost much of the enthusiasm for the company and as such MMI trades well below the 52 week high of $36.54.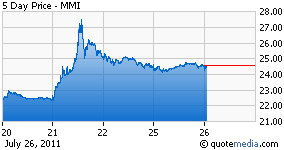 Still, the company has a strong potential for upside and strong near-term catalysts. First off, the company is expected to see a strong fundamental turnaround in operations. The trailing P/E is 155.32 but the forward P/E drops to 15.43, signaling a strong projected earnings growth. In addition, fundamentally, the company also sports a rock solid balance sheet. As part of the spin-off, the company received a strong cash infusion and it now has excess liquidity of more than $3 billion, which is sizeable for a $7 billion market capitalization company.
Because of the current woes and Apple's unstoppable strength, it is easy to write off MMI, but investors should remember that investing is about finding discrepancies between price and value. And based on current valuations MMI could be an intriguing possibility, especially considering the volatility in the consumer electronics market. During the last twelve months, MMI generated $12 billion in sales. But during the peak of its last popular product cycle, the RAZR phones helped generate sales of more than $30 billion. While we do not think the company will be able to generate another family of phones of the same popularity in the near future, it is still a nice reminder to investors that MMI trades based on its recent performance weakness but nowhere near its full potential.
Finally, Carl Icahn's activist involvement could provide both a catalyst and a reminder that MMI could be a sum of the parts investment story. The company had an enterprise value of $4.25 billion. If the mobile phone patent portfolio is really larger than the Nortel portfolio, which sold to a consortium of bidders for $4.5 billion and if the home segment contributed to around a third of the trailing twelve month revenues, it is easy to see how the company could be undervalued by 50% or more depending on the value of the patents. Investors should do some homework and come to their own conclusion on this matter, but either way, the potential is clearly there and an earnings call could be a good time for management to release bullish news in defense of their jobs against an activist shareholder.
Sprint Nextel Corp (NYSE:S)
Despite the depressed stock price, the company is still among the leading wireless phone and bandwidth providers. As such, investors can take advantage of the stock's depressed stock sentiment. The company lost money over the last twelve months and is expected to lose money in 2012, but it had a price/sales of 0.47. This is well below peer valuations, including Verizon Communications (NYSE:VZ), which has a price/sales of 0.97 and AT&T, Inc (NYSE:T), which has a price/sales of 1.44. While this is an oversimplified benchmark for comparison, we still think it is a useful starting point. In addition, as bandwidth providers increasingly move toward tier pricing plans based on usage because of the outsized growth in bandwidth consumption, we think all wireless providers (Sprint included) will gain tremendous pricing power.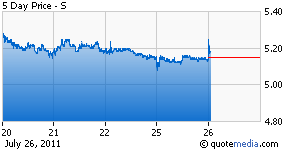 In the near term, investors should watch for stabilization or even a modest increase in postpaid subscribers. In the quarter ending March 31, 2011, the stock saw a diminished decline in subscriber losses but a healthy jump in prepaid subscribers. While both are positive trends, investors should still pay closer attention to the postpaid subscriber numbers because the average monthly service revenue is much higher than the prepaid customers. In the quarter ending March 31, 2011, postpaid customers paid $56 of monthly revenue and prepaid customers paid $28 of monthly revenue.
Synaptics Inc (NASDAQ:SYNA)
The California based company is behind Apple's industry leading touchpad and it is also the leader in the PC notebook market. Considering the stock market dislike for anything tied to the PC market, it is not surprising that a PC derivative like SYNA trades close to its 52-week low. Still, the stock's valuations are cheap with a trailing P/E of 12.94, a forward P/E of 10.21 and a PEG ratio of 0.55. These valuations are even more surprising considering the company has grown revenue quickly while maintaining healthy profit margins. In the quarter ending March 31, 2011, the company grew revenue by 22.5% year over year. Investors should pay close attention to margins and sales growth. But because of healthy margins and historical performance, the stock could be primed for upside considering that the current valuations provide a lot of margin of safety.
Tyco International (NYSE:TYC)
The conglomerate still carries some of the negative goodwill associated with the misdeeds of its former CEO during the last internet bubble, but investors willing to take a closer look will realize that it is a much simpler and focused entity with a significant competitive advantage. It is domiciled in Ireland and uses its preferential tax treatment to enhance shareholder value through acquisitions of companies in higher tax regions.
Even as a standalone company, TYC is not expensive and this provides investors with some margin of safety as the company continues to seek out prudent expansion opportunities. It trades at a trailing P/E of 15.58, a forward P/E of 12.93 and a PEG ratio of 1.10.
Disclosure: I own TYC shares and may initiate a long position in ALU, CHK, MMI, SYNA, S over the next 72 hours.