The market has been turbulent over the last few weeks. Most of the stocks bounced back at the end of June and the S&P 500 (NYSEARCA:SPY) gained 3.75% over the last 30 trading days. The stocks mentioned below have lost 3% to 10% in the last month, but they are showing increased support in volume over past few weeks. Stocks with these characteristics are typically anticipated to turn around over the next few weeks. Investors should carefully consider the turbulent macro-economic condition before opening positions in the near short term.
(Click chart to expand)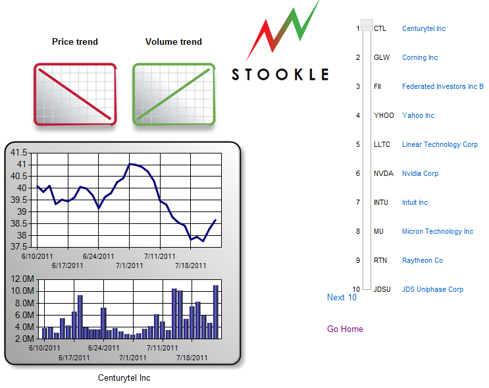 CenturyLink Inc (NYSE:CTL):
Century Link

is an integrated communications company, primary provider of a range of communications services, including voice, Internet, data and video services. The company lost over 7.19% in last 30 trading days. The volume interest for CTL increased significantly over the last few weeks. The merger with Savvis is anticipated to add an extra tool (cloud computing) to CTL's arsenal. The company has an attractive 7.6% yield and has a ROE of 9.48% with a $31.57 book value.

CTL is currently trading at $37.95 and should appeal to value investors.
Corning Inc (NYSE:GLW): Corning Incorporated manufactures equipment for display technologies, telecommunications, environmental technologies, specialty materials and life sciences. Corning manufactures glass substrates for LCD TVs, desktop monitors, and ipad screens. The soft demand for LCD TVs is currently driving the stock lower. Corning's trading volume has been increasing consistently over the last month; the stock dropped 9% during this time. Corning is trading at 7.6 times future earnings and has an impressive ROE of 19.02%. The book value of GLW is $12.96 and it is currently trading at a discount price of $17.02.
Federated Investors Inc. (NYSE:FII):
Federated Investors, Inc. is a provider of investment management products and related financial services. FII will report earnings on July28, 2011.The Company is expected to earn 41 cents per share during the quarter. FII has an attractive yield of 4.3% and has an impressive ROE of 37.49%. The stock dropped 9.2% over the last 30 trading days and has increasing volume. FII is currently trading at $21.99.
Linear Technology Corporation (NASDAQ:LLTC):
Linear Technology Corporation designs, manufactures and markets a broad line of standard high performance linear integrated circuits. Trading volumes for LLTC have increased by 10% on average in the last few weeks. The stock is down 3.12% during this time period. LLTC is anticipated to grow its earnings and profits at 30% this year and also has an attractive 3.10% yield. LLTC is trading at $31.10.
Nvidia Corp (NASDAQ:NVDA):
NVIDIA Corporation is a provider of visual computing technologies; the company's products are designed to generate graphics on workstations, personal computers, game consoles and mobile devices. The shares are down 15% over the last 30 trading days. Most of the weakness was due to the sluggish GPU market. The results of AMD bolstered this sentiment when the company reported an 11% dip in the GPU sales for the quarter. The trading volumes for NVDA have increased by 10% over the last few weeks. NVDA has a ROE of 7.95% and ROA of 3.20%. NVDA is currently trading at $14.76.
Disclosure: I have no positions in any stocks mentioned, and no plans to initiate any positions within the next 72 hours.