Being a Winn-Dixie Stores (NASDAQ:WINN) shareholder since it emerged for chapter 11in November 2006, has not been a very pleasant experience, unless you like losing money. In the last three months, shareholder's have been rewarded handsomely for their patience, as the shares have vaulted nearly 50% - reaching double digits, before a 6% profit taking correction hit the shares.
Possible catalysts for the rise:
A solid third-quarter report, which handily beat estimates
A Jefferies & Co. upgrade, resulting in a 24% price target increase from $8.50 to $10.50
Technical breakout above its 200-day moving average.
Fourth-quarter prospects
WINN is set to release its fourth-quarter results near the end of August. Analysts are expecting the grocery store operator to suffer a 32% earnings drop from 25 cents to 17 cents on a 9.3% reduction in revenue ($1.58 billion vs $1.75 billion). According to Scott Muskin of Janney Montgomery, better execution and better sales (helped in part by vacationers coming back to the Gulf) have occurred in the quarter, leading me to believe WINN could again exceed estimates. Look for it to earn 21 cents on sales of $1.62 billion. Helping WINN will be a possible 50 basis point drop in its OG&A costs to 27.70% of sales, and a 20 basis point improvement in its gross profit margin to 29.3%.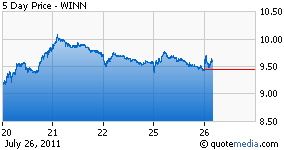 Bottom line
The run-up in the super market operator's shares have attracted short sellers, as its short interest has increased 33% from 6.75 million shares to 8.97 million shares. This increase could be construed as a good thing, because eventually, all these shares must be returned via purchases in the open market, cementing a boatload of potential buying power and a possible short squeeze scenario. The fact is, WINN could easily hit $15 by year's end with the help of a couple more pieces of good news. I am not going to lie, it feels awful good, to once again, be on the winning side.
Disclosure: I am long WINN.