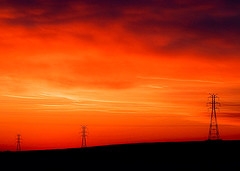 Short-Term Key: Neutral Long-Term Key: -57 (Neutral)
I spent most of last week on vacation in Vermont, a beautiful New England state and certainly a very nice place to get away from it all.

During my stay there I had a casual conversation one day with a woman in her 50's, who mentioned that both of her parents are in their 90's. Somehow our discussion turned to the subject of World War II.

She made a comment that really resonated with me: While her father served in the armed forces during the war, her mother was left at home. And one of the things her mother did at that time, like other citizens on what was called "the home front," was to scour her home and surrounding areas for any pieces of metal she could find (along with other key materials, like rubber) for use in the war effort – for guns, tanks, various types of military machinery, etc.

This is something I know those among you who lived through this period are sure to remember. And it brought to mind something in today's circumstances.

We're not scouring our surroundings for metal at this time in our country, though resource prices have certainly been on a tear, and not just recently, but for more than a decade.

And when push comes to shove – and it may be hard to believe in the face of the kind of wrangling that's going on in our capital at the present time – the real culprit behind a lot of our problems is high resource prices and our need for ever more resources.
China gets this message in spades. What we were doing during the Second World War, they are doing today. Not only are they scouring the countryside for every piece of copper, aluminum, lead, platinum, zinc, you name it, there are numerous people who make a living in Chinese cities, going door-to-door buying old electronics. The reason: those broken computers and other devices have (cumulatively) a lot of those aforementioned metals, as well as gold and silver, which are needed to construct and run things in the modern world. In fact, the country has nearly 10 million people employed in recycled metals production nationwide.
The message here is that we are at war, and it's a war that concerns the acquisition of scare resources. The resources will be needed not only to build automobiles, washing machines and computers but also critically needed if we are ever to transition to a society not reliant on fossil fuels.

The problem is that China understands this is war and is doing everything it can to win that war. While our Congress is doing the best imitation it possibly can of Nero.

These are things we have discussed for quite some time, and they continue to fall on deaf ears. China seems more than aware of our ignorance and of our own fantastic lack of awareness – so much so that not only are they scouring their country for metals, they have taken it a step further. They now have strategic plans in place that call for spending probably over $1 trillion a year during the next four years in the alternative energy area.

And these plans call for dominating this area. Clearly their stake in rare earth metals, especially the heavy rare earths, which have been talked about endlessly, gives them virtual control over wind energy (heavy rare earth metals are essential in wind turbines via their use in magnets).

Please don't mention Molycorp (MCP), Avalon (AVL), Great Western or Quest Rare Metals (QRM) here. Yes, we know there are heavy rare earth deposits sitting out there, but the fact is that we lack the skill sets to process these ore bodies. So even if we could mine them, we would have to send the ore to – you guessed it – China for processing.

And yes, if we get the message soon enough we will start educating rare earth engineers once again. But the requirements and nature of such a product suggest that it's not going to happen any time in the near future.

Turning to the other major renewable energy, solar: One does find some disagreement as to whether it really is a viable source of energy. (For a good discussion of the issues, we continue to recommend Mark Z. Jacobson and Mark A. Delucchi's cover story in the October 2009 issue of Scientific American, "A Plan to Power 100 Percent of the Planet with Renewables.") But solar is, in fact, a viable renewable energy – we're already using it; the question is cost. What many don't realize is that costs have already come down sharply.

And the reason costs have come down is that the Chinese have decided that this, too, is a vital and critical market that they want to control. Long-term thinkers that they are, they've been selling solar panels below cost, and scaling up capacity. For example, Chinese and other Asian firms plan to double capacity, taking them to a point that's twice and possibly three times as great as demand would justify. American companies simply can't compete here, in a space that any investor would automatically assume should be a great industry.

If you look at the charts of solar stocks, you'll find that they are currently about 70% below their 2008 highs – making them one of the worst performing groups over the past several years. During that time, however, China essentially seized control of the industry.

Now, their low-cost poly-silicon manufacturers will probably very soon start accumulating another key metal, if they're not already accumulating it: silver.

When I think of solar and I look at the solar charts and think about what China is doing, I'm reminded of a childhood conversation I had with an uncle. A financially successful man, he who once told me that if it weren't for certain laws in our country, General Motors (GM) would have no trouble in seizing nearly 100% of the U.S. car industry, simply by undercutting everyone else and putting them out of business.

That conversation comes to mind when I think about what China is doing with solar.

I hope we can wake up soon and get to work in this country on this crucial area. But sadly, there is no indication of that whatsoever at the present time.

In the meantime, as an investor looking at the Chinese behemoth and the massive monies they're spending as they transition from hydrocarbons to other types of energies, and as they urbanize their country, you no doubt wonder how you can participate.

Surprisingly there aren't a lot of new ideas. The American and Canadian rare earth deposits (or any of the other such possibilities) merit a very speculative look. In terms of more mature companies, while you have to take some account of Chinese piracy, etc., we bet on Wal-Mart (WMT) and Apple (AAPL). Their positions in China should add at least several percentage points to their long-term earnings growth rates.

But of course, the best investments of all when it comes to China happen to be what they continue to seek so much of – the hard stuff, whether it is gold, silver or other commodities.

As for the great debt ceiling controversy that at the moment has sucked all the air out of our national dialogue, the shouting will no doubt be over in a matter of days. But these critical issues concerning resources and energy will continue to challenge us for some time to come.
Disclosure: Leeb Group, its officers, directors, shareholders, employees and affiliated entities and/or clients of such affiliated entities may currently maintain direct or indirect ownership positions in financial instruments (i.e., stocks, bonds, options, warrants, etc.) of companies or entities whose underlying exposure is in the companies mentioned in this article.