In the current environment where risk assets are seemingly too volatile for the average retail investor, there still exists realistic positions that profit from uncertainty. More specifically the Swiss Franc and Gold have been major advancers over the past few weeks that have revolved around the US debt crisis, Eurozone debt crisis, Chinese inflationary pressures and earnings season. Currently the two asset groups Gold and the Franc correlate 92% on their daily movements. Those movements as of late have been positive. Exposure to both currencies and commodities may seem like a formidable task; however, positions in tracking ETFs make it easier. The ETFs in question are DGP (Deutsche Bank AG DB Gold Double) to track the gold movement, and FXF (Rydex CurrencyShares Swiss Franc) to track the franc's movement against the dollar. DGP is special because it correlates 1 to 1 with the price movement of Gold, but the greater upside is that it is double leveraged. In the past 14 days it has net gained 12.5%, and with further uncertainty people may quickly pour into more Gold. The chart below shows DGP's 2 week and also 1 year price movement.
(Click charts to enlarge)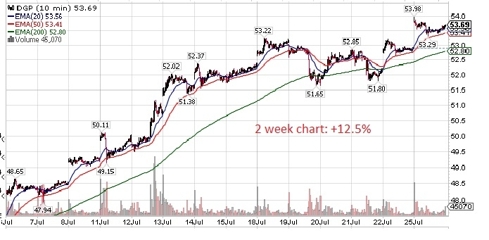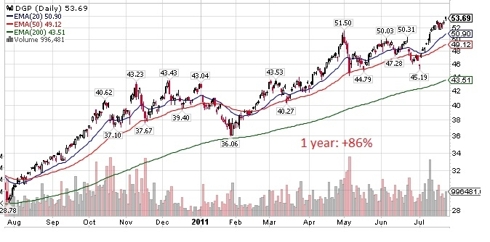 The next asset is the Swiss Franc ETF. The Franc has shown impressive gains the past few weeks because the Euro and Dollar provide no shelter for safety. The Euro is working on its debt problems and trying to integrate a currency system that has been criticized since its inception. Likewise the Dollar, a usual safe haven, has been devalued by its central bank, harmed by its poor economic prospects, and now shaken by its potential default. In all the Franc provides a steady currency to put your money into. This ETF is not leveraged, but it still garners exposure to the price swings of the Franc/USD currency pair. Below are the 14 day and 1 year charts.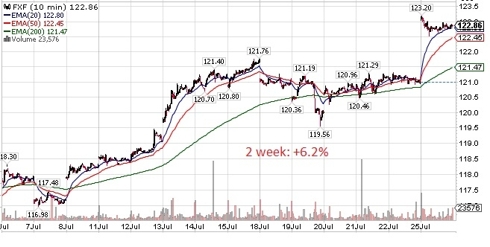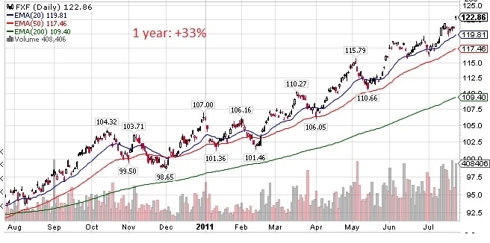 The projection behind buying or selling these two assets is simply reliant on the sentiment of the markets. Currently the markets sense uncertainty and unless a drastic world recovery happens in the next few weeks, the uncertainty will remain. Knowing this will hopefully translate to further price appreciation of the risk off assets.
Disclosure: I have no positions in any stocks mentioned, and no plans to initiate any positions within the next 72 hours.