Over the past eight quarters a major transformation has taken place at wireless communications maker, CalAmp Corp. (NASDAQ:CAMP). Long perceived as a steady supplier of durable satellite equipment for the likes of EchoStar (NASDAQ:SATS) and DirecTV (DTV), CalAmp's wireless division has quietly grown into the primary driver of both revenues and profitability for the company over the past two years. This is significant for two reasons.
First, with a year-over-year growth rate of over 40%, CAMP's wireless division is poised to record $100M in revenues for FY 2012. With the division's gross margins averaging 40% (4x the margins of the satellite business), continued revenue growth in wireless will quickly translate into accelerating earnings growth for the company overall. For those with a discerning eye, it is not difficult to see this transformation has already begun to take place. Let's discuss.
On Q4 FY2010, CalAmp posted quarterly revenues of $34.5M. The company took a loss of ($0.05) EPS on a GAAP basis with its satellite division accounting for 54% of its revenue. Two weeks ago, in Q1 FY2012, CalAmp reported another $34.5M in revenues. This time, however, it was the wireless division accounting for the larger percentage of overall sales, at 64%, and CAMP earned $0.02 EPS on a GAAP basis, and $.05 EPS on a non-GAAP basis. The marked improvement in CAMP's profitability can best be observed by placing both sets of quarterly results side-by-side:
Perhaps the most striking aspect to the overall mix was the improvement in the CalAmp's gross margins. Note how GM's improved from 20.2% in Q4 FY2010 to 27.3% last quarter, Q1 FY2012. This trend should only accelerate further as the wireless division continues to ramp over the next few quarters. The drivers behind the growth in CalAmp's wireless business are a confluence of major technology trends which call for new innovations in mobile and remote connectivity. The company recently presented the following data on its market opportunity at the B. Riley & Co. 12th Annual Investor Conference:

CalAmp's $1.5 Billion Opportunity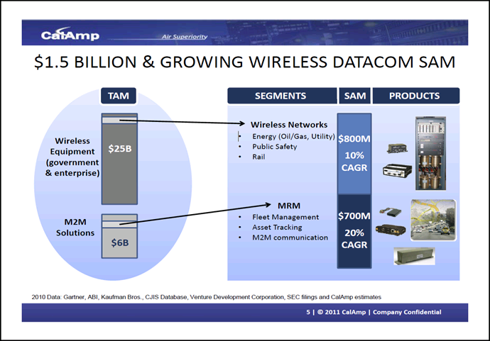 (Click to enlarge)
Source: CalAmp Corp.
With a $1.5B market opportunity to eat into and its targeted markets growing 15% a year, CAMP's new CEO, Michael Burdiek, was particularly upbeat on the company's recent conference call. Over the past 18 months, CalAmp has released 30 new wireless products targeting such areas as Oil & Gas, Utility, Public Safety, Rail, Fleet Management, Asset Tracking and M2M communications. As revenues from these new products continue to scale in coming quarters, gross margins will trend higher, ultimately leading to accelerating bottom-line profitability.
From CEO, Michael Burdiek:
"The wireless technology adoption trends in fleet management, asset tracking, energy management, transportation security and public safety are extraordinarily favorable to CalAmp. We are one of very few companies in the world with the requisite core competencies to address the challenging performance, reliability and environmental requirements of these emerging applications …

... Momentum continues to build for several promising emerging applications including stolen vehicle recovery and automobile insurance among others. And finally, we are making good progress on an important development project for the rail industry. Beyond this development project we believe there are significant growth opportunities for CalAmp in the rail transport vertical as rail companies begin deploying advanced wireless communication networks that improve safety and optimize asset utilization."
Unfortunately it often takes tragic events to prompt humans into action. The terrorist attack on the World Trade Center on 9/11, 2001, prompted the wide scale adoption of security scanners at our nation's airports. In the same way, we believe the high-speed train tragedy that occurred in China on Saturday, July 23rd, will put focus on the need to scrutinize the safety and security of our nation's railway system. This last issue will become particularly resonant if President Obama's plan for the first high-speed rail network in California, between the Bay Area and Los Angeles, becomes a reality.
At the forefront of rail safety is a concept called Positive Train Control (PTC) which emphasizes:
Train separation or collision avoidance.

Line speed enforcement.

Temporary speed restrictions.

Rail worker wayside safety.
Other benefits are believed to include increased fuel efficiency and locomotive diagnostics. However, according to the Wikipedia article, "these are benefits that can be achieved by having a wireless data system to transmit the information, whether it be for PTC or other applications." Hmm, wireless data systems? If you jump back to CEO, Michael Burdiek's comment, "We are one of very few companies in the world with the requisite core competencies to address the challenging performance, reliability and environmental requirements of these emerging applications," you can quickly grasp the future business potentialities for CalAmp in the rail arena alone.
At the B. Riley Conference, Burdiek also gave the following comment and update on their positioning within the MRM markets CAMP is targeting:
"Year-over-year growth in the wireless datacom business is being fueled by our ability to effectively market a wide range of products that enable end users to both lower their operating expenses and enhance the efficiency of their operation. The revenue breakdown within our wireless datacom segment in the latest quarter was roughly 60% for MRM application and 40% for wireless networks applications."
Source: CalAmp Corp.
After assembling this data, it seems abundantly clear the prospects for CAMP's wireless business look very bright for the next 12-24 months.
Turning to CalAmp's satellite division, the company is currently shifting its satellite products manufacturing over to an outsourcing model. This move should allow the satellite division to break even at a $10M quarterly run rate. With three new satellite products being released over the next six months, CAMP's satellite business will begin to accelerate towards the end of FY2012, turning profitable in Q3 and Q4. This is very important, as it will mark the first time in years that both sides of CalAmp's business are profitable at concurrent times.
Taken as a whole, we believe CalAmp has evolved from a turnaround play to an impressive growth story. Not surprisingly, investors have taken notice. While insiders have been consistent buyers of CAMP stock over the past two years (800,000 shares purchased vs. 10,000 shares sold), until recently, the company has had difficulty attracting any new institutional holders. But that was then, this is now. Take a look at CAMP's 3-year weekly chart to see what we mean:
CAMP 3-Year, Weekly Chart
Source: StockCharts.com
In our view, this is just the first wave of new institutional holders to discover the CalAmp story. From a fundamental perspective, even with the stock's recent move from $3 to almost $4, CAMP still remains undervalued. When you consider CalAmp should book $140M+ in revenues this year, with 28.3M shares outstanding, its current market cap is just around $106M. As wireless becomes the ultimate driver for growth, we see the market eventually placing a 2x sales multiple on this side of the business. This equates to a $7+ stock.
Looking to the back-half of the year, we believe the possibility exists where wireless revenues move above $25M-$26M in a quarter. Assuming the satellite business is also profitable by then, we could very easily be looking at an $0.08 quarter as early as Q3. With this in mind, current estimates for 2H FY2012 and next year all seem too low. As the market ultimately warms to the possibility for $0.40 in earnings in FY2013, this should act as another catalyst for shares and attract additional institutional interest to the name.
Add it all up, CalAmp is one of our favorite inflection point ideas heading into the back end of this year. We remain avid and patient buyers of the shares on any pullbacks to $3.60-$3.75 in the coming weeks. Lift-off has just begun!
Disclosure: I am long CAMP.