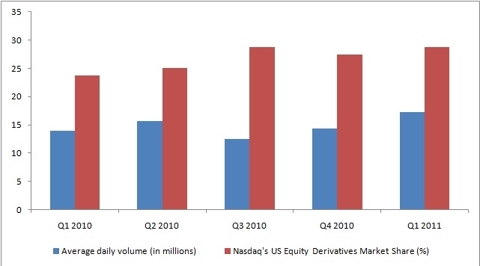 NDAQ
) plans to announce its Q2 earnings on Wednesday next week (July 27). Last quarter, the company reported record earnings per share of $0.59 driven by a solid increase in revenues, improvement in operating margins and growth in profits. Over the last few quarters, we have observed healthy growth in Nasdaq's market share of U.S. equity derivatives which we expect to continue in this quarter. Nasdaq OMX competes with NYSE Euronext (NYSE:
NYX
), CME Group (NASDAQ:
CME
), BATS Global and Intercontinental Exchange.
We have a price estimate of $28.80 on Nasdaq's stock which is about 25% above the current market price.
(Chart created by using Trefis' app)
Growth in U.S. Equity Derivatives
Last quarter, Nasdaq reported 28.7% market share in the U.S. equity derivatives which translates to an increase of 20% over its Q1 2010 market share of near 24%. This coupled with over 20% increase in the size of the U.S. equity derivatives market resulted in an impressive 45% increase in Nasdaq's US equity derivatives revenues. Nasdaq is expanding its capabilities to handle complex orders within the equity option which will help it to gain market share over its competitors.
(Chart created by using Trefis' app)
Access Services
Nasdaq acquired FTEN in December last year, which is the largest processor of real time financial risk management. This free, low latency product has helped Nasdaq to increase its access services revenues by 36% in the last quarter. Access services revenues have shown a consistent growth rate of over 30% during the past 5 years, and we expect the growth to continue in this quarter too.
Disclosure: None