Amazon.com (NASDAQ:AMZN) is rushing into the streaming video space like it's no one's business. When someone mentions Netflix (NASDAQ:NFLX) its nonchalant response is "Nextflix? Who's Netflix? I don't know any Netflix." So what does this actually do for Amazon.com now? At face value not too much in our opinion. The firm has just launched streaming video and recently inked its first major content provider. What it means for Netflix though is that the firm can bleed. Content agreements have been seen as a barrier to entry for this industry but Amazon has now illustrated that in terms of scaling, it's more like a hill than a mountain.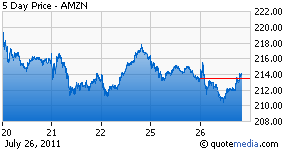 Amazon entering the streaming video business definitely isn't a toothless threat to Netflix. Unlike Google's (NASDAQ:GOOG) classic strategy of only ramping up projects that immediately gain strong traction, Amazon is taking this seriously from day one. What is our basis for this conclusion? With the recent content agreement between CBS and Amazon it illustrates that the firm isn't just dipping its toe in the water. Further, content agreements like this take a lot of time and work so this agreement wasn't done over a few beers after a board meeting. In our view it looks like Amazon is sharpening up its knife and is set on cutting off a piece of filet mignon in the streaming video space.
Perhaps the greatest thing about Amazon.com is that its business model operates in a parallel manner to Bruce Lee's proverbial statement on water:
"Empty your mind, be formless, shapeless - like water. Now you put water into a cup, it becomes the cup, you put water into a bottle, it becomes the bottle, you put it in a teapot, it becomes the teapot. Now water can flow or it can crash. Be water, my friend."
*Bruce Lee
Now what we mean by this is that Amazon literally takes on whatever shape it wants or does what it needs to do to keep expanding the corporate empire. After all, the Amazon of today is barely recognizable compared with what the firm was when it first launched. Sure it still sells books but we all know that if that were the only thing it did today this company would have gone under a while ago. We rate Amazon a "buy" because we feel that the launch of streaming video is a testament to the firm's ability to take on any shape for the purpose of monetization, leveraging its client base in news, and making Amazon Prime an even more appealing service.

In the End Can There Only Be One?
When we heard that Amazon Prime was launching this new service we were interested in whether it would have material implications for Netflix over the long term. While some might quickly says yes and assume that in the end there can only be one, we disagree. It's like saying there can only be Coca Cola (NYSE:KO) or Pepsi (NYSE:PEP) but that just isn't true. In our view there is more than sufficient space for these two firms to exist and retain solid profitability. The folly of this adage goes without further saying.
More importantly, we don't see this service as being a direct attack against Netflix but rather a push to make Amazon Prime a more appealing service. Most people who use Amazon Prime are hardcore about the current service so we can only imagine they'll become even louder advocates of the upgraded service. From what we can gather Amazon sees streaming video online becoming even more mainstream down the line and it's better to enter now than wait until it's a truly entrenched space.

While Amazon keeps a tight lip on the number of Amazon Prime members more than a few analysts agree that Prime has provided a major boost to the firm's strong sales. The firm launched the service in 2005, and we think the chart below actually offers a good picture of how it has assisted the firm's top line growth.
| | | | | | | |
| --- | --- | --- | --- | --- | --- | --- |
| Sales Growth Trends: | 2005 | 2006 | 2007 | 2008 | 2009 | 2010 |
| Year over Year (%) | 22.67 | 26.16 | 38.50 | 29.19 | 27.88 | 39.56 |
| 3-Year Average (%) | 29.24 | 26.72 | 28.93 | 31.18 | 31.77 | 32.11 |
Given these trends we have little doubt that Prime is helping fuel even stronger top line numbers and will help send the stock price higher even if we can't directly breakdown the service numbers.

Some might be assuming this was some type of power grab but we think it was tactical maneuvering to further upgrade Amazon Prime. If the firm had really wanted this to be make an aggressive new push it would be a completely separate service instead of being bundled with the Prime package.
The Water is Fine. Jump In!
The idea of streaming video online hasn't been revolutionary since YouTube arrived and most firms haven't been rushing in either in order to monetize the concept. If fortune favors the bold, then that is why Netflix has done so well over the years, not only as a company but a stock. While Netflix took on substantial risk when it expanded from mailing DVDs to streaming video everybody who has followed took far less risk. Netflix was the first to illustrate to other firms such as Amazon that it's possible to operate this revenue model profitably and that there is a strong demand for the service.
Sometimes it does pay to be leader of the pack but in the case of Amazon it made sense to not charge into the fray first. The firm was essentially looking to add on additional value to the Prime service in a space that has exponential opportunity. Realistically, not too many spaces exist like this but with streaming video it does. By having Netflix take substantial upfront risk Amazon can now enter the space with far less risk and leverage its current Prime user base much more confidently. So yes fortune does favor the bold but it also favors the patient.
Conclusion
Amazon in our view remains a great "buy" due to the fact that the firm is extremely nimble. The firm has built an online platform that can essentially test a variety of new business concepts and revenue models with nominal risk a good amount of the time. Streaming video through Amazon Prime is a perfect example of this. When it comes to Amazon it's almost impossible to say what it will or won't do because the firm operates relative to how Bruce Lee describes the power of water - and everyone knows not to mess with the Kung Fu legend.
Disclosure: I have no positions in any stocks mentioned, and no plans to initiate any positions within the next 72 hours.