Everyone has heard about the fake Apple (NASDAQ:AAPL) stores in China – also known as flagrant intellectual property infringement of the umpteenth degree in some circles. Interestingly, Reuters reported that Chinese authorities ordered the closure of two stores.
Chinese officials in Kunming have ordered two fake Apple shops to close, not because of piracy or copyright concerns, but because the stores in the southwestern city did not have an official business permit.
Really? No concerns about piracy or copyright infringement whatsoever? And who's going to open an "Apple Store" and risk the investment without an official business permit - in China, no less.
Piracy and counterfeiting of U.S. software and a wide range of other intellectual property in China cost U.S. businesses alone an estimated $48 billion and 2.1 million jobs in 2009, the U.S. International Trade Commission has said.
But as Gordon Chang pointed out in his blog on Forbes, Apple has stayed silent on the issue, which is rather unusual, especially when the company protects its intellectual property very aggressively, and rightly so.
Surprisingly, Apple has been mum about the stunning revelation. Representatives in both Beijing and Cupertino have declined to offer substantive comments. If someone opened a fake store in, say, Grand Central Station, the company would be blanketing the media with statements vowing to shut down the offending outlet.
Reuters reported that authorities in China had started to investigate electronics stores, and Apple has 13 authorized resellers in Kunming. I am certain that these legitimate businesses were not oblivious to the situation.
The inspections will look into business licenses, authorized permits on brand use, and the purchase channel of each store, said a worker with the city's industrial and commercial department.
I have been waiting for a press release to hit the wires, but thus far there's no response from Apple regarding the issue.
But this story is not so much about Apple as it is about China. Considering that the event took place in a country where any individual is quickly surrounded by the authorities if the act of sneezing does not fall within centrally planned guidelines, one can only wonder as to whom is behind the fake stores.
Common sense tells us that that someone in China with well placed connections is at the root of the problem. After all, we're not talking about street vendors or deals that take place in a back alley, but rather an elaborate plan conducted openly without a second thought.
Click to enlarge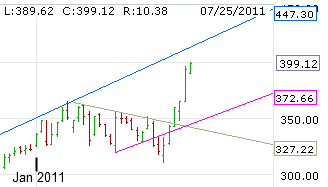 Chances are that the news will eventually become another bullet in a vast history of intellectual property violations in China, and Apple's silence may be the correct strategy. Having said that, the stock will most likely continue its ascent to the next level, traveling along the trend lines in the weekly chart (above), and this latest copyright infringement event will become nothing more than a meaningless side show.
Disclosure: I have no positions in any stocks mentioned, and no plans to initiate any positions within the next 72 hours.