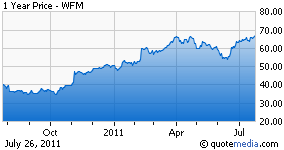 Within five minutes from my house in Santa Monica, California, you can choose between three Whole Foods Market (NASDAQ:WFM) locations. I shop at one weekly and frequent the two other smaller locations when I need something extra or random. Those two sentences tell me almost all I need to know to maintain my bullish stance on WFM. Here's why:

Whole Foods caters to an affluent market. Thus, it satisfies my penchant for high-end retailers in a topsy-turvy economy that tends to hit the poor and middle class harder than the upper-middle class and downright affluent.
I do not consider myself affluent, yet I can afford to shop at Whole Foods. Thanks, in part, to a focus on a growing line of branded products, the company has pretty much shed its "Whole Paycheck" image.

Something Co-CEO John Mackey said on the company's last conference call provides support for both of these points:
Year-over-year, sales continue to shift toward branded and organic products. We also saw a shift in purchases to higher-priced tiers, including shifts in several discretionary categories such as cheese, body care and gift sets.
I expect this trend to continue. Whole Foods has done an excellent job of opening the door to a customer such as myself - a person who falls somewhere between middle and upper-middle class (by the way, I hate those labels and use them merely for the sake of simplicity and a common, accepted language). At the same time, Whole Foods still sells products with price tags outside of my comfort zone.

I compare the company's approach to BMW or Apple (NASDAQ:AAPL). How many people do you see driving around in a 3-Series BMW? Quite a relative few. It's within the reach of people who want to own a BMW for reasons of status. Not as many people can touch BMW's higher-end luxury models.

Apple offers lower-priced iPods like the Shuffle, it will continue to increase the availability of lower-priced iPhones and the iPad's relatively low price tag came as a shock to some. That said, if you want a Mac or the latest and greatest from Apple, you tend to pay a comparative premium.

Companies like Whole Foods, BMW and Apple do an excellent job of opening the doors to larger numbers of customers without diluting the product or impacting its social standing.

Whole Foods has done a marvelous job locating its stores in markets where that spendy customer base lives. Mackey spoke quite a bit about how the company uses and plans to use real estate in places like Santa Monica, West Los Angeles, San Francisco and Manhattan. Whole Foods adapts to local issues like density, the cost of land and opposition to big-box type retail by scaling down the size of its stores when it needs to. Because of its image as an organic grocery store, Whole Foods does not face the struggle to enter well-to-do and highly-educated markets like Wal-Mart (NYSE:WMT) does.

You can cast off much of what I have written as anecdote. In fact, I often question if, in WFM's case, I am over-reliant on my personal read of the situation as a consumer and urbanist, rather than an investor. While I believe in the story as a basis for making investment decisions, I am careful about distinguishing between meaningless anecdote and meaningful trends. Often, however, what one person experiences in isolation takes place on a large enough scale for it to matter. In Whole Foods' case, I think the numbers bear out that my interaction with the company represents a trend, not just anecdote.

For investors, the question again rises: Is the trend your friend? The fruits of the company's market strategy not only represent a positive trend, the trajectory of the stock does as well.

Back when WFM traded as WFMI (that's how long I've been around!), I suggested using LEAPS call options to go long Whole Foods. At that time, the stock traded in the low- to mid-$60s. WFM closed Tuesday's session at $66.90 after touching a 52-week high of $68.00.

If, and only if, you are bullish - meaning you would be comfortable being long WFM regardless of what happens with Wednesday's earnings release - consider the follow options plays.

First, selling puts represents an excellent way to bring in some income and possibly go long a stock. I explain how it works in this Seeking Alpha article. Pick a strike you would be OK owning WFM at and sell a put. For instance, the August and September $60 puts last traded for $1.02 and $1.53, respectively. In each case, you collect the premium for selling the put. In return you obligate yourself to buy WFM at $60 a share on or before options expiration day if the stock breaches that level.

You could take some of that premium income and put it toward the WFM January 2013 LEAPS call options of your choice. As always, deep in-the-money calls tend to represent the safer play, but if you are confident about further price appreciation you can use less capital and take a stab at around-the-money or out-of-the-money calls.

Disclosure: I have no positions in any stocks mentioned, but may initiate a long position in WFM over the next 72 hours.