I. COMPANY OVERVIEW
Telefonica, S.A. (Telefonica) (TEF) together with its subsidiaries and investees operates in the telecommunications, media and contact center industries. Telefonica's basic purpose is the provision of all manner of public or private telecommunications services, including ancillary or complementary telecommunications services or related services. It operates in three business segments: Telefonica Spain, Telefonica Europe and Telefonica Latin America. On October 26, 2010, it acquired Portugal Telecom's 50% interest in Brasilcel. On September 27, 2010, it acquired 50% of the interest of Brasilcel (a Dutch company that owns interest representing, approximately, 60% of the interest capital stock of Brazilian company Vivo Participacoes, S.A.). On February 16, 2010, it completed the acquisition of 100% of the interest of HanseNet Telekommunikation GmbH. In January 2010, the Telefonica Group, through its wholly owned subsidiary Telefonica Europe Plc, acquired 100% of the interest of Jajah Inc.
Note: All numbers presented herein have been converted from Euros to USD using a 1EUR = 1.44USD conversion ratio.
II. CAPITALIZATION
TEF is well capitalized with leverage of 2.6x TTM EBITDA (2.3x net of cash) and a conservative enterprise multiple of 5.8x. This is about perfect for a telecommunications company, the moderate level of debt does not create much service pressure for the company given the relatively high free cash flow to debt and the Company's stable subscriber base. The chief concern here would be the refinance-ability of the debt given general economic climate in the euro zone.
Click to enlarge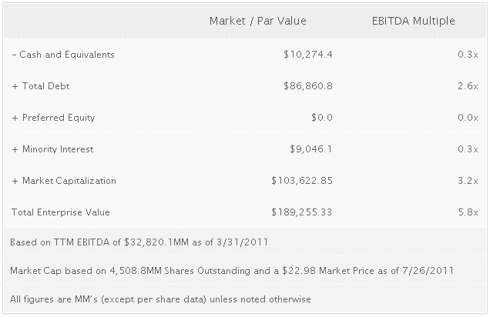 III. HISTORICAL OPERATING RESULTS Income Statement
Click to enlarge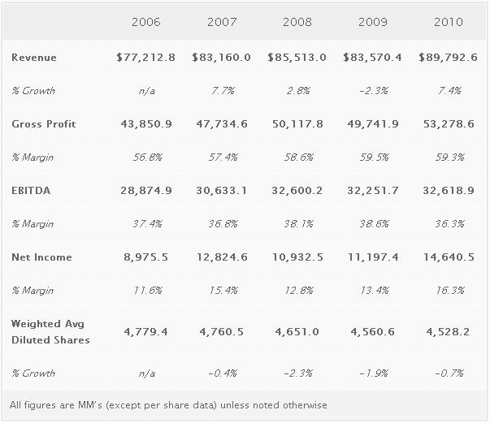 TEF's top line performance has been fairly good over the past five years. The Company has grown revenue year after year with the exception of 2009, when sales declined a little bit over 2%. The Company's gross margins have been relatively stable and increasing over the period, from 56.8% in 2006 to 59.3% in 2010. On the other hand, The Company's EBITDA margins have shown some slight compression over the past five years decreasing from 37.4% in 2006 to 36.3% in 2010, resulting in EBITDA growth from $28.9B in 2006 to $32.6B in 2010 (13% increase).
Per Share Data

Click to enlarge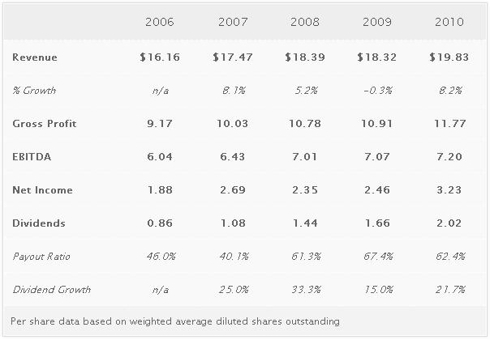 TEF has been actively pursuing a stock buyback program that has reduced the number of share outstanding from 4.8B to 4.5B in the past five years. Performance on a per share basis has the compounding effect of improved company performance and reduced shares outstanding, resulting in an EBITDA per share growth from $6.04 to $7.20 (a 19% increase as compared to a 13% increase at the company level). The Company's dividends per share have been growing rapidly as well, from $0.86 per share in 2006 to $2.02 in 2011 (more than doubling over the period) with an increase in the payout ratio from 46.0% to 62.4%.
IV. PROJECTIONS
Click to enlarge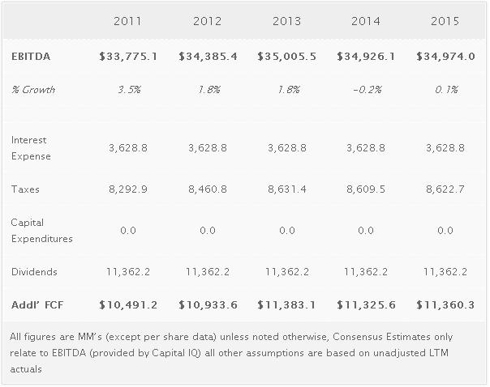 The consensus estimates for TEF are fairly low and very achievable (in my opinion), projecting the growth rate at 0% to 4% through 2015 at the EBITDA line. Under the consensus case the Company is projected to have significant additional free cash flow available to reinvest in the business, repurchase shares (always assumed for ease in modeling), or increase their dividend.
Click to enlarge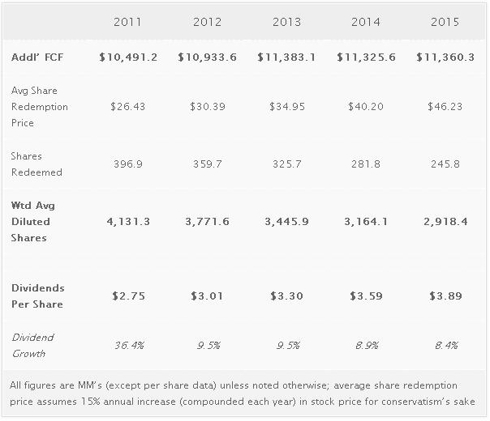 The share redemptions are assumed to be at a 15% annually compounded price. I believe that this is structured very conservatively. If the weighted average redemption price exceeded this threshold, the investor would have ample opportunity and time to re-evaluate their position and consider selling off their position for a gain from today's price. The Company's share redemptions would allow for an increase of more than 8% annually in the dividend by the share redemptions alone. Additionally, the Company's payout ratio would decline as the dollar amount of dividends paid would not be increasing while the Company earnings (using EBITDA as a proxy) would be increasing.
If the Company performs inline with the consensus estimates and pays dividends / redeems shares as outlined above, the Company would achieve the IRR / Cash on Cash returns below based on the outlined Terminal EBITDA Multiples.
Click to enlarge

V. CONCLUSION
BUY: Telefonica has an inciting yield at over 8%, a payout ratio that implies safety in the distribution (notably, there isn't a lot of room for growth), and a high IRR assuming an achievable consensus case with no expansion in the valuation multiple. For investors willing to hold ADRs in their accounts, TEF would make a great addition to those seeking current income.


Disclosure: I have no positions in any stocks mentioned, but may initiate a long position in TEF over the next 72 hours.