Logitech International (NASDAQ:LOGI) is scheduled to announce its second quarter earnings before the opening bell on July 27, 2011. The current Zacks Consensus Estimates for the quarter is earnings of 2 cents a share. For the quarter under review, revenue is expected at $505 million, according to the Zacks Consensus Estimate.
Fourth-Quarter 2011, Summary
Logitech International reported fourth-quarter fiscal 2011 earnings per share of 2 cents, below the Zacks Consensus Estimate of 6 cents and prior-year earnings per share of 14 cents.
Earnings per share for fiscal 2011 came in at 72 cents, below the Zacks Consensus Estimate of 76 cents but well above fiscal 2010 earnings per share of 36 cents.
Total revenue was $548 million, an increase of 4% year over year and up 3% on a constant currency basis.
For fiscal 2011, total revenue increased impressively by 20% to $2.36 billion, driven by LifeSize division and good retail sales in Asia and America. However, the company's performance in the last quarter was below expectations as there was low demand for Logitech products in the EMEA.
Guidance for Fiscal 2012
Logitech expects to generate sales of about $2.6 billion in fiscal 2012. Operating income is expected to be $185 million and gross margin to be approximately 35%.
First Quarter of Fiscal 2012 Zacks Consensus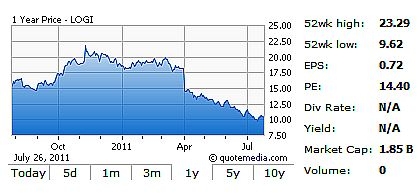 The analyst covered by Zacks expects Logitech International to post first-quarter 2012 earnings of 2 cents a share, which is lower than earnings of 11 cents delivered in the prior-year quarter. The current Zacks Consensus Estimate ranges between loss of 4 cents to earnings of 8 cents a share.
Zacks Agreement & Magnitude
Of the six analysts following the stock, none of them have changed their estimates for the last 30 days and seven days. Therefore, the Zacks Consensus Estimate remained unchanged at 2 cents a share.
Positive Earnings Surprise History
With respect to earnings surprises, Logitech International has topped the Zacks Consensus Estimate only once, with a significant 266.6% over the last four quarters. The average remained at approximately 60.2%. This suggests that Logitech International has beaten the Zacks Consensus Estimate by an average of 60.2% in the trailing four quarters.
Our View
In the recently concluded quarter, the company witnessed lower than expected sales, especially in the EMEA region. Further, the gross and operating margins also declined due to weaker-than-expected demand in the fourth quarter.
The weakness in EMEA was the result of lower-than-expected demand late in the fourth quarter and poor execution of pricing in channel programs in the region. In addition, for fiscal 2012, the company expects a decline in sales of its PC peripherals, primarily in the mature markets.
Logitech primarily competes with LG Display Co. Ltd. (NYSE:LPL) and currently holds a Zacks #5 Rank, which implies a Strong Sell recommendation in the short term.