In this article I highlight two stocks which have solid business models and growing dividend streams. I do find PVD to be a chilling reminder of what a country can do to proactively promote savings and reduce country deficits. PVD is an outstanding business model that capitalized on Chile's move in 1981 to social security privatization. The benefits to U.S. citizens becomes clear as we face a frightful present day economic environment that is sad to look at. In any case, whatever the events at home look like, we can still examine a successful country and their move to privatization.

Administradora de Fondos de Pensiones Provida SA (NYSE:PVD)
PVD provides private pension fund administration and associated services in the Republic of Chile. PVD's services include collection for individual capitalization accounts, voluntary savings accounts, voluntary pension savings, life and disability benefits, and investment services. PVD is currently the largest Latin America pension fund management company. The company has operations in Chile, Peru, Ecuador, Mexico, and the Dominican Republic. Chile privatized their social security system in 1981, and thus PVD was born to serve its citizens.
click on all charts to enlarge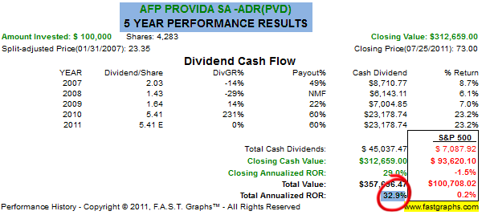 PVD pays a bi-annual dividend.
PVD achieved a 32.9% total annualized rate-of-return vs. the SP500's .2% over the same time frame.


The company currently trades at a 8.111x P/E multiple. Per FirstCall analysts, PVD is anticipated to earn $9.03 per share for 2011.

PVD's company's balance sheet includes $145-million net cash. This cushion of cash eliminates PVD's need for loans and cash loans.
Great Northern Iron Ore Properties (NYSE:GNI)
Great Northern Iron Ore Properties owns and leases mineral and non-mineral lands on the Mesabi Iron Range in north eastern (NE) Minnesota. GNI legally owns mineral interests in 12,033 acres on the Mesabi Iron Range Formation. This ownership does including approximately 7,443 acres that are wholly owned. The trust will dissolve in April 2015. The company was founded in 1906 and is based in St. Paul, Minnesota. My focus upon iron ore growth remain in CLF.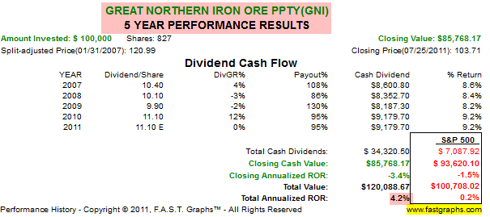 In his Quarterly Newsletter, Jeremy Grantham highlights iron ore on Exhibit 4, page 6. Jeremy highlights rarity and value of commodities in a worldwide growing population.
$12.25 has been paid in the past 12-month distributions.
GNI does not possess any debt on their balance sheet, ideal for an income seeker in an U.S. Trust.
Cliffs Natural Resources Inc. (NYSE:CLF)
I contrast GNI with Cliffs Natural Resources. Both are heavily involved in a few similar product lines. GNI is focused upon dividends, albeit with a short life span. CLF is focused on its balance sheet and acquisitions.

Cliff's Natural Resources is a global iron ore producer. Specifically, CLF is a major producer of high-volatile and low-volatile metallurgical coal. The business strategy is to achieve greater size and diversification in the mining industry. The company does serve and work closely with the global steel industry.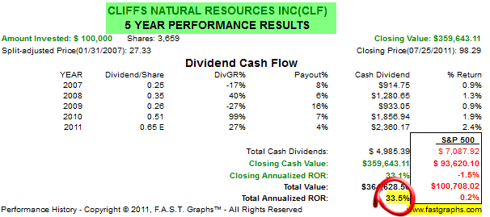 I own CLF for its market penetration and focus upon a low debt-to-equity ratio.
As the table illustrates, the dividend payout ratio is insignificant compared to the net earnings per share.
The company currently trades at a 6.5x P/E multiple. Per FirstCall analysts, CLF is anticipated to earn $14.60 per share for 2011.
CLF has achieved an impressive 33.5% total annualized rate-of-return vs. the SP500's .2% over the same time frame.