This is my first article on SA, as I'm not used to posting public comments on the stocks I trade or that I watch. I decided to write an article because I came across a company that 1) seemed undervalued to me, 2) appears like a very strong, legit company and 3) seemed unknown to many people.
Let me go more in depth for points 1) and 2):
1) Daqo New Energy Corp. (DQ) is way undervalued at the current price levels ($6.15 as I wrote this), in my opinion.
First, here is how they describe their business:
Daqo New Energy Corp. (NYSE: DQ) is a leading polysilicon manufacturer based in China, and aims to become a vertically integrated photovoltaic (PV) product manufacturer. With an estimated total production capacity of 4,300 metric tons (MT) in 2011, we believe we are one of the largest polysilicon manufacturers in China. We plan to continue to expand our polysilicon capacity by building a Phase 2 production facility in the Shihezi Economic Development Area in the Xinjiang autonomous region. We manufacture our high quality polysilicon using a modified Siemens closed-loop process, and our polysilicon is used to manufacture ingots, wafers, cells and modules for PV solar power solutions.
Daqo is a profitable company. At the current PPS, it has a P/E of 2.9 and a forward P/E of 3.1. At the beginning of July 2011, the company guided down Q2 revenues, which accentuated the drop that had been occurring in their stock. Still, even with this revised guidance, the company is expected to report an EPS of around $2 for year 2011.
For comparison, here are other companies in the industry:
WFR has a 2011 P/E of 47.
YGE has a 2011 P/E of 6.
Daqo New Energy has a debt outstanding of $146M, with $171M cash on hand. According to finviz.com, it has a debt/equity ratio of 0.59 and book value per share is around $11.17 according to finviz.com.
I also made a little personal chart analysis, with which you may agree or disagree with, but that I use for my personal trading. It is available here.
click to enlarge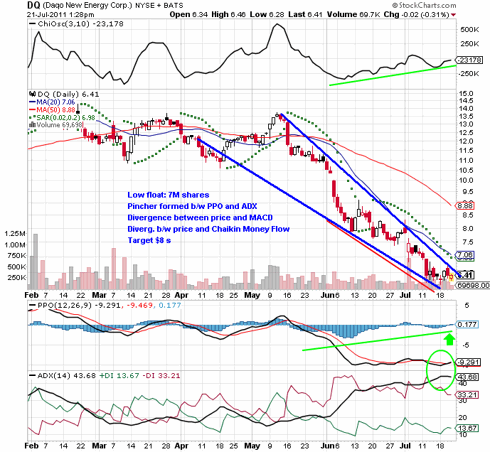 My chart tells me that the stock has been trading in a Bullish Falling Wedge (not drawn), that it is oversold and that it is preparing a counter-trend rally, as noted by the MACD divergences and the ADX overshooting both DI lines.
2) The selloff in the stock may have been accentuated by the negative sentiment surrounding Chinese stocks, which came from the reverse merger scams. I believe there is no reason to doubt Daqo New Energy.
The company appears to be a very legit and strong company, with the management team and board of directors coming from successful companies such as Applied Materials (NASDAQ:AMAT), Focus Media (NASDAQ:FMCN), AutoNavi (NASDAQ:AMAP) and SOHU.com (NASDAQ:SOHU).
The company is also backed by the Daqo Group Co., a company that has been around since 1965 and is in the electrical industry. It describes its business as being
engaged in High-Low-voltage Electrical System, Components, Environmental Protection, High-speed Railway Equipment, New Energy (Polysilicon and Solar Cells) and everything related. Daqo Group is the nation's largest enterprise group, and there are four major industrial bases in Jiangsu Yangzhong, Nanjing Jiangning Development Zone, Chongqing Wanzhou District and Beijing Hi-tech Zone. The group has 23 subsidiaries, and 7 of those are joint venture companies cooperating with Germany Siemens, Germany Moeller, America Eaton, Switzerland Secheron, and Denmark NKT,etc.
I also strongly suggest you visit Daqo New Energy's website and watch the presentation videos under the Investors tab.
Daqo New Energy Co. has a total of 35.14M shares outstanding, and a float of only 7.6M shares, of which almost 20% are held by insiders and institutions.
My opinion is that it is a strong buy at these levels, and I bought a new starter position on Thursday.
Also, on the technical side, the stock printed a red hammer on Friday, which could be a reversal candle.
Disclosure: I am long DQ.