Another quarter, another blockbuster earnings report by Amazon.com (AMZN). On Tuesday afternoon, the company reported second quarter earnings of 41 cents, beating the 35 cents analyst estimate. Revenues were $9.91 billion, beating again the $9.38 billion expected by analysts; current quarter guidance was also ahead of analyst estimates and the stock was trading sharply higher in after hours.
A survivor of the dot.com era, Amazon.com's performance has been often compared with all sorts of web-based companies, including Netflix (NFLX) and Google (GOOG). But as the company has been expanding from books to consumer electronics and all sort of merchandise for bargain hunters — usually low-income consumers -- Amazon.com can be compared against low-end brick retailers like Wal-Mart (WMT), which it beats by a wide margin.
[Click to enlarge]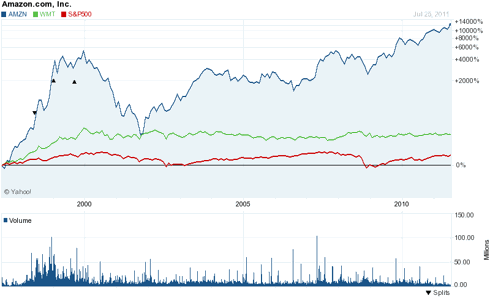 Click to enlarge
Amazon.com's superior stock performance isn't confirmed by financial, however. The company commands a PE of 56.1 compared to 11.06 for Wal-Mart; an EPS of 2.31 compared to 4.58 for Wal-Mart; and lower profit margins. One must understand, however, that Amazon.com is an emerging company, while Wal-Mart is a mature company, as reflected in the company's robust revenue growth and zero debt. This means that Amazon.com has more room to grow, especially in the social media area, like video streaming, where Amazon.com is expected to compete head to head with Netflix, social games, etc. The company is further expected to be a major player in the electronic reader market, where it is better leveraged than Apple (NASDAQ:AAPL). And in contrast to Wal-Mart, which is facing increasing competition in its core business by Costco COST) and Target (NYSE:TGT), Amazon.com is facing less competition as Borders won't be around any longer.
| | | |
| --- | --- | --- |
| Company | Amazon.com | Wal-Mart |
| Forward PE | 56.16 | 11.06 |
| Diluted EPS | 2.31 | 4.58 |
| Profit Margin (ttm) | 2.85% | 3.87% |
| Operating Margin | 3.61% | 6.01% |
| Quarterly Revenue Growth (yoy) | 38.20% | 4.4% |
| Quarterly Earning Growth (yoy) | -32.80% | 3.0% |
Clicks win over bricks: Amazon.com is a better investment for aggressive investors.
Disclosure: I have no positions in any stocks mentioned, and no plans to initiate any positions within the next 72 hours.