There is a lot in common between Berkshire Hathaway (NYSE:BRK.A)(NYSE:BRK.B) and Seaboard (NYSEMKT:SEB). Warren Buffett's Berkshire Hathaway hails from a very un-Wall Street like city of Omaha, Nebraska, while Seaboard Inc. is headquartered in an even more un-Wall Street like city, Shawnee Mission, Kansas.
Berkshire Hathaway consists of a very eclectic mix of companies like Dairy Queen, See's Chocolates, Burlington Northern Rail, GEICO, and COIT furniture rentals just to name a few. Seaboard Inc. consists of an even seemingly odder mixture of pork production (not to be confused with the kind our congress dishes out), ocean transportation, commodity merchandising, sugar production, and power generation. I warned you Seaboard's companies were a strange brew!
While Berkshire Hathaway has mainly stayed at home, Seaboard in recent years has added a Columbian feed milling company, a wheat pool manager in Australia, a grain trading business in Peru, and other odd companies from distant lands. In addition to the foreign purchases, they also recently added a 50% stake in Butterball Turkey which is almost as American as apple pie, or at least pumpkin pie. Seaboard's stock is no turkey, however and shareholder should be full of thanksgiving for the juicy returns that the stock has dished out over the years.
As you can see, Seaboard and Berkshire have a lot in common, both are extremely diverse conglomerates, but when it comes to performance however, their roads take two very different directions, and that has made all of the difference.
It is rare for a day to go by without hearing something about Warren Buffett or Berkshire Hathaway. Whether it is on national television, Cable TV, or in national publications, we usually know where Mr. Buffett is and just what he has had to say.
It is even rarer for a day to go by where we hear anything at all about Seaboard or its CEO, Steven J. Bresky, who took over the reins from his father back in 2006. Maybe we should start hearing more about Mr. Bresky. Here is why I say that:
Over the last 12 month's Bresky's stock is UP over 76% while Buffets is DOWN 2.5%. During that same twelve month period of time, the S & P 500 is up just over 26%.
Over the last three years, Bresky's conglomerate has delivered an annual average return of 14.7% per year, while Buffett's has delivered a meager 0.1% per year. Yes, that's right, Berkshire has not even delivered 1% per year! During that same three year period of time, the S &P 500 has delivered 2.5% per year.
WAIT, now it really gets good, are you ready for this? Over the last 10 years. Bresky's Seaboard Inc. has delivered an annual average return of 27.2% return to its investors, while Buffet's Berskhire Hathaway has delivered just 5.3% per year. During this same 10 year period of time, the S & P 500 has delivered 1.1% per year. Now that is some serious alpha!
Here is a screenshot from my smartphone app Best Stocks Now showing the remarkable performance of Seaboard's stock:
On a MOMENTUM (12 month return) basis, Seaboard scores a relative grade of A-, vs. 2618 other stocks in the market.
On an INTERMEDIATE TERM (3-5 year return) basis, Seaboard scores a relative grade of B+ against the rest of the stocks in my database.
Lastly, on a LONG TERM (5-10 year return), the stocks earns a relative grade of B-.
Here is another screenshot from the app showing the unremarkable returns of Berkshire Hathaway:
Yes, Buffet has beaten the market over the last 10 years, but using the rule of 72, it would take 13.5 years to double your money at the pace that Berkshire has been running at over the last 10 years. It would take just 2.6 years to double your money in Seaboard, if they can keep up the same pace.
Oh, I know, past results do not guarantee future returns, but that is quite a sizeable gap that Seaboard has opened up on Berkshire over the last 10 years.
Oh, I also know that Berkshire is much, much larger than Seaboard. Berkshire Hathaway is a $191 billion dollar operation, while Seaboard is just $3.2 billion. That may not be such a good thing for investors in Berkshire, however. At $191 billion in market cap, it is becoming very difficult for Buffet to find companies cheap enough and large enough to invest in.
In fact, I am of the opinion that the size of Buffet's fund has a lot to do with its diminishing returns. I'll bet it would be difficult for the "Oracle of Omaha" to buy a bacon processing plant in the northwestern United States or an alcohol distillery in Tabacal like Seaboard has done in recent years.
I wish I had known about Berkshire Hathaway when it was just a $3.2 billion dollar company! In its earlier years it produced some pretty staggering returns on its way to a $191 billion in market capitalization. I'll bet that the pundits were saying the same things about crazy Warren Buffet back then that they are saying about Steven Bresky today. It's funny how that works.
Like Berkshire Hathaway, Seaboard does not give any guidance on future earnings or growth expectations, so that makes it very difficult to project any kind of future value on the shares, but I am willing to take my best shot at it. Here we go:
Seaboard earned $231 per share in the year ended 2010, let's begin with that as our starting point. While $231 per share sounds like an extremely large number for EPS, remember that Seaboard is a $2,660 per share stock. 10 years ago, Seaboard earnings per share were $34.95, that works out to a 10 year compounded average annual earnings growth of 20% per year. This is an excellent track record! No wonder that the stock has returned an average of 27% per year over the last 10 years.
In the four most recent quarters, the company has reported year over year earnings growth of 21%, 30%, 26%, and 44%. All of this in an economy that is growing at just 2.8%! As a former stock research analyst, I feel pretty comfortable using a projected five year average annual growth rate of 15%-20% going forward, given the company's long term track record of growth, and its most recent four quarters record of growth.
Now let's extrapolate Seaboard's potential earnings over the next five years. Again, we will begin with the starting point of $231 per share which the company actually earned in the fiscal year 2010. We will project that number out over the next five years, using 17.5% growth as our estimate:
EARNINGS ESTIMATES:
2010-$231 (Actual)
2011-$271 (est.)
2012-$319 (est.)
2013-$374 (est.)
2014-$440 (est.)
2015-$517 (est.)
The above projections show that if the company can continue to grow its earnings at a 17.5% per year pace, it would be earning $517 per share five years from now. Now we need to determine what multiple Seaboard will deserve at that point in time. Consider the following facts:
Over the last four quarters the PE multiple of Seaboard has ranged between 7X and 11X.

The stock is currently trading at 10X earnings.

Over the last

10 year, the PE of Seaboard has ranged between a low of 3.7 and a high of 28, but has averaged 10.92.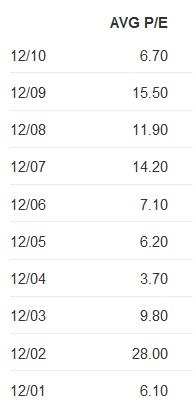 AVERAGE 10.92
I feel pretty comfortable using a multiple of 10X on the future earnings of Seaboard. Now that we have a projected 5 year earnings estimate and a reasonable multiple (NYSE:PE) estimate, we can calculate a five year target price for the stock:
$517 X 10 = $5,170
The stock is currently trading at $2,660. Therefore the stock has 94% upside potential over the next five years.

Seaboard scores a VALUE GRADE of A- in my proprietary grading system. See the screenshot of my app:
Lastly, when we look at the how the stock held up when the market and the economy was under severe stress in the year 2008, we find that the stock was only down 18.6% that year, while the S & P 500 was down a whopping 38.8%.
This gives Seaboard a relative safety grade of B+ in my proprietary grading system.
Overall, the stock currently scores a proprietary overall grade of A. It currently ranks at number 233 out of 2,686 stocks! Not too bad for a well-diversified "better than Berkshire" stock. You can have the "Oracle of Omaha," I'll take the Shawnee Prophet.
Disclosure: I am long SEB.