It is an investor's dream to be on board when a company releases record earnings, significant developments, or buyouts that result in massive gains. It is the best feeling to watch a stock in which you have invested your time, money, and energy experience a large increase in price. The following stocks have seen gains in excess of 160% over the last 12 months. With earnings being announced this week, investors must ask themselves a question. Is it time to take the profits or buy more shares? It is most difficult for an investor in this situation trying to determine what to do with a stock that has been so rewarding, since some will experience a massive sell off and others will keep rising to new highs.
Green Mountain Coffee Roasters (NASDAQ:GMCR) is expecting to beat the street estimates. The estimates have large range as most expect this quarter to increase by up to 80% or double. The stock has been the model for consistent gains, seeing gains of more than 200% in one year and more than 3,000% in five years. If you would had invested $2500 in 2003, 8 years ago, your return to date would be over $200,000. The point being that GMCR has returned large gains over a long period of time. The stock's gains had slowed down over a period of 6 months staying near a $30 range. In February the company raised full year guidance along with the second quarter, which broke the 6 month trading period near $30. This news sent the stock to all time highs more than $45, preparing the stock for gains to come.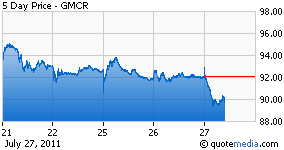 The month of May produced large gains as the company had many announcements. The company began by raising full-year guidance once again, with net sales growth up 82%-87% year over year. The company also announced its expectations for the third quarter, net sales up 90%-95% year over year. In addition to the increase in guidance the company announced the pricing of the Common Stock Offering, which aided in the increase of price.
The company releases earnings today (July 27) and all investors are expecting them to be great. The company has issued expectations of 90%-95% increase and the stock is priced for these gains. I do not see much room for error with this stock; it is in a position where any bad news could produce losses in great amounts. The stock trades at P/E over 116, which means investors expect good results. After considering that the company must produce gains in excess of 90% net sales I am still initiating a buy on this stock. The company has given me no reason to doubt as it always produces great numbers. The company's financial report always shows revenue and assets that increase like the stock's price year over year. The company's performance has left investors searching for the next GMCR. This is obvious in shares of Coffee Holding Company (NASDAQ:JVA), yet the best investment within this industry is GMCR until it proves wrong.
InterDigital (NASDAQ:IDCC) is a company that has seen gains of more than 170% in one year. The majority of these gains came during a 3-day period beginning July 19, when the stock went from $41.5 to $82 after company news. Since the majority of gains came during this span of time I will look at the stock from this date to determine its potential performance after earnings.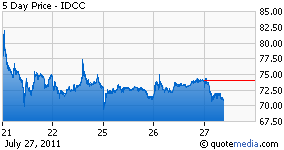 The company's initial increase in price was on July 19, after it announced it is exploring strategic alternatives including a potential sale. The company stated this exploration was due to the increase in value of intellectual property. On July 21, news was released that Google (NASDAQ:GOOG) has held talks related to a purchase of the company.
The rumor was likely the primary reason for the increase in stock price. Additional news was released during this time but none as significant. Earnings are set to be released today and the potential purchase of the company will have no effect on the stock's performance. During the first quarter revenue fell 33% year over year. The company has said the "exploring of alternatives" is not related to lack of performance but I tend to disagree. A 33% loss is huge and it seems the company is trying to sell while the value is high. I would not buy nor hold this stock, if I were a share holder of this company I would sell just before earnings and buy back after the announcement. This strategy may allow investors to take advantage of a potential sell without getting hammered by the earning report. If the company releases another declining report I doubt Google (GOOG) would purchase it at any price close to the market cap, causing the price to decrease.
3D Systems Corporation (NYSE:DDD) is a company in which I have followed for quite some time. The stock has seen gains of more than 250% in the past 12 months. In 2010, the company posted the highest Profit Margin in over four years along with more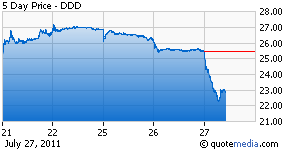 assets. The company is constantly acquiring other companies to aid in its operations. The first quarter of 2011 it posted much higher revenue, net profit, profit margin, and assets year over year. These numbers were very impressive considering how good the earnings were in 2010 compared with past years. I would buy this stock and expect to see earnings that beat estimates and I anticipate the company giving guidance that will surpass any estimation for future quarters.
Sify Technologies (NASDAQ:SIFY) is a small technology company that has seen gains of 200% in one year. The last three quarters have seen an increase in revenue and EPS. Much of this growth is due to India's expansion of the internet market. According to IAMAI research internet awareness in India has risen from 16% to 69% in one year's time. SIFY's business is directly related to the success and growth of the internet market in India.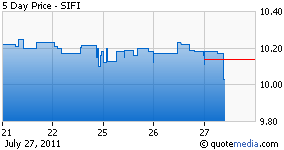 SIFY has announced several partnerships and has launched several services that should present growth. The company partnered with Hitachi Data Systems to offer an On Demand storage platform for business. SIFY launched a system called mylife that will present consumers with new services such as Education, Travel, Entertainment, and Security. Recently the company announced another service that will expand into new markets other than India.
Sify Technologies offers a good opportunity to invest with a small-cap stock that shows potential to grow. The company's fundamentals are improving; it is expanding services while developing new programs, and working amid a population that is growing in knowledge - with little competition. These variables equal what could be a solid opportunity. I believe the company has a good business plan and with a market cap below $220 million the rewards could be endless. With this stock I would wait and purchase after the earnings report. I only recommend this because small-cap stocks are so unpredictable. I would read the report very closely as it should be easy to identify in what direction the company is headed.
Disclosure: I have no positions in any stocks mentioned, but may initiate a long position in DDD over the next 72 hours.