The post-mortem on the numbers and the (well-crafted) story from Netflix's (NASDAQ:NFLX) Q2 earnings report rolls on.

I continue to stumble upon what I perceive as contradictions between what Netflix says and what it does, but I cannot yet call these perceptions reality. That's because I cannot quite figure out if Netflix executives actually talk out of both sides of their mouths or if I am just arguing semantics with my tired and bored self.

Exhibit A (I'll save B and C for future articles): David Pogue of The New York Times published one of the better pieces in the aftermath of Netflix's price increase. Here's the key snippet I took away from it: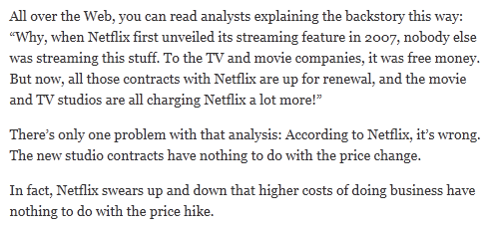 Pogue got his information from Netflix VP of corporate communications Steve Swasey, who I have been in contact with in the past. Pogue's article hit on July 14th.

Now, the day after Netflix's Q2 report, The Wall Street Journal apparently scored an interview with company CEO Reed Hastings. Here's a quote from Hastings that the newspaper included in an article on the earnings release:
Now we can pay for them because of the price increase (emphasis added).
"Them" refers to more content licensing deals.

So, what's the deal here? Swasey stated that studio contracts and the "higher costs of doing business have nothing to do with the price hike." And then, two weeks later, Hastings contends that the price increase will allow Netflix to pay for more content.

I fired off the following email to Swasey and Hastings last night:

Click images to enlarge




As I was writing this article, I received the following reply from Swasey:





So, the deal, then, is what I suspected. Swasey was referring to the cost of past and present deals, while Hastings was referring to future agreements. Personally, I have no reason not to believe Swasey; I don't know the guy and even if I did I am not in the business of calling people liars. I believe strongly in the benefit of the doubt.

That said, as an investor, I cannot simply accept this response and forget the whole issue. Whenever a company draws such a fine-line distinction on such an important issue you've got to beware.

Getting into the nuances of language, then, "now" is the key word in Hastings' quote. Taken with what Swasey told Pogue, this is the story ... we've had no problem paying current obligations, but, going forward, we needed the price increase to be able to afford future content. Without it, we might not have been able to pay the cost of future deals, but, "Now we can pay for them because of the price increase."

I allow you to make of that whole exchange whatever you will with just two cents added. Because Netflix does not recognize content costs on its books all at once, I have to think that the expected proceeds from the price increase will not only go toward new content deals, as the story goes, but to these rapidly increasing content costs, as described in Netflix's just released 10-Q:

Click to enlarge




Just a quick interpretation. That's roughly $625 million due in less than a year, $1.4 billion due in between one and three years, $440 million due in between three and five years and $8.5 million due after five years. That's the $2.4 billion Netflix CFO David Wells referenced here in the company's Q2 call: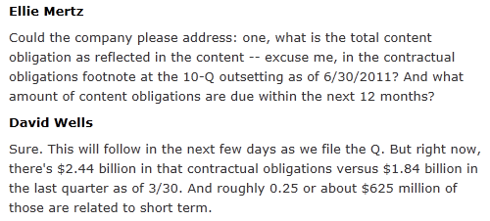 Of course, that does not include what Netflix will dish out going forward when it renews its deal with Starz (LSTZA), for example, and signs new deals, such as the international one it just inked with CBS (NYSE:CBS). For the record, that CBS deal could add $70 million to CBS' revenue in 2012 alone. You do the math.

And don't forget the kicker here, for Reed Hastings' gutsy prediction of a potential $1 billion worth of Q4 revenue to come true and for Netflix to be able pay for more content going forward ("NOW, we can pay for them because of the price increase"). The expected windfall from the price increase and strong U.S. subscriber growth must come through. If it doesn't, all bets, except for bearish ones, are off.

Disclosure: I am short NFLX.