General Electric (NYSE:GE) is a conglomerate that is so big that it almost mimics the overall economy. With a split of 47% US and 53% overseas revenue it mimics the worldwide economy. You could buy ETFs to mimic the world economy, buy a mutual fund that will pick and choose stocks from a worldwide universe or put all your eggs in one basket and buy GE with stop losses in place if the economy collapses.
A look at the chart for GE shows a decline just like the world economy.
(Click charts to expand)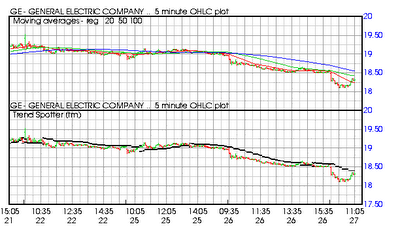 General Electric Company operates as a technology, media, and financial services company worldwide.
Its Energy Infrastructure segment produces gas, steam, and aero derivative turbines; generators; combined cycle systems; and renewable energy solutions, as well as provides water treatment services and equipment. This segment also sells surface and sub sea drilling and production systems, floating production platform equipment, compressors, turbines, turboexpanders, and high pressure reactors to oil and gas companies.
The company's Technology Infrastructure segment manufactures jet engines, turboprop and turbo shaft engines, and replacement parts for use in military and commercial aircraft, as well as provides repair and maintenance services. This segment also produces healthcare products, including diagnostic imaging systems; offers transportation products and maintenance services; provides enterprise solutions using sensors for temperature, pressure, moisture, gas and flow rate, as well as non-destructive testing inspection equipment.
GE's NBC Universal segment engages in the production and distribution of films and television programs; operation of television stations and cable/satellite television networks, as well as theme parks.
The company's Capital Finance segment offers commercial lending and leasing products to manufacturers, distributors, and end-users of equipment and capital assets; consumer financial services to consumers and retailers; capital and investment solutions for real estate; commercial finance to the energy and water industries; and commercial aircraft leasing and finance, and fleet and financing solutions.
Its Consumer & Industrial segment produces various home appliances, lighting products, and electrical equipment and control products, as well as provides related services. The company has a joint venture with Shenhua International Limited.
The company was founded in 1892 and is based in Fairfield, Connecticut. (Yahoo Finance.)
Let's look at the factors you should consider:
Barchart technical indicators:
66% Barchart technical sell signals
Trend Spotter technical Hold signal
Below its 20-, 50- and 100-day moving averages
14.15% off its recent high
Relative Strength Index 42.62% but still falling
Trading around $18.39, which is below its 50-day moving average of $18.75
Support level presently at $17.90
GE has always been a core growth holding for long-term conservative investors
Wall Street brokerage analysts have released 4 strong buy, 8 buy, 4 hold and no negative recommendations to their clients
Sales are expected to contract by 3.30% this year but recover with a 2.40% increase next year
Earnings are expected to increase as the company "right-sizes" its global operations with an recovery of 18.30% this year, 22.10% next year and continue at an annual rate of 14.64% over the next 5 years
At the present time the company is selling at a P/E ratio that is at a 15% discount to its trailing P/E ratio
This is a company that mimics the market but is trading at a P/E ratio that is 6% below the markets P/E ratio
If consensus forecasts of increases in sale, earnings, returns to trailing P/E ratios and a return of a 3% dividend are met, investors could see a possible annual return of 24% over the next 5 year period
General investor sentiment:
If I use Motley Fool readers to gauge individual investor sentiment the 16,017 readers who express an opinion on the stock voted 94% that the price will rise faster than the overall market.
The more experienced All Stars are more optimistic with a 96% vote for the same result.
Summary: If you believe that the business and political communities will meet on common ground and resolve the economic difficulties we are currently experiencing you should consider putting GE on your watch list. It is selling at a discount to both the market and its own trailing P/E ratio. Both the professional and individual investors are forecasting increases in both sales and earnings over the next 5 years. If you'd like to play this stock I'd suggest placing a moving buy stop at the 50-day moving average, which presently is at $18.82.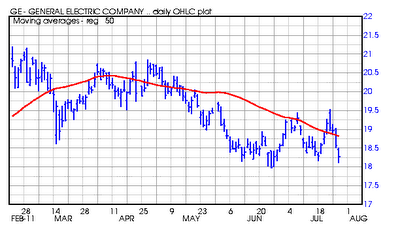 Charts and technical data provided by Barchart
Disclosure: I have no positions in any stocks mentioned, and no plans to initiate any positions within the next 72 hours.