By Jared Cummans
Today saw most equities take another major hit, as the government seems no closer to a debt deal than it was yesterday. While markets appeared to be somewhat resilient to the rather urgent situation, today saw them finally break, lead by the Nasdaq which lost a shattering 2.7% on the day. The S&P 500 lost nearly 2% and the Dow dropped just under 200 points to cap off one of the worst trading sessions in recent memory. One company weathered the storm, however, as Dunkin' Donuts' (NASDAQ:DNKN) IPO shot up 40%, leaving its stock as a diamond in the rough for the day. As for commodities, today went in the opposite direction of yesterday's strong gains as numerous commodities sank amid fears of a major economic crisis and a rebound in the greenback against most major world currencies.
One of the biggest commodity winners on the day was in the wheat market, which surged on a crop outlook given by the EU. The 27 country bloc reported that its wheat harvest is forecast to drop 1.6%, driving up prices as the potential lack of supply could lead to a shortage. The EU was been experiencing rough weather along with many regions of the world, as a dry spring combined with heavy rains in recent weeks rendered some of the crop acreage unusable. Futures were also pushed higher by a weak outlook from the U.S., as heavy rains in the Great Plains have delayed planting and destroyed some of the nutrient rich soil necessary for solid growth of the staple crop. Wheat jumped 1.6% today, its biggest gain in approximately six weeks to leave near month futures contracts slightly above $7/bu.
Click to enlarge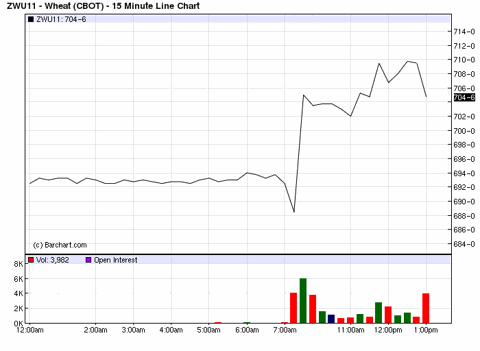 Click to enlarge
One of the biggest commodity losers on the day was WTI futures as crude oil took a major hit in Wednesday's trading. Crude took a hit for two reasons; an inventory report which came in higher than expected, and a dip in durable goods orders which brought investors to the conclusion that the economy may be slowing. The crude oil inventory was supposed to dip roughly 2 million barrels from last week, showing increased demand. Instead, the inventory jumped by 2 million barrels, sending WTI futures into the ground as demand seems to be slowing as the economic outlook becomes less certain. All in all, crude oil futures dropped 2.3% on the day, leaving front-month contracts trading at just below $97.30/bbl.
Click to enlarge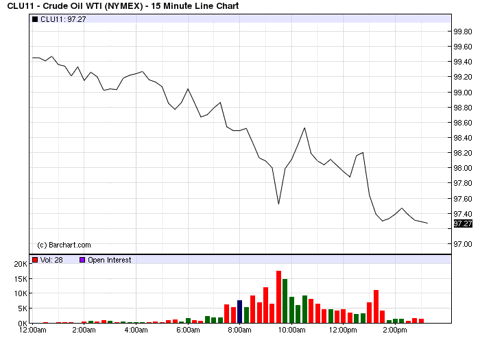 Click to enlarge
Disclosure: Charts courtesy of Barchart. No positions at time of writing.