I. COMPANY OVERVIEW
Per Google Finance:
General Dynamics Corporation offers a portfolio of products and services in business aviation; combat vehicles, weapons systems and munitions; military and commercial shipbuilding, and communications and information technology. General Dynamics operates through four business groups: Aerospace, Combat Systems, Marine Systems, and Information Systems and Technology.
II. CAPITALIZATION
General Dynamics (NYSE:GD) has a very flexible capital structure with leverage of only 0.7x TTM EBITDA. Furthermore, the Company has approximately a half a turn of EBITDA in cash lowering the effective leverage to only 0.2x TTM EBITDA. GD could benefit from increasing the leverage a bit to increase its distribution to shareholders (in the form of dividends or share repurchases) while not compromising its financial flexibility. If anything, I would like to see just a bit more of debt somewhere near the 1.5x net of cash area (~25% of the capital structure). The Company has an enterprise value of 5.9x TTM EBITDA which is in line with its peers (LMT - 5.9x; NOC - 4.9x; RTN - 6.0x).

click on all charts to enlarge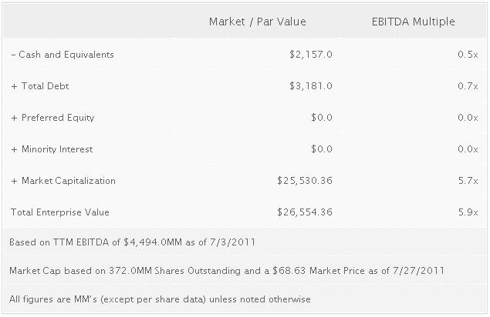 III. HISTORICAL OPERATING RESULTS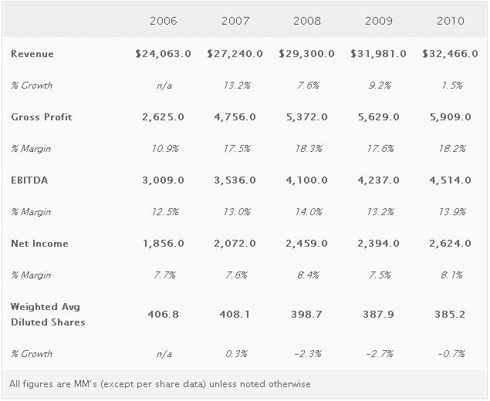 As a defensive stock, General Dynamics has a stable revenue history increasing every year since 1993. Also notable, the Company's Gross and EBITDA margins have been fairly stable and expanding for the past five years (the low gross margins in 2006 relates to SG&A classification). GD has expanded gross margins from 17.5% in 2007 to 18.2% in 2010; EBITDA margins have expanded from 12.5% in 2006 to 13.9% in 2010 resulting in EBITDA expansion from $3B to $4.5B (50% expansion).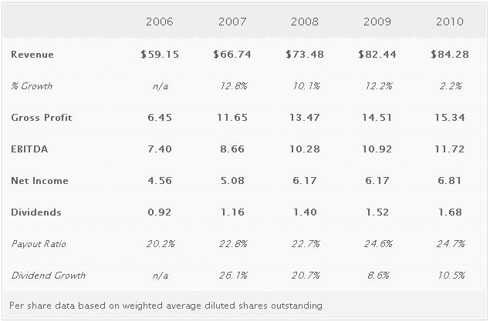 GD has slightly reduced the number of shares outstanding from 406MM to 385MM in the past five years (a ~5% reduction). Performance on a per share basis has the slight compounding effect of improved company performance and reduced shares outstanding resulting in an EBITDA per share growth from $7.40 to $11.72 (a 58% increase as compared to a 50% increase at the company level). The Company's dividends per share have been growing rapidly as well from $0.92 per share in 2006 to $1.68 in 2010 (83% increase) with a modest increase in the payout ratio from 20% of earnings to 25% of earnings.
IV. PROJECTIONS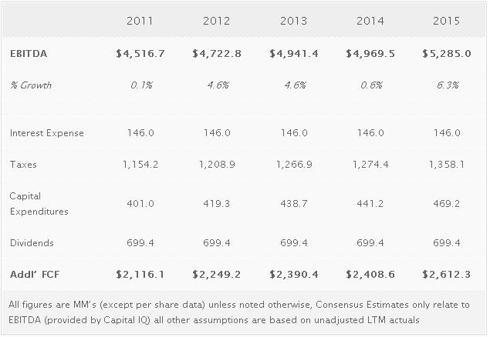 The consensus estimates for GD are moderate and obtainable projecting the growth rate between 1% and 6% annually at the EBITDA line through 2015. Under the consensus case the Company is projected to have significant additional free cash flow available to reinvest in the business, repurchase shares (always assumed for ease in modeling), or increase their dividend.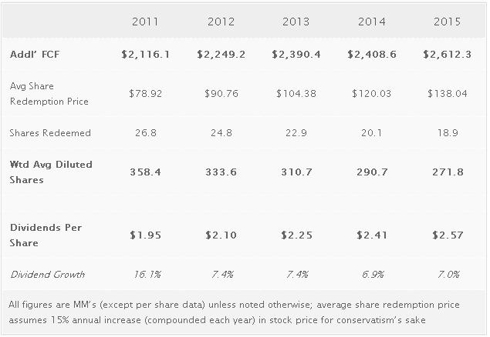 The share redemptions are assumed to be at a 15% annually compounded price. I believe that this is structured very conservatively. If the weighted average redemption price exceeded this threshold, the investor would have ample opportunity and time to re-evaluate their position and consider selling off their position for a gain from today's price. The Company's share redemptions would allow for an increase of approximately 7% annually in the dividend by the share redemptions alone. Additionally, the Company's payout ratio would decline as the dollar amount of dividends paid would not be increasing while the Company earnings (using EBITDA as a proxy) would be increasing.
If the Company performs in line with the consensus estimates and pays dividends / redeems shares as outlined above, the Company would achieve the IRR / Cash on Cash returns below based on the outlined Terminal EBITDA Multiples.



VI. CONCLUSION
Buy: The Company has a great payout ratio (25% of earnings), a 20 year history of consecutive dividend increases combined with a recent history of double digit dividend growth, and a very reasonable enterprise valuation (<6.0x TTM EBITDA). The purchase decision only gets a little bit tricky due to the Company's reliance on the federal government for revenue and the current yield of 2.7% which is a little bit on the low side for most income seekers. I feel the strengths more than make up for risks with this Company. If your portfolio has a "pay me later" bucket for dividend growth stocks, General Dynamics would make a great addition.

Disclosure: I have no positions in any stocks mentioned, but may initiate a long position in GD over the next 72 hours.