When it comes to income investing, one of the hardest decisions is determining just what to put into your portfolio. Every income investor has the same dilemma: balancing their desire for a high yield against their appetite for risk.
With the current economic environment and financial issues, it makes it even harder to choose since there is no shortage of available investments. Today's income investor has a range of investment vehicles to choose from like mREITs, Business Development Corporations (BDC's), Closed End Funds, and a plethora of other options.
With such a wide variety of choices no wonder it can get overwhelming. One can read every investment article, watch countless hours of investment programming on television, and subscribe to every newsletter and come away with such conflicting financial advice that it will make your head spin. So the question is where should an income investor begin? My opinion (yet one more to add to the list) comes from Warren Buffet and Peter Lynch whose advice holds especially true for income investors, and that advice is that you should invest in what you understand.
For the average investor trying to wrap their heads around the inner workings of mREITs with all the leverage and hedging, this can be tough. Or consider trying to familiarize yourself with the portfolio of a large BDC and all the risks and complicated financial issues of each holding. I'm not saying it cannot be done, but it can get complicted. That being said, I believe that it is the energy sector that offers income investors a better chance for success based upon some fantastic companies with business models which might be easier to come to grip with.
This sector is actually a vast menagerie of large and small companies whose common thread is to provide the energy we all use. These companies can be involved in that effort in many ways from discovery, production, development, transportation, storage, or distribution of that energy. Their sources can be from crude oil, natural gas, propane, and even coal. Several of these companies are growing their business in a bad economic environment and spinning out some wonderful yield in the process.
While the business models can still be rather complicated, I would think it would be easier for the income investor to comprehend than many other choices on the market today. The sector is not without risk, but one has to sit back and ponder the future of these companies. If you are hoping for just another basic list of companies with no other information than current market value and yield then this article is not for you. In this article I will attempt to introduce a wide variety of companies and the catalysts that should make them winners.
Penn West (NYSE:PWE): Penn West is one of the best energy companies in Canada. PWE engages in acquiring, exploring, developing, exploiting, and holding interests in petroleum and natural gas properties in a huge land mass of 6.2 million acres. It is this land mass plus the development of new drilling technologies that will be the key to Penn West's success.
The technology aspect is the innovation of applying hydraulic fracture-stimulation along a horizontal well. While the engineering and technical aspects of this technology are way beyond the scope of this article, what the income investor needs to take away from this is that the end result is a highly effective way get to oil that otherwise might be unattainable. To initiate drilling projects like this is more expensive as compared to conventional wells, but the untapped resources are just too great to ignore.
Consider this: Penn West owns the mineral rights to at least half of the entire Cardium geological formation. The Energy Resources Conservation Board (ERBC) last year recognized 10 billion barrels of original oil in place for the Cardium, including 1.7 billion that have already been produced. PWE states that the original oil in place could easily be 15 billion barrels and estimate that a 20%-30% recovery rate is a realistic prospect. If that is not enough to get an income investors attention then let's look at it on a higher level.
Penn West owns 15% of the approximate 80 billion barrels that is said to be in place in the Western Canadian Sedimentary Basin (WCSB). Take a moment and consider that number. Now if you go to their company reports, one will find they only report 661 million BOE of proved and probable reserves recorded. Of that number only 5% of these reserves are related to the new horizontal drilling technologies, which represent wells that have been drilled using this technique. As a result, Penn West's mission is to try and increase its reserves and production on a massive scale.
In 2010 the capital expenditures budget for the year was increase to over C$1 billion. In 2011 expenditures are estimated to be C$1.1-C$1.2 billion. The company drilled 185 net wells in the first quarter of 2011 compared to 65 net wells in the same period of 2010. To fund this expansion is expensive which will hold dividend distributions in check for a while.
The company also closed the renewal of its unsecured, revolving bank facility on June 27, 2011. PWE has an aggregate borrowing limit of $2.25 billion on which it currently has drawn approximately $900 million. Gross revenue for the first quarter was C$844 million, which was an increase when compared to first quarter 2010's figure of C$806 million.
Bottom line, over the next several years PWE will drill like mad and the reserve numbers should go through the roof. With that much oil and sustained high energy prices, PWE should be an income investors dream. Currently Penn West pays out a quarterly dividend that is a 4.8% yield which is more than acceptable while we wait.
click on all charts to enlarge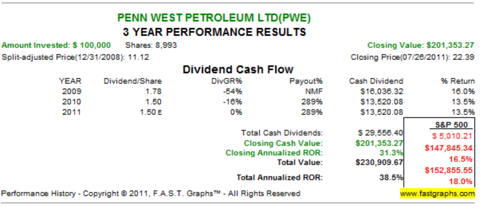 Click to enlarge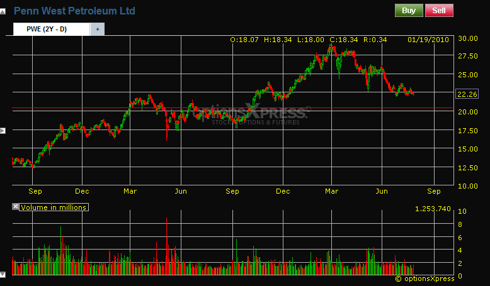 Click to enlarge
SandRidge Mississippian Trust I (NYSE:SDT): This income investment is one of the more recent energy offerings to hit the market. To make a long story short, the Trust will own royalty interests conveyed to it by parent SandRidge (NYSE:SD). The Trust will be entitled to a percentage of the proceeds from the production of currently producing wells and development wells to be drilled by SandRidge on approximately 42,600 net acres in northern Oklahoma. To break the deal down even further, SD is obligated to drill, or cause to be drilled, the equivalent of 123 horizontal oil and natural gas development wells from drill sites between January 1, 2011 and December 31, 2014. If there is a delay, SD will have until December 31, 2015 to fulfill its drilling obligation to the Trust. As one can imagine, SDT is not responsible for any costs related to the drilling of the wells. One interesting note is that SandRidge will not be permitted to drill and complete any well in the Mississippian formation until it has satisfied its drilling obligation to the SDT.
What will be of interest to income investors is the agreement between the Trust and SandRidge where production and revenues attributable to the business have been hedged with a combination of fixed price swaps and collars from April 1, 2011 to December 31, 2015. The hope here is that the hedging will level out some of the effects of the price volatility that the energy sector can experience. The Trust will make quarterly cash distributions of its cash receipts after deducting administrative expenses.
On July 22, 2011 SDT stated that its distribution for the period from January 1, 2011 through May 31, 2011 will be $1.068461 per unit. The distribution is expected to be distributed on or before August 30, 2011 to holders of record as of the close of business on August 15, 2011. It should be stated that SDT will withhold $1.0 million from the first distribution to establish a cash reserve available for Trust's administrative expenses. So this initial distribution makes for a yield of 8.8%.
What is of more interest to the income investor is that SDT has a target for their cash distribution between August 2011 and December 2015 of $12.82. Like everything in life there are no guarantees, but if SandRidge Mississippian Trust I can come through then that mean at a current price per share of $28.70, 44.6% of the cost of the initial purchase would be recouped within a 4.5 year time frame.
The Trust will dissolve and begin to liquidate on December 31, 2030 so this investment won't last forever. At that time, 50% of the Royalty Interests will revert automatically to SandRidge. The remaining 50% of the Royalty Interests will be retained by the Trust and sold. The net proceeds of the sale, as well as any remaining cash reserves, will be distributed to the unit holders.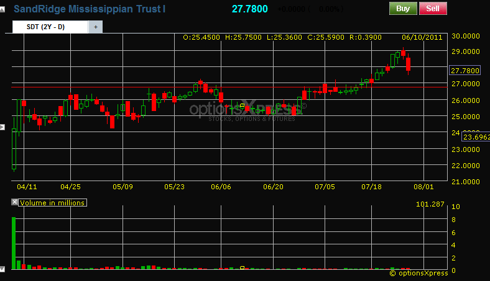 Click to enlarge
Linn Energy, LLC (LINE): LINE is a limited liability company that deals in oil and natural gas. The company has proven reserves of 2,597 billion cubic feet equivalent of oil and gas and natural gas liquids, as well as 7,097 gross productive wells. Of this total number of wells, it should be known that LINE does not operate all of its wells and some are in a non-operating status while the characteristics of the drill site can be analyzed.
So the question is, why does Linn Energy make a good pick for an income investor? The answer lies in that LINE has consistently paid a quarterly distribution to its unit holders since it first went public back in January 2006. The company's focus is to make a consistent, growing dividend distribution no matter the volatility of energy prices. This is a bold statement but let's look at how LINE is trying to accomplish this. In recent presentations the company stated that it has a significant hedge position in place for its products. Linn Energy is hedged 100% of expected oil and natural gas production through the year 2013. In 2014 that number drops to 90%, and in 2015 it goes to 80%. So basically it seems the company has a tight grip on their business model.
LINE pays its dividend on a quarterly basis. The good news is that on July 26, 2011 the company announced a cash distribution for the second fiscal quarter of 2011 of $0.69 per unit, or $2.76 per unit on an annualized basis. This distribution represents an increase of approximately 5 percent over the first quarter distribution of $0.66 per unit. The distribution will be payable August 12, 2011, to unit holders of record at the close of business August 5, 2011. With a current trading price of $40.30 that makes the yield 6.55% which should make the income investor happy.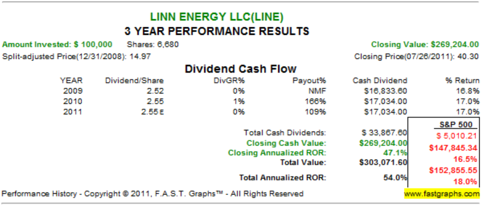 Click to enlarge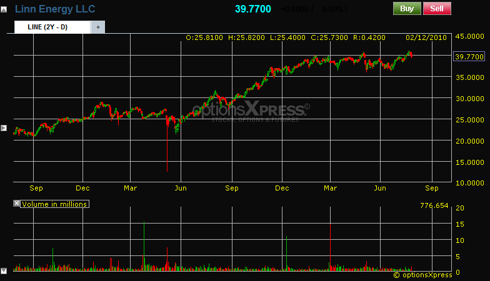 Click to enlarge
Enerplus (NYSE:ERF): Enerplus is a Canadian company that engages in the acquisition, exploitation and operation of crude oil and natural gas assets in both the United States and Canada. ERF operates on a land base of approximately 420,000 net acres within such well-known plays as the Bakken/Tight Oil play, the Marcellus Shale Gas play, and Deep Basin play.
As of December 31, 2010, its total estimated proved plus probable reserves were 306,237 thousand barrels of oil equivalent consisting of 149,853 thousand barrels of crude oil, 11,576 thousand barrels of natural gas liquids, and 752,187 million cubic feet of natural gas and 116,662 million cubic feet of shale gas. The reserve life for the company is 10.7 years and production outlook is estimated to be 78,000 to 80,000 BOE/day.
The production is almost an even break of 53% natural gas, 47% crude oil and natural gas liquids. So once again income investors have to ask why ERF should be one of the top choices. The answer lies in the company's business model and future plans.
According to Enerplus, they have stated their goal is total production growth of 10 – 15% through 2012. The oil production side of the house is planning to increase by more than 30% over the next two years. ERF can see the writing on the wall, and is focusing a good majority of the company's largest capital expenditure programs on the oil side of the house. The plan is worth over C$650 million.
Stating goals is easy, making them happen is a bit tougher. To put this expansion into play, ERF announced and completed the sale of a portion of their Marcellus natural gas interests in Pennsylvania, West Virginia and Maryland and are in receipt of the proceeds of approximately US$580 million. The proceeds from the sale will be used to repay current outstanding bank debt resulting in the entire $1 billion credit facility being undrawn and available to support the future growth strategies.
The company's dividend is paid monthly and looks to be stable for a long time to come, when considering that their payout rate is running at 55%. The yield is 7.1% which should make an income investor take notice.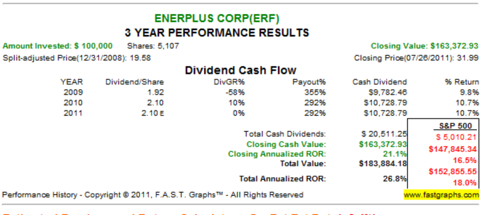 Click to enlarge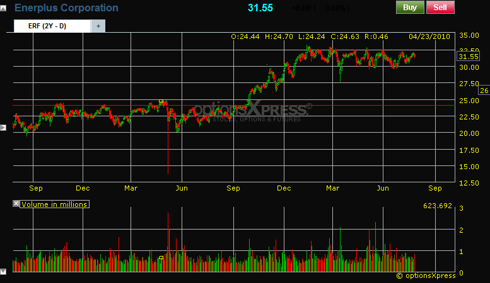 Click to enlarge
Energy Transfer Partners (NYSE:ETP): ETP is a publicly traded partnership which operates a diversified portfolio of energy assets. Basically, ETP is in the business of transportation and storage of energy through their vast expansion of pipelines and storage facilities. The partnership has a presence in such states as Arizona, Arkansas, Colorado, Louisiana, Mississippi, New Mexico, Utah and West Virginia and owns the largest intrastate pipeline system in Texas.
ETP currently has natural gas operations that include more than 17,500 miles of gathering and transportation pipelines, treating and processing assets, and three storage facilities located in Texas. On top of this, ETP is also one of the three largest retail marketers of propane in the United States.
So what does ETP have to offer the income investor? The answer might be in the form of larger future projects coming on-line to further fund the company's distributions. This includes the $2 billion 70/30 JV with Regency Energy Partners (RGNC) for the acquisition of Louis Dryfus and the construction of a NGL fractionation facility. Also there is a joint venture with Enterprise Products Partners (NYSE:EPD) to create a pipeline from Cushing, Oklahoma to the Gulf Coast, plus a host of smaller, independent projects that will begin in the near future.
As a result, ETP's management stated that they expect the distribution rate to be raised no later than the third quarter of this year. The current distribution is around $3.58 a year for a yield of roughly 7.70%. This distribution has been very stable as shown by the chart below.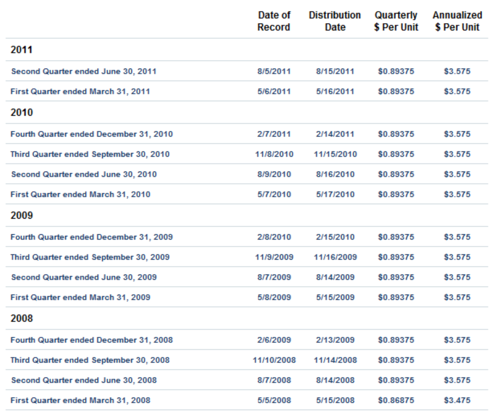 Click to enlarge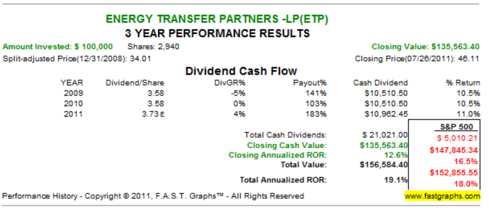 Click to enlarge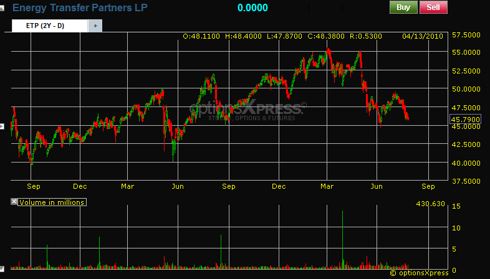 Click to enlarge
Teekay LNG Partners L.P (NYSE:TGP): Teekay LNG provides marine transportation services for liquefied natural gas, liquefied petroleum gas, and crude oil worldwide. The company charters its vessels on time and voyage basis.
As of June 30, 2010, it operated a fleet of 15 LNG carriers and 3 LPG carriers; and 10 Suezmax-class crude oil tankers and 1 Handymax product tanker. Including projects currently warehoused by Teekay Corporation, Teekay LNG is the world's third-largest independent owner of LNG carriers. A nice summary, but what is the catalyst for the income investor? According to the company, the Liquified Natural Gas (LNG) industry remains a strong area for growth. Global demand for LNG is expected to increase by more than 50 percent by 2030 and TGP is trying to be in the right place at the right time.
Teekay LNG's business strategy is to increase distributions per unit by executing on the following:
Expand LNG fleet on a build-to-suit basis
Focus on fixed-rate contracts in excess of 10 years
Pursue industry consolidation through accretive acquisitions
Leverage Teekay's customer and supplier relationships
Provide superior vessel operations
Pursue specialized LNG project business
For the income investor, one of the key strategies of Teekay LNG Partners is fixed rate contracts. The contracts are long-term (typically 10-25 years) fixed-rate and generate stable cash flows from strong counterparties. Also TGP is pursuing industry consolidation where it makes sense through accretive acquisitions. To add to that they want to pursue a specialized project business which will give them the advantage of controlling lots of niches as the demand grows.
Needless to the say, the fleet is building ever higher numbers which should support the distribution. In the first quarter of 2011, Teekay generated a distributable cash flow of $39.1 million, up 15% from $33.9 million in the first quarter of 2010. As a result, the partnership raised the quarterly distribution to $0.63 per unit which was an increase of $0.03 per unit or 5%. With so many energy shipping companies doing so badly, Teekay LNG seems to be getting it right.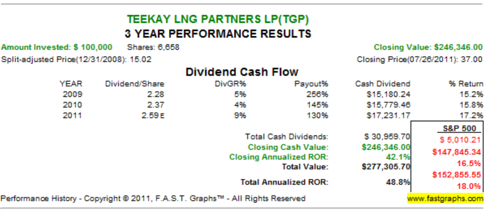 Click to enlarge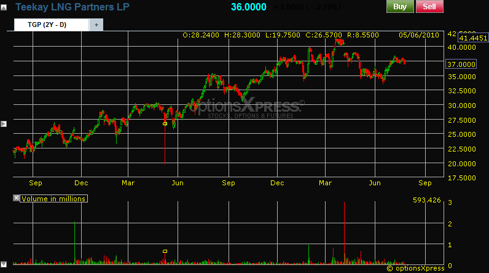 Click to enlarge
Seadrill Limited (NYSE:SDRL): SDRL is an offshore drilling contractor that provides offshore drilling services to the oil and gas industries worldwide. It also offers platform drilling, well intervention, and engineering services. The company owns and operated 59 offshore drilling units, which consist of drillships, jack-up rigs, semisubmersible rigs, and tender rigs for operations in shallow and deepwater areas, as well as in benign and harsh environments.
Seadrill's worldwide business has attracted some of the biggest names in the industry as customers. For example, the company's largest customers are Petrobras (NYSE:PBR), Total (NYSE:TOT), Exxon (NYSE:XOM), and Shell (RBS.A).
As an international company, Seadrill's revenue can be generated in several denominations such as US dollars, Brazilian real, and the Norwegian kroner. That should be a plus to the income investor given how currencies can fluctuate in the current economic environment.
But to understand SDRL, one has to look at their rapid growth since inception. Established in 2005, SDRL then had 5 drilling units. Fast forward to 2008 when they had 30 units, and finally, in 2011, they currently have 59 units. It is not hard to believe then that Seadrill has some of the youngest and most modern drilling units in the industry, and the expansion does not stop there.
More units are still coming on as SDRL continues to bring in new business. The company is banking on the ever increasing demand for oil in conjunction with a stable market price for the commodity. SDRL posted first-quarter earnings before interest, taxes, depreciation and amortization of $430 million, compared with $332 million in the same period last year. As a result, the company decided to increase the long-term quarterly dividend to $0.70.
As if that was not enough, they also decided to pay out an additional $0.20 per share during the next four quarters which will be payable as US$0.05 per quarter. That makes for an 8.4% yield and should give the income investor something to sing about.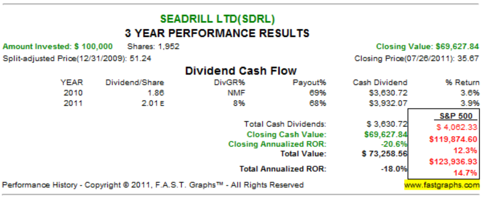 Click to enlarge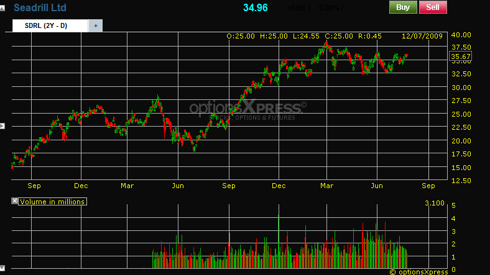 Click to enlarge
Hugoton Royalty Trust (NYSE:HGT): The Hugoton Royalty Trust was created on December 1, 1998 when XTO Energy Inc. conveyed 80% net profits interest in certain predominantly gas-producing properties located in Kansas, Oklahoma and Wyoming to the trust. The trust was created to collect and distribute to unit holders monthly net profits income related to the 80% net profits interest.
Such net profits income is calculated as 80% of the net proceeds received from certain working interests in predominantly gas-producing properties in Kansas, Oklahoma and Wyoming. Unlike a lot of other US energy trusts, HGT does not have a specific end date. There are, however, some events that could cause the Trust to terminate and those are if the properties fail to generate net revenue for the Trust of at least $1,000,000 per year over any consecutive two year period, or if unit holders vote to terminate. If the decision is been made to terminate the Trust, the Royalty Properties will be sold for market value and the cash received from the sale less any applicable administrative costs will be distributed to the unit holders of record at that time. Distributions are paid monthly to the unit holders.
For the quarter ended March 31, 2011, net profits income was $13.2 million as compared to $16.9 million for first quarter 2010. The decrease in net profits income was primarily the result of lower gas prices and decreased gas production. This loss was partially offset by higher oil prices and increased oil production. The first quarter 2011 average gas price was $4.41 per Mcf, which was a 14% decrease from the first quarter 2010 average gas price of $5.12. The first quarter 2011 average oil price was $85.34 per Bbl, a 19% increase from the first quarter 2010 average oil price of $71.94 per Bbl. The issue is that HGT is heavily dependent on natural gas for the Trust.
Hugoton currently looks like it will generate a 6% yield through the end of the year. The income investor will need to decide if natural gas prices will make a comeback any time soon. If so, then HGT would make a fine addition to one's portfolio.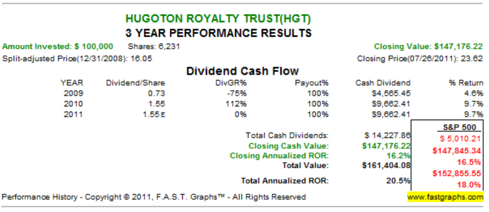 Click to enlarge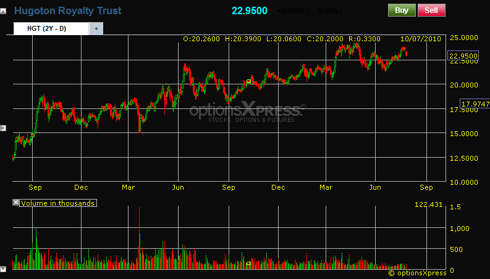 Click to enlarge
Pengrowth Energy Corporation (NYSE:PGH): Pengrowth Energy Corporation is actually one of the sleepers that does not get as much attention as other energy players in their sector. PGH engages in the acquisition, exploration, development, and production of oil and natural gas reserves in the Western Canadian Sedimentary Basin. PGH explores for crude oil, natural gas, and natural gas liquids in the provinces of Alberta, British Columbia, Saskatchewan, and Nova Scotia.
Currently, the company has approximately 900,000 acres of undeveloped land within these locations. At the end of 2010, the company had a total proved plus probable reserves of 318.4 millions of barrels of oil equivalent, and had an interest in 8,277 gross producing and 2,463 gross non-producing oil and natural gas wells. The reserve life index on the proved plus probable is 11.1 years.
Pengrowth's mantra reads much like that of PWE that we presented above. The company is really emphasizing nonconventional drilling techniques to increase production. PGH for 2011 is planning capital programs of $550 million which is a 54% increase when compared to the $358 million in 2010. Of this amount, 85% is going to be focused on the oil and liquid rich natural gas projects. Much like PWE the goal is that Pengrowth's reserves will grow to a much larger number than where they sit now.
The company does use hedging activities as well to try and maintain a more stable business operation. In 2011, 22% of the forecast production of natural gas was hedged at an average price of Cdn $5.72 per mmbtu. In turn, the oil and liquids has a hedge of 40% of forecast production at an average price of Cdn$90.44 per bbl. This still leaves well over half of production unhedged and subject to some volatility which could be good or bad.
One interesting note for investors was that on June 26, 2011 the company had a gathering system pipeline leak and fire. The result was that Pengrowth had to shut-in and depressurized the pipeline to contain the spill. The main production facilities were unaffected but the shutdown cost approximately 3,000 barrels of oil equivalent (boe) per day from the affected area. It is hoped that the pipeline will soon return to service, but does not have a material impact upon the company at this time. For the income investor PGH could make an interesting holding as they execute their plan. The company's payout percentage is 47% so they seem to be covering their monthly distributions to shareholders. The current yield is 6.7%.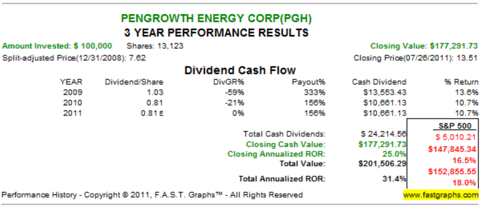 Click to enlarge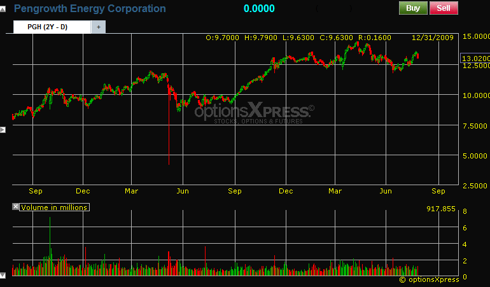 Click to enlarge
In conclusion, the above represent some of the top energy companies that could provide a desirable yield for income investors. Needless to say the list is incomplete and there are several more companies, trusts, and partnerships that would fit the bill.
To keep this article manageable for both the author and the reader, we presented these top 9 to start. To note, we intentionally left out such companies as Exxon (XOM) and ConocoPhillips (NYSE:COP) because even though they are fine, top shelf energy companies, their yields to the income investor were not as attractive as the ones listed above.
Finally, the brief write-up of this article is just an introduction to these companies. Before investing, make sure to complete further in-depth research to ensure the stock is right for your portfolio based upon your individual needs.
Disclosure: I am long ERF, PWE, SDT.
Chart Disclaimers: Data and information are provided "as-is" for informational purposes only, and are not intended as investment advice, tax advice or legal advice. All data and information are provided by optionsXpress Holdings, Inc., and optionsXpress, Holdings Inc. does not endorse or warrant the validity or accuracy of such data and information. Nor is optionsXpress Holdings, Inc. liable for any errors or delays in the data and information, or for any actions taken in reliance thereon.
optionsXpress makes no investment recommendations and does not provide financial, tax or legal advice. Information accessed through this website and any link contained therein does not constitute a recommendation to buy or sell a particular investment from optionsXpress. You are solely responsible for your investment decisions, and you should carefully evaluate the information to determine whether it is right for you and use of such information is suitable for your objectives.