As I've suggested in my other articles on Seeking Alpha, I believe gold mining stocks are set to enjoy massive appreciation in share price, as the global sovereign debt crisis escalates and pushes us towards a re-introduction of gold into the global monetary agreement. As I seek to capture what I regard as a bull market in the entire sector, I am more interested in investing in the sector rather than specific companies. Accordingly, I focus on ETFs as a way to get the exposure to gold mining stocks that I'm looking for; specifically, I accumulate the following, listed in order of priority, GDX, GDXJ, GGGG and GLDX. However, when I see mining stocks that are extremely underpriced and have notable executives and directors with a track record of success in the gold industry, I tend to pay greater attention, and think it is a low-risk opportunity worth investing in.
One such company I recently came across that meets these requirements is DRD Gold (DROOY), a South African traded on the Nasdaq as an ADR (American Depositary Receipt). Investors need to be cognizant of currency risk with ADRs; given that the South African rand has been appreciating, a trend I think is likely due to the economy's potential to cultivate and export minerals and precious metals, I believe the rand may appreciate relative to many other currencies, including the US dollar. Of course, hedging against fluctuations in the rand's value can be accomplished through the forex market or through the ETF SZR.
Outside of that issue, the financials behind DROOY are, I believe, very favorable. The company has an EPS of 1.25, and a dividend yield of 1.52% while having an appallingly low P/E ratio of 3.79. That is the lowest P/E ratio of any gold mining stock listed on US exchanges with an EPS of at least 1. The company also lists noted gold guru James Turk as among its directors, an association I found to be positive given Turk's track record and experience in the industry.
The company has been plagued by scandals and rumors, as a recent Seeking Alpha article noted, but the price has dropped significantly. Moreover, the major bearish trendlines that had been intact for over a decade have been invalidated. The market seems rangebound; is this an accumulation phase setting up? I think the market is offering a low risk opportunity to test this idea.
[Click to enlarge]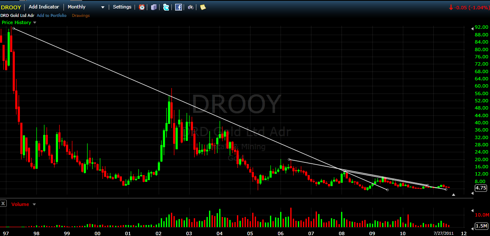 Disclosure: I have no positions in any stocks mentioned, but may initiate a long position in DROOY over the next 72 hours.