Investors mostly yawned when JPMorgan Chase & Co. (NYSE:JPM) announced impressive earnings two weeks ago to kick off earnings season for the large banks. The company reported EPS of $1.27 versus expectations of $1.23, as PPOP increased 9% driven primarily by strong performance out of the investment banking division, positive results from commercial and mortgage banking, and continued contributions to the bottom line from credit card reserve releases. JPMorgan continues to display that it has emerged from the crisis as the strongest bank in the country, and arguably world-wide.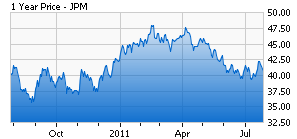 In comparison to its peers, JPMorgan has steadily shown improvement quarter after quarter, yet its share price has been range bound all year, mostly hovering in the low $40s. At its current trading price, the company is trading at just 0.85x expected year-end book value (0.9x current book value). This would be appropriate if it was unable to generate double digit returns on equity or had a massive mortgage overhang a-la Bank of America (NYSE:BAC). However, JPMorgan has neither of these issues. In the latest quarter, the company generated an estimated ROE of 12%, suggesting the company should trade closer to 1.2x book value, or at the minimum, above its book value of approximately $45.
JPMorgan is well positioned to continue to dominate the industry, which has ironically been one of its problems of late as its "too big to fail" status is causing regulators to punish it, along with a other giants like Citigroup (NYSE:C) with higher capital requirements. The company emerged from the crisis stronger than ever before, at a time when its peers were all considerably weakened. JPMorgan arguably has the strongest presence in investment banking today - Goldman Sachs (NYSE:GS) is no longer the dominant force it used to be, Morgan Stanley (NYSE:MS) had its first positive earnings announcement in years, and the boutiques cannot compete with JPMorgan on large deals requiring financing. Similarly, in commercial banking, JPMorgan greatly enhanced its reach with the purchase of WaMu at a bargain basement price. It continues to invest heavily in retail banking, and is already starting to see some positive results. Its competition fared much worse through the recession - Bank of America is still struggling beneath the Countrywide mortgage mess it inflicted upon itself, Citigroup is once again rebuilding its franchise but its strength is primarily outside the U.S., and Wells Fargo (NYSE:WFC), though well run, is just not in JPMorgan's league.
In the latest quarter, JPMorgan showed strength in just about every business, proving that they have finally figured out how to extract synergies from the large universal banking model. PPOP was up 9% on the back of a robust investment banking business. IB revenue was up 37% y-o-y, with advisory posting an increase of 69% y-o-y, equity capital markets up 29%, debt capital markets up 24% and FICC, an area analysts were skeptical about, up 20%.
JPMorgan continues to use its balance sheet and resources to win advisory assignments and increase its clout with clients. Even the mortgage banking division had a bright spot, posting the lowest level of repurchase losses since 2009. Production and servicing revenue increased 10%. Some naysayers point to the fact that the bank still has exposure to about $60 billion of second-lien mortgages; however, the bank has already written down these loans assuming a 60% loss in value. Credit card balances declined 2.5% and net spread declined; however, continued improvement in credit quality enabled over a billion of reserve releases as expected. The company bought back $3.5 billion of stock in the past quarter, demonstrating that management remains committed to returning value to shareholders and is not in a hurry to achieve the Basel III requirement of 9.5% tier 1 capital ratio required by 2019.
The fact that large banks such as JPMorgan will have to increase their capital bases over the next seven years has been overplayed by investors. To be sure, it does cause a hit to ROE, and will likely result in low-teens ROE in the long-run rather than mid-teens; however, this is more that priced into the stock. As a result of these changes banks should trade closer to their book values rather than historical multiples closer to 1.5x. It definitely does not justify the company trading below book value as if it were mired in distressed mortgages like Bank of America.
Management also did what it could to placate fears about exposure to the European sovereign debt problems. JPMorgan has just $15 billion of net exposure to the PIIGS countries and has hedged its counterparty risk as well. I think the current debt ceiling crisis presents an opportunity to buy these shares at an even better bargain. And, like the European crisis, this government created debt ceiling crisis will soon pass as well.
Analysts expect the company to increase its dividend to $1.50 next year suggesting a yield of over 3% at the current share price. Using a covered call strategy by buying shares and selling $45 covered calls could generate decent income on the investment. Another strategy could be to sell $40 puts expiring in Jan 2012, as it is very unlikely that JPMorgan is below $40 at the end of the year, barring macro headwinds that are not currently priced into the market. Morgan Stanley, Goldman Sachs and BofA/Merrill all have price targets ranging from $54 to $60 for the stock. Shares currently trade at just 8x 2011E EPS and about 7x 2012E EPS. Goldman believes JPMorgan could easily trade at 9x 2012E EPS of $6 per share, suggesting a per share value of $54. Morgan Stanley suggests that shares should trade at least at 1.2x book value of $44.77 per share, suggesting a value of $54, but could easily trade at $60 based on the value of residual normalized income.
In any case, I don't see shares being stuck at $40 for too much longer.
Disclosure: I am long JPM.