The S&P 500 dropped a steep 2% and the broader Russell 3000 dropped 2.2% on Wednesday, July 27th, 2011. Of the 4,600 stocks that were tracked, 18 stocks trading above $1 at close on July 27th gained by more than 10% yesterday. These biggest gainer stocks were analyzed to determine if they would continue going up, or if they would reverse their moves going forward. The following are the best buy and sell ideas based on that analysis:
1) Sell Questcor Pharmaceutical (QCOR): QCOR is an integrated specialty pharmaceutical company focused on the development, acquisition and marketing of innovative, acute care and critical care hospital and specialty pharmaceutical products. Its primary product is H.P. Acthar Gel, an injectable drug that is approved for the treatment of exacerbations associated with multiple sclerosis, infantile spasms, opsoclonus myoclonus syndrome and nephrotic syndrome. The stock was up 25% on Wednesday, and it is up 120.6% YTD.
We have written about QCOR several times, recommending a buy first on April 5 when QCOR reported preliminary operating metrics for its March 2011 quarter, then again recommending a buy on April 27 when the company reported the March 2011 quarter. We turned negative on July 20 ahead of Tuesday's quarterly report based on valuation and possible downside risk on a not-so-good report given the huge run-up since late last year. The company reported for the June 2011 quarter on Tuesday after the market-close, once again beating analyst estimates. More importantly, though, it seems that sales momentum for Acthar® is picking up for other indications besides its primary market of Multiple Sclerosis (MS) in adults. Specifically, sales of Acthar® in the market for the treatment of Nephrotic Syndrome (NS) grew 116% to $6.2 million, and the company is getting ready to target the market for Systemic Lupus Erythematosus (SLE).
QCOR trades at a 45 P/E on a TTM basis and at a forward P/E of 27, at the top of its historic P/E range, while earnings are projected to increase at a 42% compounded rate from $0.58 in 2010 to $1.18 in 2012. We believe that the long-term story is still intact, but that the shares may be a bit ahead of themselves and are vulnerable to a sizable correction. We would look to sell into any rallies approaching the mid-$30s.
2) Sell Marshall Edwards Inc. (MSHL) and Novogen Ltd. Adr (NASDAQ:NVGN): MSHL is an Australian developer of drugs that target components in cancer-cell survival and proliferation to treat various cancers. It is majority owned by NVGN, an Australian developer of pharmaceuticals targeting degenerative diseases and disorders via dietary supplements based on plant compounds known as isoflavones that the company believes offers the real prospect of not only treating, but also preventing, the onset of the common degenerative conditions. MSHL was higher by 135.0% on Wednesday, and it is higher 183.5% year-to-date; NVGN rose 46.1%, and is 154.9% higher YTD.
The shares of both companies shot up on the announcement by MSHL of the publication of its pre-clinical study of NV-128 in chemotherapy-resistant ovarian cancer stem cells. The study illustrated that NV-128 can specifically target certain ovarian cancer stem cells that are resistant to chemotherapy and induce cell death in a pre-clinical setting, thereby providing sufficient proof of concept to warrant further study beyond the pre-clinical setting and on ovarian cancer patients. While the drug, if successful, does target a large market (over 82,000 women in the U.S. are diagnosed with gynecologic cancer each year), and the company even with yesterday's surge is trading at a paltry $22 million in market capitalization, we believe that it is too early to speculate on this position. If all goes well, the company plans to file an Investigational New Drug (IND) application to the U.S. Food and Drug Administration (FDA) by the first quarter of 2012. On average, only one in five biotech drugs that enters phase one trials is eventually approved for marketing, and the average cost of development is $800 million, and it takes on average five to seven years after the IND to reach commercialization. We believe that it is most likely that like other pre-clinical success stories, both stocks may experience a one- or two-day 'pop' in price before they retreat as reality on drug development times, cost and success rates temper the initial enthusiasm we saw yesterday.
3) Buy Kemet Corp. (NYSE:KEM): KEM manufactures tantalum, ceramic, film, electrolytic, paper and aluminum capacitors for electronics OEMs and distributors. Its shares were up 9.1% on Wednesday, and they are down 13.2% YTD. KEM shares rose on the back of a blockbuster June quarter issued Wednesday before the market-open, in which the company obliterated analyst earnings estimates, reporting $0.71 versus the $0.54 estimate. However, this is nothing new as the company in the past four quarters has beat estimates by $0.26, $0.17, $0.09 and now $0.17 in the June quarter. Yet the stock has been stuck in a trading range between $11 and $17 since November of last year.
At issue here is concern over the cost of raw materials as in materials like silver, palladium and tantalum, all of which are rising in price. KEM has been remarkably resourceful in protecting its margins as the raw material prices have increased so far, but the street seems skeptical regarding its continuing ability to do so going forward. At $12.65, KEM trades at 5 P/E based on TTM as well as forward, while earnings are projected to increase just marginally at 4% compound growth rate from $2.26 in 2011 to $2.43 in 2013. Analysts prior to this blockbuster June quarter had a mean $19 price target, with a high of $24, well above the current price in the $12s; and of the five analysts that cover the company, four rate it a buy/strong buy and one rates it at hold. Guru funds have been bullish on KEM, adding $4 million to their $18 million prior quarter position in the company, so that they hold an out-sized 4.3% of the company versus the 3% weighting of guru funds in the overall market. We agree with analysts and gurus, and believe that current valuations in KEM are compelling and worth any possible downside risk from further increases in raw material prices. Furthermore, KEM has had a good track record in weathering price increases so far, and may continue to do so, and in the event that prices on these raw material inputs reverse, that would be immensely profitable to KEM and provide further upside to the shares.
4) Sell The Jones Group Inc. (NYSE:JNY): JNY operates as a global designer, marketer and wholesaler of lifestyle brands across five divisions: apparel, footwear, jeans wear, jewelry and handbags. The Company sells its products through a broad array of distribution channels, including better specialty and department stores and mass merchandisers, primarily in the United States and Canada. It also operates self owned network of retail and factory outlet stores and several e-commerce websites. Its shares were up 16.3% Wednesday on the back of a good June quarter earnings report; share prices are down 16.9% YTD.
JNY was up Wednesday based on the June quarter report not being as bad as expected. The company missed revenue estimates, reporting $887.4 million versus $901.9 million consensus; and although earnings at $0.33 handily beat the $0.26 consensus, they are down steeply from the $0.45 reported in the June 2010 quarter. At Tuesday's closing price of $12.91, the stock trades at a current 10 P/E on a TTM basis and at a forward 9 P/E, which appears cheap until you factor in that revenue is growing in the low single digits and earnings are expected to be flat-to-down between 2010 and 2012. We believe that JNY will remain range-bound in the interim, and that it is approaching the top-end of its range which is likely to be the 200-day moving average that sits in the $13-$14 range, so we would sell into any rally approaching $14.
5) Sell Sino-global Shipping America Ltd. (NASDAQ:SINO): SINO, registered in the U.S. and operates in mainland China, is a leading, non-state-owned provider of shipping coordination services, including advisory services and customs clearing to 76 ports in China. SINO provides its shipping services to ship owners, operators and charters, including intelligence, planning, real-time analysis and on-the-ground implementation and logistics support. Its stock was up 14.5% on Wednesday and it is up 124.4% YTD.
SINO shares have been on a tear since July 20, surging over 400% to over $8 before retreating, since the company announced a strategic cooperation agreement with COSCO container shipping agency that has 50 offices in coastal cities throughout China including Guangzhou, Dalian, Shanghai, Qingdao, Tianjin, Shenzhen, Xiamen and Ningbo. This expands SINO's local agency services footprint throughout China, thereby enabling them to better service their customers and also positioning them for higher revenue due to the cross-marketing effort between both companies. We believe that this move is over until we begin to see better numbers from the company resulting from this deal, so we would sell into any rallies.
6) Buy IAC/ Interactive Corp. (IACI): IACI operates search engines, online portals, social networking, multimedia content and e-commerce websites. The company operates in four segments: Search, Match, ServiceMagic, and Media. Its media properties include Ask.com and Citysearch in the search segment; Match.com, Chemistry.com, BlackPeopleMeet.com and SeniorPeopleMeet.com in the Match segment; ServiceMagic that matches consumers with service professionals, Exact Match that optimizes the placement of service professional profiles in a range of marketing vehicles, and 1800Contractor.com, an online directory of service professionals in the ServicMagic segment. Further, its media segment includes Shoebuy, an Internet retailer of footwear, Pronto.com, a comparison search engine, Gifts.com, a gift recommendation site, Evite, a free online invitation and social event planning service, BustedTees.com, an online t-shirt retailer, and the Daily Beast, a Website that provides news and commentary, culture, and entertainment.
The shares rose 11.2% on Wednesday, and are up 46.5% YTD, on the back of a blockbuster June quarter report. The company obliterated $0.40 analyst estimates, reporting $0.62, and also beat revenues estimates by reporting $485.4 million versus the $463.5 million. Even with the strong surge yesterday, IACI trades at a reasonable discount to its growth rate at a forward 20 P/E, while earnings are projected to rise at a 47% compound growth rate from $0.97 in 2010 to $2.10 in 2012. We believe IACI is a good buy at these levels, but we would buy start small and buy in stages to take advantage of any temporary weakness.
7) Emdeon Inc. (NYSE:EM): EM provides pre-care patient eligibility verification, claims management and billing services to the healthcare industry. Emdeon's product and service offerings integrate and automate key business and administrative functions of its payer and provider customers throughout the patient encounter, thereby enabling its customers to improve efficiency, reduce costs, increase cash flow and more efficiently manage the complex revenue and payment cycle process. The shares rose 22.2% on Wednesday on rumors that the Blackstone Group was in talks to buy the company.
8) Sell Keynote Systems Inc. (NASDAQ:KEYN): KEYN provides Internet, customer experience and mobile service quality monitoring and measurement services to businesses. Its shares were up 10.6% on Wednesday, and they are up 64% YTD, on the back of a strong June quarter report in which the company beat revenue and earnings, and guided the September quarter revenue and earnings above consensus. KEYN shares trade at 22 P/E based on TTM as well as forward based on 2012 numbers, while revenues are projected to stay flat at $1.08 currently on a TTM basis and at $1.08 in the fiscal year ending September 2012. The stock has rallied up almost four-field since the 2008-09 crisis levels as earnings rocketed from 27c in 2008 to 1.08 currently at 59% compound growth rate, but the projected flattening out of earnings, we believe that the stock is unlikely to ride up any further and may be range-bound at these higher levels at best.
9) TBS International plc (NASDAQ:TBSI): TBSI provides international tanker transportation service for dry bulk goods through a fleet of 49 vessels. Its shares were up 21.8% on Wednesday, and they are down 47.2% YTD, on no new news.
Table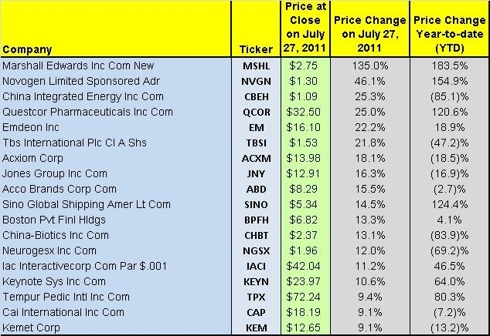 Credit: Historical fundamentals including operating metrics and stock ownership information were derived using SEC filings data, I-Metrix® by Edgar Online®, Zacks Investment Research, Thomson Reuters and Briefing.com. The information and data is believed to be accurate, but no guarantees or representations are made.
Disclaimer: Material presented here is for informational purposes only. Nothing in this article should be taken as a solicitation to purchase or sell securities. Before buying or selling any stock you should do your own research and reach your own conclusion. Further, these are our 'opinions' and we may be wrong. We may have positions in securities mentioned in this article. You should take this into consideration before acting on any advice given in this article. If this makes you uncomfortable, then do not listen to our thoughts and opinions. The contents of this article do not take into consideration your individual investment objectives so consult with your own financial adviser before making an investment decision. Investing includes certain risks including loss of principal.
Disclosure: I have no positions in any stocks mentioned, and no plans to initiate any positions within the next 72 hours.