I am a value investor. I like companies with solid growth potential, low price-to-earnings ratios, and a nice growing dividend. Why on earth, then, do I love Amazon (NASDAQ:AMZN)? The stock only meets one of those criteria above, solid growth potential.
I recently wrote an article that explains much of my appreciation for Amazon. However, I wanted to use this article to take a deeper look at Amazon's stock.
Amazon.com is changing the way consumers shop. Over the last 10 years Amazon has shifted the landscape of retail. Amazon is a disrupting technology. It has made many bricks and mortar retailers significantly change their business model or suffer. Amazon was a contributor to the recent death of Borders Group. That company is in the process of shuttering its remaining stores. Other retailers such as Wal-Mart (NYSE:WMT) have failed to keep up the online shopping arena. Amazon offers hundreds of thousands of items for sale online and delivers them to your doorstep, usually for free. The company's subscribe and save feature allows consumers to select commonly used items for delivery on a regular basis. This makes customers more "sticky," using Amazon.com as a one stop shop for household items.
Amazon isn't just an online retailer. The company's Kindle e-reader has been hugely successful, driving customers to its own website to order electronic versions of popular books. The company recently announced that it is selling 105 e-books for every 100 physical books sold. Despite being a competitor to Apple (NASDAQ:AAPL), Amazon has multiple apps on Apple's iPhone and iPad that allow you to shop and read books on those devices.
Amazon.com is also one of the largest players in the cloud computing space. The company rents server space to host some of the world's most well-known websites.
Amazon continues to innovate. The company has launched its own app store on the Google (NASDAQ:GOOG) Android mobile platform. Here consumers can shop for the most popular apps for their Android devices. The company has plans to develop its own tablet based on the Android platform. Amazon may be the only company that proves fully capable of competing with Apple in the tablet space. As popular as the Kindle already is, there is no reason to think that Amazon won't be successful with its own tablet. Amazon is taking on Netflix (NASDAQ:NFLX) in the video streaming business and encouraging members to sign up for Amazon Prime in the process. Amazon Prime is a $75 a year service that gives consumers more shipping options as well as access to some streaming video content for free.
Add a phenomenal management team and those are all of the things that make Amazon.com an excellent company. There's only one problem with the stock. It is very expensive. Shares of Amazon.com trade at a lofty 94 times earnings and 69 times projected earnings.
Amazon reported earnings on July 26th. The company earned $0.41 per share versus estimates of $0.35 per share. That was less than Amazon earned this time last year, but the company is spending more on expanding its business. Revenue, at $9.91 billion rose nearly 51% year-over-year.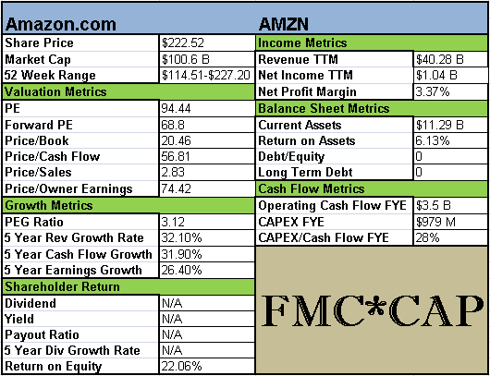 Click to enlarge
(Click to enlarge)
Amazon's $100 billion dollar market cap makes it more than half the size of Wal-mart, the world's largest retailer. There is a distinct possibility that Amazon's market cap will surpass that of Wal-mart within the next 10 years.
The attraction to Amazon's stock is in its growth rates. The company has grown revenue at an annualized rate of 32% over the last five years. Earnings have grown at an annualized rate of 26% over the last five years. Shares trade at 2.83 times sales.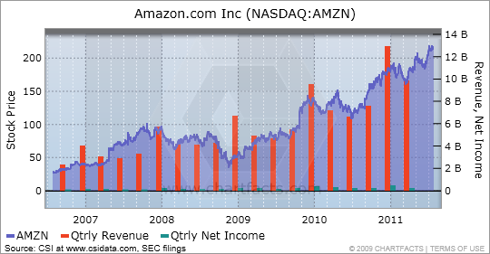 Click to enlarge
(Click to enlarge)
I am not advocating investors buy shares of Amazon at these levels. Shares are up 88% over the last year. The stock hit a fresh 52 week high on Wednesday. In addition, Amazon faces some headwinds. Not the least of which is its current battle with several states over pass-through sales taxes. Amazon argues that it should not have to collect sales tax from states in which it has no physical operations. That view, although unpopular with politicians, is likely to remain in effect for some time. States don't really have an effective way to enforce sales tax collection on Amazon and the federal government has a lot more on its plate than dealing with state tax issues.
Investors can't be blamed for wanting to dive into the stock. At this point they should consider what price they are willing to pay for a piece of the growth. I would recommend waiting for the stock to pull back considerably. If markets correct soon, as it appears they may do if wrangling over the debt ceiling continues, investors may get their opportunity to get into the stock. A 10% pull back would make me consider buying. Long term Amazon is a buy. The company has successfully changed the retail landscape forever. Continued innovation, excellent management, and appealing consumer options make Amazon one of this value investor's favorite companies.
Disclosure: I am long AMZN, AAPL.