Investors of Level 3 Communications (LVLT) on Wednesday were unsure about what to make of the numbers that the company reported during its Q2 earnings announcement. You might say that investors were a bit unraveled at the wider than expected loss, but then regained consciousness and allowed the stock to trade along with the rest of the market. The chart below illustrates the initial unraveling and the subsequent recovery.
[Click to enlarge]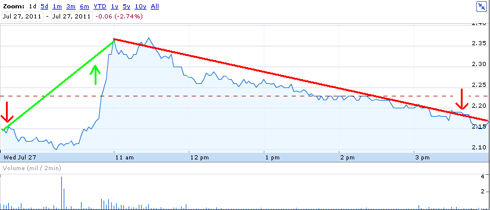 After having closed on Tuesday at a price of $2.23, the stock opened down 8 cents at $2.15 after the conference call. It reached a low of $2.10 or almost 6% loss before reaching the high of the day at $2.39, a difference of 14%. Interestingly, upon reaching the high of the day, the stock closed down at $2.17 for a net loss of just 2% from the prior day's close. Now if that is not excitement, I don't know what is.
Cause for the commotion
Investors were a bit disappointed upon learning that the company reported a loss of $181 million, or 11 cents a share. This was compared to only a loss of $169 million, or 10 cents a share in the year-ago period. As indicated in the chart below, Level 3 recorded revenue of $932 million, an impressive figure which was 2.6% higher than the same period last year. On a continuing basis, excluding a charge of $23 million on debt extinguishment and $14 million in Global Crossing (GLBC) costs; net loss was 9 cents a share.
Metric

($ in millions)

Second

Quarter

2011

First

Quarter

2011

Second

Quarter

2010

Total Communications Revenue

$913

$914

$892

Other Revenue

$19

$15

$16

Total Consolidated Revenue

$932

$929

$908

Unlevered Cash Flow(1)

$117

$41

$102

Free Cash Flow(1)

$6

($115)

($19)

Communications Gross Margin(1)

62.0%

60.9%

59.9%

Communications Adjusted EBITDA Margin(1)

24.8%

24.6%

23.4%
Several analysts that cover the company were expecting a loss of 9 cents a share, on revenue of $936.8 million; so investors did not take too kindly to the figures. But there were many highlight from which to cheer.
Continued core network services revenue growth

Consolidated revenue of $932 million

Continued core network services revenue growth; 2 percent sequentially and 6 percent year-over-year

Consolidated adjusted EBITDA increased to $226 million, or $234 million excluding costs associated with the Global Crossing transaction

Global Crossing transaction expected to close before the end of the year
Level 3 CEO James Crowe was quoted as saying:
Our track record around execution in the business, combined with our continued focus on the customer experience, has proven to be successful in winning new business, contributing to positive revenue growth .... We are pleased with the progress we have made in growing Core Network Service revenue over the last year.

I have no choice but to agree. But these stellar results also continue to affirm my belief that Level 3 is positioning itself well as a very attractive acquisition candidate. The company that continues to be at the top of my list of suitors is Cisco (CSCO). I once said and still believe that Cisco (for its own sake) was one good acquisition away from breaking away. I envision Level 3 to somehow be acquired to serve as a conduit and/or a bridge from one end of the world to another.
Cisco, which already manages data traffic at the switch and router level while also hosting the data by having entered the server space, could further leverage the high bandwidth network that Level 3 provides to now offer a total solution to its clients. This would fend off the competition by the likes of Hewlett-Packard (HPQ), F5 (FFIV), Juniper Networks (JNPR) and even Riverbed (RVBD). Interestingly, the latter three companies could also consider Level 3 as a possible target for all of the same reasons as Cisco, although they lack the capital that Cisco has on its books.
Summary
As disappointed as investors showed early upon the initial release of the figures, it seemed as if as the day progressed, cooler heads prevailed. Not only has the company shown to be improving its revenue growth rate, but it's also doing extremely well in improving operating margins. The question investors want answered is: Can the company continue to not only maintain but improve this growth rate over time? I think the best times are ahead for Level 3 and, with Global Crossing coming onboard towards the latter part of the year, it's positioning itself as a force to be reckoned with.