Marine Harvest (OTCPK:MNHVF) announced their second quarter earnings results late last week. These results were quite good to put it mildly. The company had a difficult quarter but navigated it quite well.
For the most part, Marine Harvest achieved stronger financial performance than it did in the same quarter last year. This is quite impressive considering what happened to the salmon market and salmon prices during the quarter. The market collapse did not begin until the end of the quarter though, so the effects of this are not fully reflected in this quarter's results. Next quarter's results will be important to fully investigate to determine how well the company managed the weaker market. I expect Marine Harvest to perform admirably through the current market conditions for reasons that I will explain later in this article.
Marine Harvest had operational revenue of NOK 4,192 million ($780.85 million) in Q2 2011 versus NOK 3,583 million in Q2 of 2010. Net income was a slightly lower NOK 685 million ($127.6 million) in this quarter versus NOK 741 million in the prior year quarter. This decrease in net income was almost entirely attributable to a NOK 701 million ($130.577 million) loss on the valuation of their biological assets. As I explained in a previous article, this loss does not particularly worry me as it is largely a paper loss that is caused by the collapse of the salmon market.
This was partially offset by a NOK 201 million ($37.44 million) gain on salmon derivatives (forward contracts). These are unrealized gains and so are also paper gains at this point in time. Marine Harvest had no unrealized gains or losses from salmon derivatives in the prior year quarter and actually had a NOK 183 million gain on the valuation of their biological assets. All of these paper gains and losses can be backed out from both quarters to produce pretax profits of NOK 1,281 million ($238.62 million) and NOK 828 million for Q2 2011 and Q2 2010 respectively.
click on images to enlarge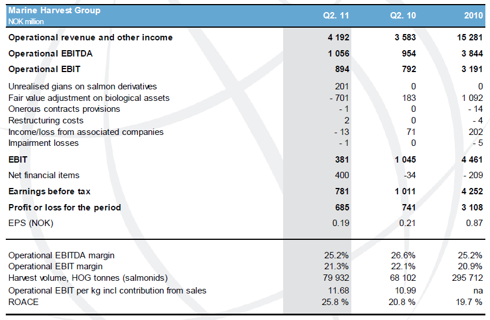 Source: Marine Harvest Q2 2011 Earnings Presentation
Marine Harvest produced 79,932 HOG tonnes of product in 2011 versus 68,102 HOG tonnes in the prior year quarter. The company also achieved slightly higher operational EBIT per kilogram of production. If the bottom had not fallen out of the salmon market, the company likely would have blown away its prior year quarter's results. We can look at the company's cash flow statement to see that that is indeed what happened. Marine Harvest had an OCF of NOK 1,581 million ($294.5 million) in the second quarter of 2011 compared to NOK 890 million in the second quarter of 2010.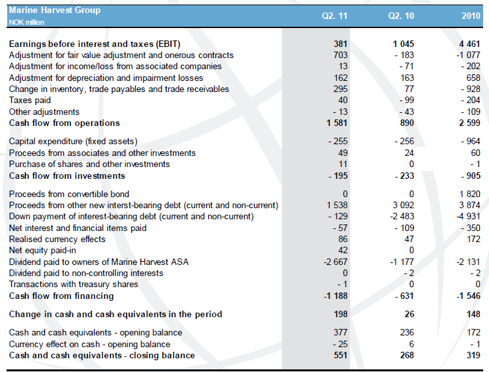 Source: Marine Harvest Q2 2011 Earnings Presentation
One concern that I have is the company's use of debt to finance the most recent dividend to investors. Marine Harvest issued NOK 1,538 million ($286.5 million) in debt and paid a dividend of NOK 2,667 million ($496.8 million). Management also stated this as a concern during the earnings presentation. The company's net interest bearing debt (NIBD) climbed to NOK 5,799 million ($1,080.2 million). This is above the company's target ratio of 50% of equity. Marine Harvest may reduce their dividend in order to get this debt down to the target level.
Whether or not the company cuts their dividend will likely depend on their cash flows and debt levels in future quarters. It does not seem likely that the company will take on more debt in order to maintain their dividend. The long-term goal is to keep NIBD at right around NOK 5,500 ($1,024.50 million). Marine Harvest may use debt to pay out a dividend if the NIBD falls below this level.
Marine Harvest stressed during their earnings call that they intend to pay a semi-annual dividend. This is also stressed in multiple places throughout the company's earnings presentation. The amount of this dividend and whether it will be paid at all is entirely dependent on the firm's cash flow throughout the second half of the year. Marine Harvest managed to achieve product prices in the second quarter that are much higher than the current spot prices.
This certainly indicates that the company could see reduced cash flow show salmon prices remain at their present levels. A dividend cut of 50% would still give the stock still hefty a 12.7% yield at present levels. Based on the company's cash flows so far this year, I do not think that the dividend will be cut that much but may change that view depending on their results throughout the next two quarters.
Marine Harvest has taken steps to protect themselves against the current weakness in the salmon markets. The company increased the amount of their harvest covered by forward contracts for the second half of the year to hedge against continued weakness in the salmon markets. These contracts are well above the current spot prices and should help reduce Marine Harvest's exposure to the spot market.
Marine Harvest also set up a new business organization at the beginning of April. This Sales and Marketing organization has the primary objective of maximizing operational EBIT per kilogram harvested and to maximize operational margins. This new unit will be responsible for hedging and profit generation through the trading of salmon derivatives. The unit will also be responsible for many of the company's value-added operations through MH VAP Europe (which was combined with each of the worldwide sales processes but will still be discussed separately on the company reports).
The value-added operations include such things such as processing of fish. This is a counter-cyclical operation, meaning that its profits will generally increase when the market for salmon weakens (like now). You can read more about this business here. The Board of Directors seemingly has high hopes for this new Sales and Marketing organization, stating:
The new Sales and Marketing organization will work proactively to ensure that Marine Harvest takes a commanding role in managing an efficient allocation of incremental volumes into the markets. Marine Harvest will as a function of the weaker market balance and lower prices increase global marketing with the ambitious goal of increasing the global demand for our healthy food product. Such efforts have already been started through planned sales campaigns with major retailers. The Board anticipates that these efforts will show clear results during the next twelve months.
Marine Harvest seems to be focusing on keeping their margins high and growing their top and bottom lines over time. The company looks to be facing margin compression in the short- to medium-term though. The fundamentals for salmon (Marine Harvest's primary product) remain strong due in part to increasing Asian consumption. This is a long-term view however. There are indications that the current supply glut will continue for quite a while yet. The company's new marketing efforts are likely to accelerate this growth in Asian demand but I doubt that this will happen in the short-term.
A few people have emailed me or have left comments on my earlier articles suggesting that the best way to invest in Marine Harvest is to buy the stock and sit on it for three to five years. This would allow an investor to collect a strong dividend yield while waiting for the eventual growth. This is the way that I am investing in the company. I still own the shares that I purchased prior to the share price collapse that began in the middle of May. I am strongly considering purchasing more shares and holding them for dividends and eventual capital gains as I described a few sentences ago.
Disclosure: I am long OTCPK:MNHVF.