Canadian oil & gas companies are planning to spend 19% more in 2011 than they did in 2010 according to a new analysis by CanOils. At Cdn $53.5 billion, that's the highest annual level of recent times – topping even the bumper year of 2008. At the beginning of 2011, companies said they would invest a total of $51.2 billion this year (excluding acquisitions and dispositions), compared with $45.1 billion in 2010. But this has since increased to $53.5 billion, according to CanOils' latest reckoning. CanOils tracks company guidance on capital spending, average and exit rate production, drilling plans, cash flow and operating costs.
(Click charts to expand)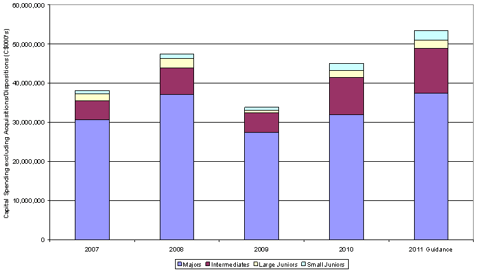 Majors (Companies producing 100,000+ boe/d)
At the beginning of the year Canada's largest oil and gas companies were planning to spend $36.9 billion excluding acquisitions this year, a 15% increase on the $32 billion spent in 2010. Some companies have revised this initial guidance and they are now planning to spend $37.4 billion or 17% more than last year.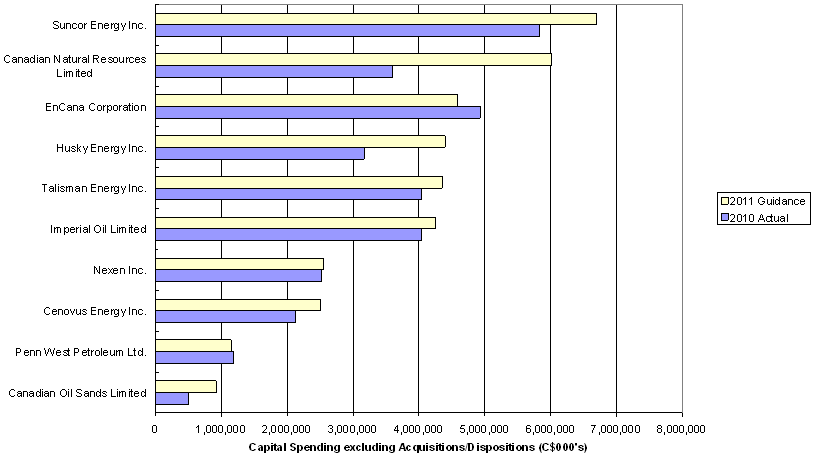 Suncor Energy Inc. (OTC:SNMYF) and Canadian Natural Resources Limited (NYSE:CNQ) were planning on spending big, with initial capital budgets of $6.7 billion and $5.7 billion respectively. CNRL's budget was a 57% increase on last year's spending, whereas Suncor's was a 15% increase. Husky Energy Inc. (OTCPK:HUSKF) also planned on spending more in 2011, the $4.4 billion guidance is 39% higher than 2010. Canadian Oil Sands Limited (OTCQX:COSWF) planned to nearly double their spending in 2011, with guidance of $927 million compared to spending of $541 million in 2010.
Since the beginning of the year, three companies have updated their guidance. Canadian Natural Resources Limited, which already said it was going to spend 57% more than in 2010, further increased guidance by $352.5 million to $5,965 million with the extra investment going toward North American gas, oil and liquids, however it made cuts to North Sea and oil sands spending plans. Cenovus Energy Inc. (NYSE:CVE) increased guidance by $200 million on the back of strong results from its refining operations, with over half of this going toward Pelican Lake, where the company is aiming to double production there over the next few years. Canadian Oil Sands Limited revised guidance by a nominal $8 million.
The rest of the peer group remains relatively unchanged with some small spending cuts from EnCana Corp. (NYSE:ECA) - (7%) and Penn West Petroleum Ltd. (NYSE:PWE) - (3%) and small increases from Talisman Energy Inc. (NYSE:TLM) - (8%), Imperial Oil Limited (NYSEMKT:IMO) - (5%) and Nexen Inc. (NXY) - (1%).
Intermediates (Companies producing 10,000 – 100,000 boe/d)
The intermediate-sized companies planned on spending $10.5 billion in 2011, a cautious increase of just 10% on 2010. Half of the companies initially said they would cut their spending, however since then and buoyed on by the success of liquids-rich gas and horizontal oil plays in a low gas environment, several companies have revised their guidance and the group is now proposing to spend $11.5 billion, or 20% more than 2010.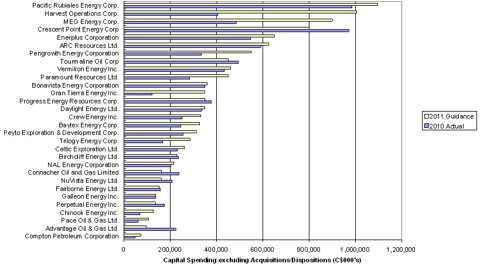 Trilogy Energy Corp. (OTCPK:TETZF) provided a preliminary budget of $130 million, 22% less than in 2010. It has since doubled this and now plans to spend $285 million or 72% more than in 2010 to "accelerate the development of its new Kaybob Montney oil play". Crew Energy Inc. (OTCPK:CWEGF) also announced a lower budget in 2011 of $210 million, down from spending of $248 million in 2010. But after seeing good results at Princess, Alberta and following the acquisition of Caltex Energy Inc., a privately held company with heavy oil assets in the Lloydminster area of Alberta and Saskatchewan, Crew has now upped their guidance by 33% to $330m.
Harvest Operations Corp., owned by Korea National Oil Corp., said initially it would invest 18% more than in 2010, however increased its upstream spending guidance in June by $116 million on the back of strong first quarter results from oil-weighted assets. The company now plans to invest just over $1 billion, or 49% more than in 2010. Pengrowth Energy Corporation (NYSE:PGH) also increased its budget as a result of strong first quarter results. It originally intended to spend $400 million, a 20% increase on 2010, however it increased this to $550 million, 65% higher than in 2010. The extra investment will be spent on the Swan Hills, Bodo and Lindbergh oil projects.
Perpetual Energy Inc. (OTCQX:PMGYF) embarked on a program designed to decrease the company's exposure to natural gas and approved a first quarter budget of $48 million to drill in oil plays such as the Cardium in Carrot Creek, Alberta. Following this the board approved a full year budget of $90 million for 2011, 48% lower than its 2010 spending. However, in May the board approved an increase to $135 million to enable the company to explore in the heavy oil area of Manville, Alberta.
Large Juniors (Companies producing 5,000 – 10,000 boe/d)
The larger junior companies' spending plans were initially set at 13% more than the $1.7 billion spent in 2010. During the year, companies revised their budgets from $1.9 billion to $2.1 billion, 24% higher than in 2010.
Legacy Oil + Gas Inc. (OTCPK:LEGPF) is planning on spending 49% more and has set a budget of $254 million with the funds split equally between the company's major plays in Southern Alberta, Southeast Saskatchewan and Manitoba. Albanian-focused Bankers Petroleum Ltd. (OTCPK:BNKJF),has set a budget 66% higher than 2010 spending at US$215 million, whilst Orca Exploration Group Inc., with production in Tanzania, has proposed a US$48 million budget, more than 10 times higher than it spent in 2010. Bellatrix Exploration Ltd. (BLLXF.PK) set a preliminary budget of $85 million, down 16% on 2010 spending, however it has since doubled this to $170 million ($156 excluding acquisitions) after completing an equity financing in April, 54% more than what was spent in 2010.
Companies planning on significantly reducing spending this year include Angle Energy Inc. (OTCPK:ANGZF) - (down 19%), Vero Energy Inc. (OTCPK:VREYF) - (20%), Delphi Energy Corp. (24%), Bonterra Energy Corp. (OTC:BNEFF) - (28%), Equal Energy Ltd. (NYSE:EQU) - (29%) and Terra Energy Corp. (43%).
Small Juniors (Companies Producing 1,000 – 5,000 boe/d)
The small juniors were initially very cautious with their budgets and spending was projected at $1.9 billion, just 6% higher than 2010. However, companies have all been quick to revise their plans and spending is now budgeted at $2.4 billion, 33% higher than 2010.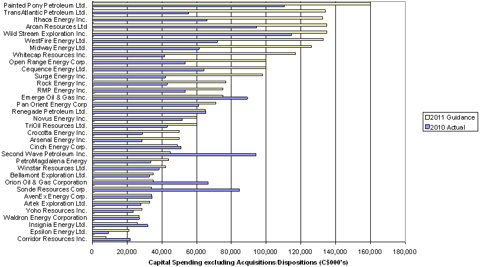 Painted Pony Petroleum Ltd. initially set a budget 14% lower than last year's spending, however in March upped this to $160 million, 45% more than 2010, which will be split between liquids-rich Montney gas in British Columbia and Bakken and Mississippian oil plays in Saskatchewan. Midway Energy Ltd. (OTC:MELEF)- (up 105%), Whitecap Resources Inc. (OTC:SPGYF) - (181%), Open Range Energy Corp. (87%) and Surge Energy Inc. (OTCPK:ZPTAF) - (133%) will all spend big this year compared with last. TransAtlantic Petroleum Ltd. (NYSEMKT:TAT) will invest heavily in its Turkish, Romanian and Moroccan assets this year and in total plan to spend $79 million more than in 2010.
Initially 15 companies set lower spending plans than last year, however 7 have now revised their budgets and are set to spend more; Painted Pony Petroleum Ltd. (OTCPK:PDPYF) - (45%), Wild Stream Exploration Inc. (OTC:WDPIF) - (18%), WestFire Energy Ltd. (WFREF.PK) - (85%), Open Range Energy Corp. (87%), Cequence Energy Ltd. (OTCPK:CEQXF) - (56%), PetroMagdalena Energy Corp. (ALNJF.PK) - (31%) and Bellamont Exploration Ltd. (OTC:BLMXF) - (7%).
Leading the way in spending cuts are Second Wave Petroleum Inc. (52%), Corridor Resources Inc. (63%), Sonde Resources Corp. (60%) and Orion Oil & Gas Corporation (OTC:OIPZF) - (47%).
Disclosure: I have no positions in any stocks mentioned, and no plans to initiate any positions within the next 72 hours.