The U.S. economy continues to have significant headwinds (e.g., high unemployment, end of QE2, weak housing market, debt ceiling debate, etc.) and signs are definitely pointing toward further weakness in the equity market. That said, a pullback in the market will create an opportunity to pick up some great dividend stocks at excellent levels.
In the current market environment, it is important for income investors to choose their dividend stocks wisely as they are putting new money to work. As uncertainty increases, investors should focus on stocks with high profit margins and strong earnings growth.
With that in mind, we did a screen with the following parameters:
Dividend Yield > 4%
Stock Price > $10.00
Profit Margin > 30.0%
5-Year Earnings Growth > 40%
The stocks below meet the parameters above. Use this data as a starting point for your own analysis.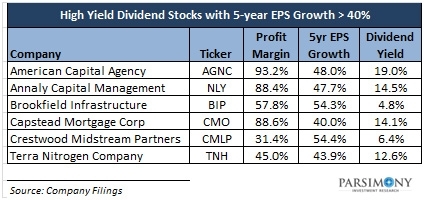 Note: The stocks on the list above are real estate investment trusts ("REITs") and master limited partnerships ("MLPs"). We believe that REITs and MLPs are very safe investments in a low interest rate environment. In addition, these stocks should continue to grow earnings in a stagnating economy.
On average, these stocks have a dividend yield of 11.9% and 5-year EPS growth of 48.1%.
In general, we think interest rates will remain low for the foreseeable future (next 12-24 months). As such, we believe REITs and MLPs offer investors an extremely compelling risk/reward profile.