I last reported on China Techfaith's (NASDAQ:CNTF) emergence into motion gaming and how I thought it was time to get involved before institutional money was set in motion. The stock had a phenomenal run from $4.20 - $6.90 per share on massive volume based on the Seeking Alpha outreach and the company announcing a licensing deal with a content house. Since that run, we have had a 35% pullback in the shares along with the overall market correction in China small cap.
In the past few months, many small cap Chinese companies which became public through a reverse merger such as OTC:DEER, YONG, GURE, OTCPK:SKBI, and OTC:CHNG have been put in the crosshairs by short sellers for committing fraud. Unfortunately, many investors have lost their money and their faith in Chinese companies due to this reverse merger madness. Through the carnage this created, a diamond in the rough has presented itself.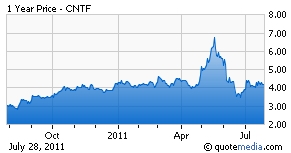 China Techfaith Wireless (NASDAQ: CNTF - $4.20). Techfaith is a China-based company with global operations focused on opportunities in mobile phones and the fast growing PC and online gaming markets. The company became public via a $141 million IPO (not a reverse merger) led by Merrill Lynch in May of 2005. Since that time the company has maintained the same auditor in Deloitte and Touche LLP, the same legal counsel in Skadden Arps LLP and the same CEO in Defu Dong an ex top salesman at Motorola (NYSE:MMI).
Here's why I am buying China Techfaith:
CASH
Cash is king! The company had $214 million in cash on the balance sheet as of 03/31/11. I expect cash to be over $220 million when they report Q2 on August 16, 2011. Approximately $80 million of the cash stands from the $141 million IPO in 2005. They also received a $20 million investment from IDGVC Capital Partners and Infiniti Capital. As you can see, CNTF has $100 million of very traceable cash. Of the remaining cash, $25 million came from the Qigi acquisition and the balance was generated over the past three years. I believe Deloitte and Touche has been proactive and highly diligent in confirming the cash balances and has physically visited each bank branch over the past audited quarter. Furthermore, the company has made numerous expansion moves since 2005, spending cash on physical assets such as land and buildings which can easily be traced back.
Cash stands at $4.06 per share (53 million shares outstanding) and it should reach $4.20 per share when they report on August 16th.
The company should conservatively generate over $50 million in cash this calendar year. Last quarter, the company generated $16 million in cash and I see the cash balance between $4.75 - $5.00 per share by year end.
SPECIAL ONE TIME DIVIDEND
I believe the management of Techfaith is seriously considering paying shareholders a one time special dividend, similar to what Microsoft (NASDAQ:MSFT) did a few years back. This dividend could come as early as August as the company has been letting shareholders get hit by ADR fees every August for the past few years. The CEO owns approximately 17 million shares and IDG owns 5.2 million shares, so the company paying $0.50 - $1.00 per share dividend would greatly benefit these two parties as well as existing and new shareholders. I believe this move is a must for the company and it would give management immediate credibility with all bulls and bears in the stock.
INSIDER BUYING
Investors view insider buying as one of the strongest buy indicators in the market. The CEO made three insider purchases in the past 3 quarters. In December he purchased 143,000 shares, in March he purchased another 120,000 shares, and in June he purchased (.pdf) a further 100,000 shares, all in the $4 range. On the company's last conference call the CEO committed to buying more shares in the next window (Aug-Sept). The CEO has purchased 363,000 shares in the past 6 months spending approximately $1.4 million. I cannot think of any better reason than these purchases to own this company. This is by far the strongest BUY signal.
Just as impressive, employees and management invested $7 million into their gaming subsidiary in October, 2010. The gaming company was valued at $100 million at that time and it aligned employees with shareholders. Since this investment the company has grown quarterly gaming sales from $1.5 million to $9.9 million. A strong indication that employees are benefiting from their hard work and investment.
REVENUE
During Global Hunter's China Conference last week in San Francisco, the CEO updated (.pdf) financial targets. In addition, last month the company reiterated their Q2, 2011 revenue guidance of $82-84 million.
Historically, Techfaith is a second half story company as handset sales get stronger into the holiday season. I see this year being no different; in fact, the company could be benefiting from their Disney (NYSE:DIS) relationship as the companies open their first of many stores in China. In addition, Techfaith is pushing their international sales with the release of new product offerings. I believe institutions will be buying CNTF shares as their international sales increase.
Here are my revenue estimates, I see Techfaith beating the Q2 estimate of $84 million with full year 2011 revenues coming in at $345-350 million. I see the gaming business generating $10.5-11 million in revenues for Q2, and $45-50 million for full year 2011.
VALUATION:
Management guided Q2 revenues to $82-84 million vs. the $78.7 million they achieved in Q1 and the $65.5 million they reported in Q2, 2010. The revenue growth rate will be over 30% if it comes in at $82 million for Q2. I have EPS for Q2 at 27 cents vs. the 24 cents in Q1 and the 13 cents they reported in Q2, 2010. The EPS growth rate will be 100% if it comes in at 27 cents. The company should be trading at 10 times the $1.05 EPS estimate this year or $10 per share.
The company trades at a $220 million market capitalization. At this level you're buying a $330 million revenue company with $1.00 in EPS and $50 million in cash generation for FREE.
The sum of the parts on a bare bones valuation is $8.00 per share: cash - $4.06, phone business - $2.00 ($280mm / .50(1/2 x revenues), gaming - $2.00 ($40mm x 3 x revenues). I see the shares trading to $10 plus by year end.
X-FACTOR:
IDGVC Capital Partners owns 5.2 million shares (9.81% holder) at $1.45. I believe that they have not sold their shares since they were freed up in September 2010. IDG has invested in Baidu (NASDAQ:BIDU), Ctrip (NASDAQ:CTRP), Dangdang (NYSE:DANG), Sohu (NASDAQ:SOHU), KongZhong Corp (KONG) and Qihoo 360 Technology (NYSE:QIHU) and the fact they haven't sold a share amidst the reverse merger fraud while having a return of 200% - 500% tells me that CNTF is potentially the next Baidu. Also, Techfaith management has become much more vocal on their relationship with IDG over the past 2 to 3 months. The relationship is stronger than ever, this may be indicative of a special one time dividend coming. So anyone that wants to bet against a company trading at cash with a shareholder like IDG, good luck.
The short position on CNTF stands at 700,000 shares on a 53 million share count. That's only 1.3% of the outstanding shares and 1.95% of the float. A small percentage compared to other Chinese small cap companies for example, Fushi Copperweld Inc. (NASDAQ:FSIN) 16.2%, China Marine Food Group Ltd (OTCPK:CMFO) 10.8% and Lihua International Inc. (NASDAQ:LIWA) 10.3%. Shares of CNTF spiked from $4.20 - $6.90 in 30-45 days on only 70k shares short just this last May. I can tell you nothing has changed except CNTF has executed much stronger than I expected. I think having these shares short at cash levels will add the initial fuel to the fire in the days ahead.
I continue to view China Techfaith as an outstanding risk/reward opportunity with its strong cash position and the excitement of a potential gaming spinoff in the quarters ahead. It's a matter of weeks before analysts begin initiating coverage on the company as gaming gets in motion. I believe the Chinajoy 2011 trade show in Shanghai this week will bring many hedge funds, industry heads and gamers into Techfaith's living room. If the product is half as good as I believe this stock will jump to $8 per share in the next 30-60 days on strong volume and hold. I will update you on any new findings on this diamond in the rough.
Disclosure: I am long CNTF.