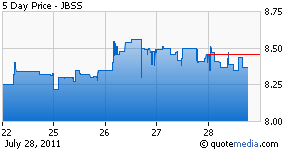 John B. Sanfilippo & Son (NASDAQ:JBSS) has been bouncing along their 52 week lows since their Q3 earnings release at the end of April. In that quarter they swung to a loss on acquisition costs and lower margins. In March, however, they were profitable and it's likely that will carry over into the next quarter. We'll find out when they release their full year numbers in mid-August.
I wrote a piece back in February in which I argued that they would have a hard time pushing through price increases and, because of that, would likely swing to a loss. That happened in Q2 and since I wrote the piece the stock is down 30% and now sits in the $8.50 range. I continue to believe if they're able to get a handle on their commodity costs, and if they can raise their prices, they'll report blowout results and the stock would skyrocket. However, there's been no evidence they've been able to do either. That's why the next quarter's results will be interesting. I would keep the stock on a watchlist until then.
John B. Sanfilippo & Son is a relatively straight-forward company operating in one space: nuts. They serve a wide portfolio including peanuts, almonds, pecans, walnuts, cashews and mixed nuts. They even do some of the chocolate-covered variety. They operate under the Fisher, Orchard Valley Harvest and Sunshine Country brand names and also do private label business. Competitors include the much larger Kraft (KFT), Blue Diamond Growers, and Sunkist.
Since the bottom line has been unpredictable quarter to quarter for the company, I think it's better to look at their historical price to sales and price to book. Shares are currently trading at a P/S ratio of 0.14. While they have made acquisitions through the years, historically they typically trade closer to 0.25. Similar findings with their P/B ratio. They are currently trading at 0.5 and historically are closer to 0.75. Certainly these figures suggest the stock is undervalued, but given today's difficult operating environment, they probably should trade at a discount until the unpredictability of their input costs subside.
Today's stock price gives the company more of a floor than earlier in the year, but I would still caution against making assumptions before financial results come out. It's difficult to put a valuation figure on the company when they have difficulty controlling their input costs and don't have the ability to raise prices. That's the situation they've been in since last year. If they can turn the corner on those two factors and get a bit more visibility, then it would be time to reexamine the stock.

Disclosure: I have no positions in any stocks mentioned, and no plans to initiate any positions within the next 72 hours.