By Justin Dove
There's a negative connotation of the U.S. dollar losing value to foreign currencies. It makes some sense since it lowers the American consumer's purchasing power. However, it's not all bad.
There is a positive side to the dollar being lower in value, too.
U.S. companies that export goods like a weak dollar. It means they can make goods relatively cheaply and collect more valuable currencies in exchange for their goods in other countries. This creates an inflow of money from other countries and hopefully spurs employment from increased demand…
The Yuan vs. The Dollar
Although the euro is also experiencing weakness due to turmoil with debt in Greece and other countries, it still gained 19 percent on the dollar over the year ended on June 30. Asian currencies have also been performing well against the dollar.
Below is a five-year graph of the price of the Chinese Yuan compared to the American dollar. As you can see, the Yuan has gained about 30 percent on the U.S. dollar in that time-frame.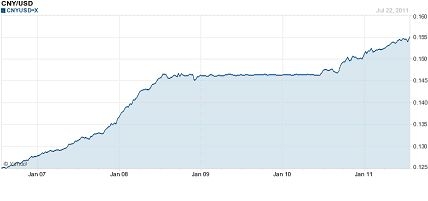 In 2010, China became the largest importer of U.S. agricultural products such as soybeans and corn. As the Yuan continues to appreciate relative to the dollar, it will push more American products into the laps of Chinese consumers.
Chinese Demand For Apple, Coca-Cola, Pepsi, and IBM

One company that is already benefiting from increased Chinese demand is Apple (NYSE: AAPL). The New York Times reported on Monday that Apple has found a "sweet spot" in China. This news is likely related to the fact that iPhone sales have more than doubled over the past year and overall revenue for Apple has increased by 124 percent. While Facebook and Google (NYSE: GOOG) have struggled to gain a foothold in the Far East, Apple is creating a large demand for its product.
It was also reported by Bloomberg on Monday that Coca-Cola (NYSE: KO) benefitted along with Apple in the second quarter. The same report showed that IBM (NYSE: IBM) saw a 12 percent gain in revenue. When the numbers were adjusted for currency exchange rates, the gain in sales was only five percent. That's a seven percent increase in revenue just because of changes in currency valuations.
Last week PepsiCo Inc. (NYSE: PEP) also announced an 18 percent increase in net income despite a sour economy. According to the PR Newswire, "Snacks grew double digits in the Middle East, India, China and Thailand. Beverage growth was driven by double-digit gains in India and China."
Capitalize on Increasing Power of Yuan

If an investor simply wants to play the increasing power of the Yuan, the WisdomTree Dreyfus Chinese Yuan Fund (NYSE: CYB) is an ETF that aims to mimic exposure to the Yuan. This doesn't necessarily play on the Yuan/U.S. dollar relationship though. To really gain the benefits of a decreasing dollar, its best to consider an American company that exports goods to China and other foreign powers.
Another interesting company to look at that is going to make a strong push in China is Starbucks Corp. (Nasdaq: SBUX). Zacks Equity Research reports that Starbucks, which has had a presence in China since 1999, is "preparing to storm" the land of the rising sun. Starbucks has rebounded fully from the '08 recession over the past year and looks poised to gain influence abroad.
Businesses are likely to keep expanding globally in a world that feels more and more like its shrinking. Keep an eye on currency relationships and keep in mind how they affect these multinational corporations.
Disclosure: Investment U expressly forbids its writers from having a financial interest in any security they recommend to our subscribers. All employees and agents of Investment U (and affiliated companies) must wait 24 hours after an initial trade recommendation is published on online - or 72 hours after a direct mail publication is sent - before acting on that recommendation.